The stocks of three tech companies are the most popular among the investors that use trading app, Freetrade, according to the information provided by them in Twitter.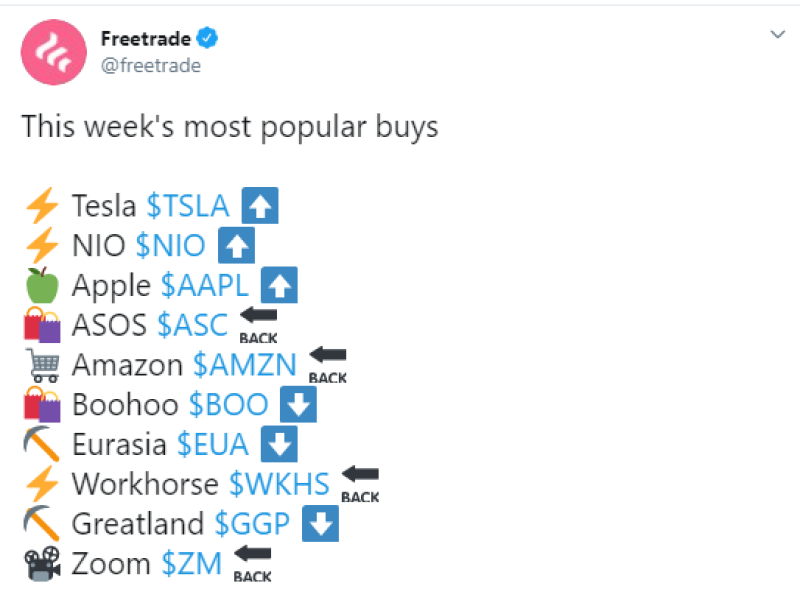 Image Source: Twitter @freetrade
| | | |
| --- | --- | --- |
| Company name | Place in the top | This week price change |
| Tesla (TSLA) | 1 | -0.5% |
| Nio (NIO) | 2 | 30.22% |
| Apple (AAPL) | 3 | -0.87% |
Tesla's Growth Stalls Amid Increasing Fears
Even though Tesla's shares became the most popular ones, this did not have a significant impact on the price. Throughout the week, it fluctuated slightly, with a little bit of growth observed on Tuesday and Wednesday, but then returned to the previous level.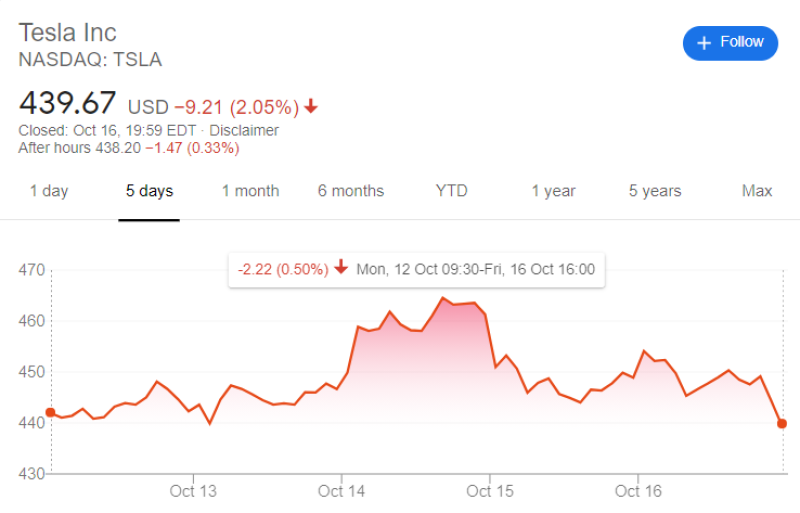 Image Source: Google Finance TSLA
Gary Black, the former CEO of Aegon Asset Management, believes it's all about postponing a new stimulus package, value rotation and renewed growth in coronavirus concerns. Besides, the decrease in the price of the Model S is an indirect factor in the low demand for the company's cars, which also worries investors.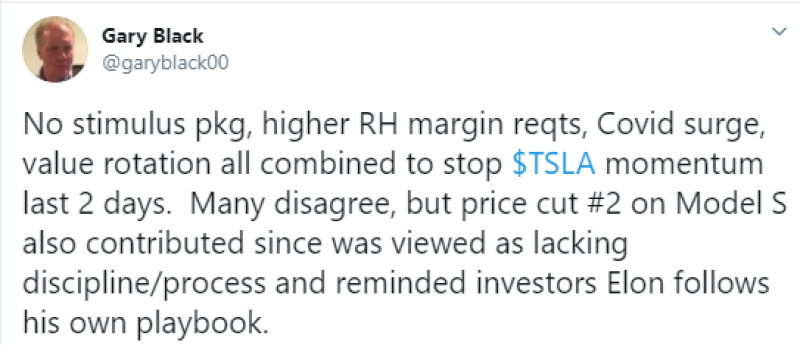 Image Source: @garyblack00
The Best Week for Nio's Stock
Apparently, Nio's shares decided to break all records this week. It all started with an incredible 23% growth on Wednesday after J.P. Morgan raised the target price to $40, more than doubling the market price. The next day, the company's shares rose another 7% after Citi analysts also raised their target price.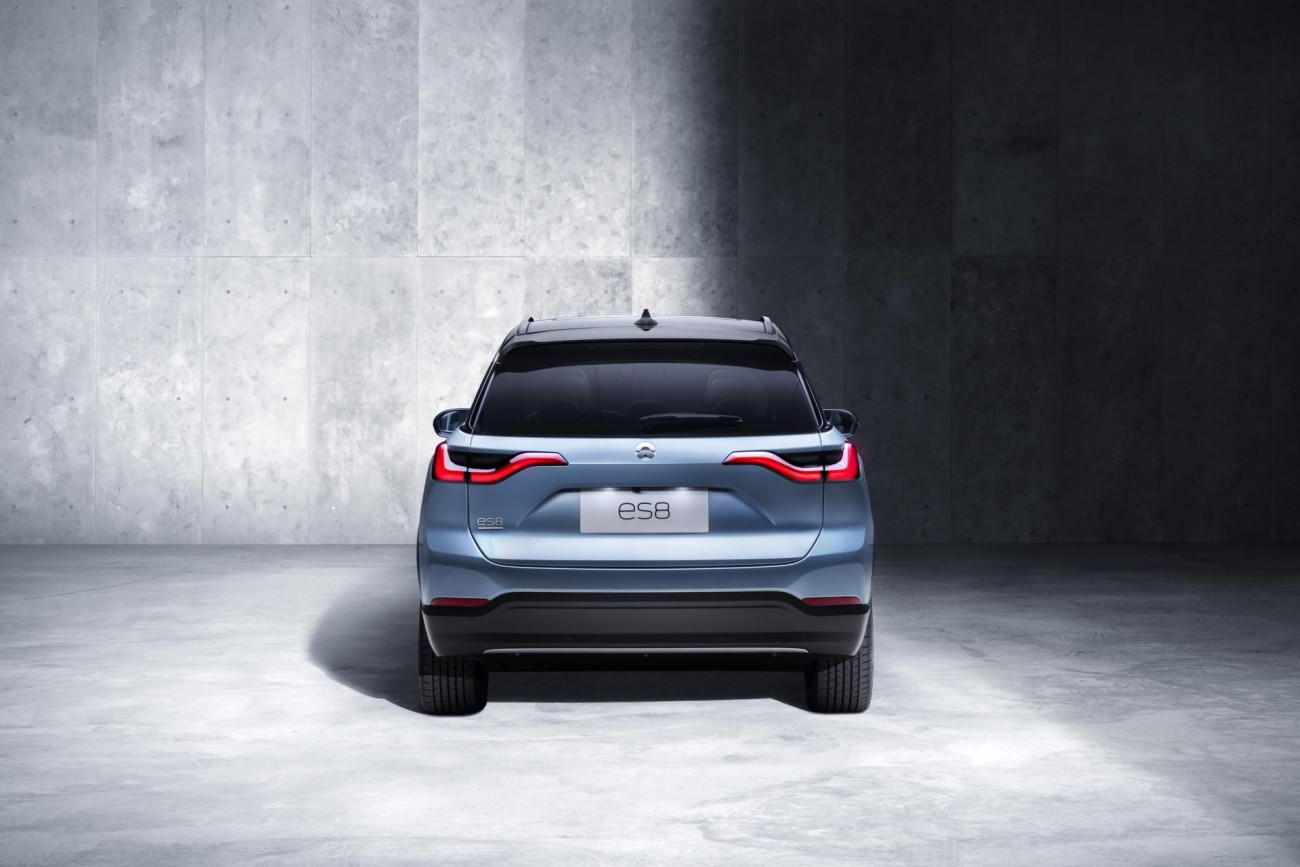 Also, Nio's shares were among the most popular in terms of volume on Thursday, with more than 75% of orders being calls, which is another record. William Li told the media that the company is going to double the production of electric vehicles by the end of 2021, bringing the production capacity of the factory to 300 thousand cars a year.
Nio's electric vehicle shipments have been growing over the past 7 months, with 133% more vehicles shipped in September YoY. Besides, an increase in the number of insured electric vehicles of the company in China last month evidenced about Nio's growing popularity among buyers.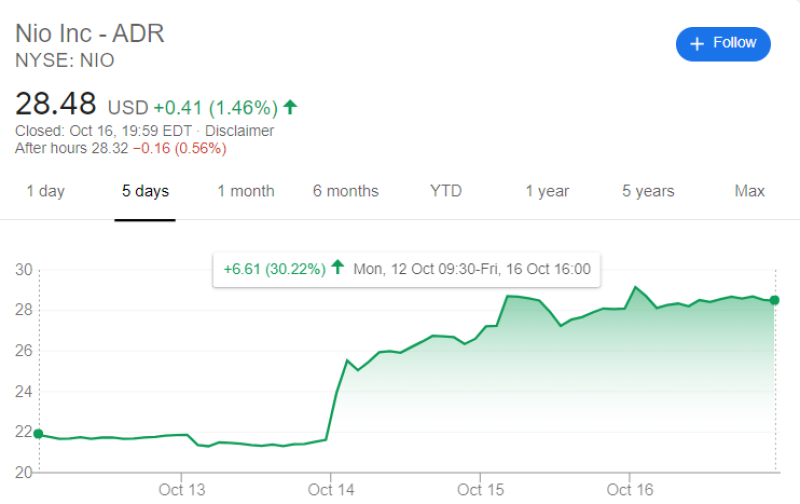 Image Source: Google Finance NIO
Apple's Stock Doesn't Want to Grow the Presentation of a New iPhone
On Monday, Apple's stock had the best trading day since the summer runaway rally when the stock split was announced. On Monday, growth was more than 6% prior to the presentation of Apple's new products. However, the presentation itself, which was held on Tuesday, did not lead to any positive outcomes.
On the contrary, the price fell, having lost half of Monday's jump, despite the announcement of the new iPhone 12, the first 5G smartphone, which analysts are betting on. The rest of the week was a sad slide towards Monday morning's price, so the 5-day gain was -0.87%.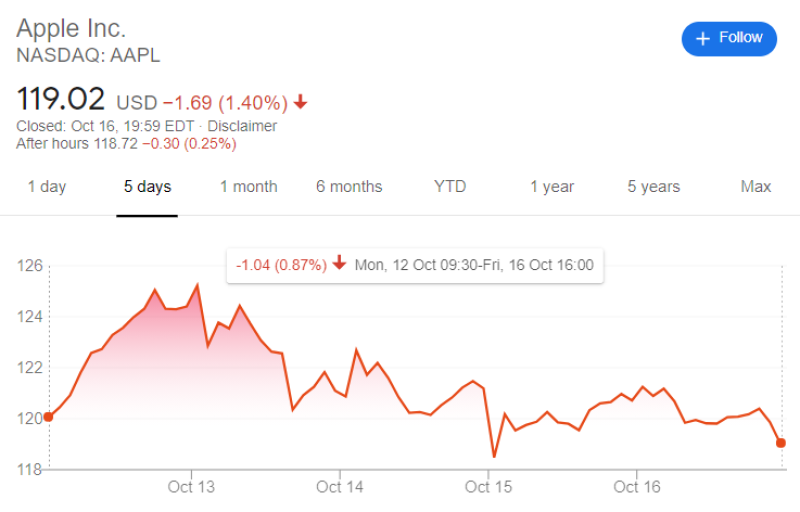 Image Source: Google Finance AAPL