September's Results
In September 2020, NIO shipped 4,708 cars, a new monthly high of solid year-over-year growth of 133.2 percent. The shipments included a total of 3,210 ES6s, a luxury 5-seater smart electric SUV, a total of 1,482 ES8s, a 6-seater and 7-seater compact smart electric SUV and 16 EC6s, the SUV luxury 5-seater electric coupe.
Over the third quarter of 2020, NIO shipped 12,206 cars, an improvement of 154.3 percent year-over-year, which reaches the maximum level of quarterly estimates for the Group. Cumulative ES8, ES6 and EC6 deliveries hit 58,288 vehicles as of 30 September 2020, 26,375 of which were supplied in 2020.
NIO Stock's Reaction
NIO's shares were down -4% in premarket trading. Thus, it dropped to $20.87 per share.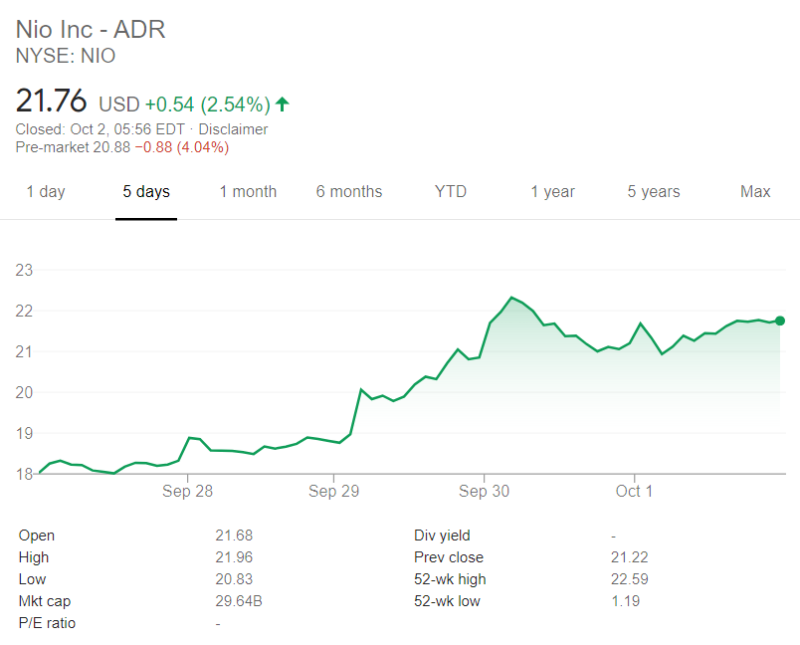 Image source: Google Finance NIO
NIO's Goal
NIO Inc. is a leader in the smart electric car premium in China. NIO's goal is to create a happier lifestyle, which was founded in November 2014. NIO aims at creating a community to share joy with its users and evolve together, beginning with smart devices.
NIO develops, builds and markets smart and wired luxury vehicles, accelerating creativity for communication technology of next-generation, independent accelerating and artificial intelligence.