The Second Day of Nio's Rise
The shares of a Chinese electric vehicle company, Nio, are up for the second day in a row, currently up by 4.5% since the start of the day. This significantly exceeds the growth rate of the major indices, the S&P rose by 1.36% and the Nasdaq grew by 1.5%.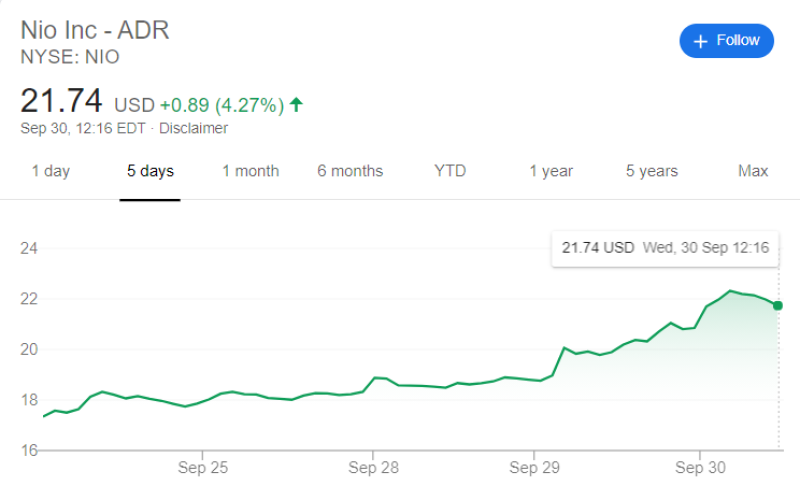 Image Source: Google Finance NIO
Scott Redler, a chief strategist of T3TradingGroup, notes that the company's stock still has a significant potential. In his opinion, the target price is $23-25.
"I hope some of you added to tier#2 with me in $NIO. If so trim some $21.70 to book some gains and make sure to hold some as it feels like $23-$25 in time." Scott Redler via Twitter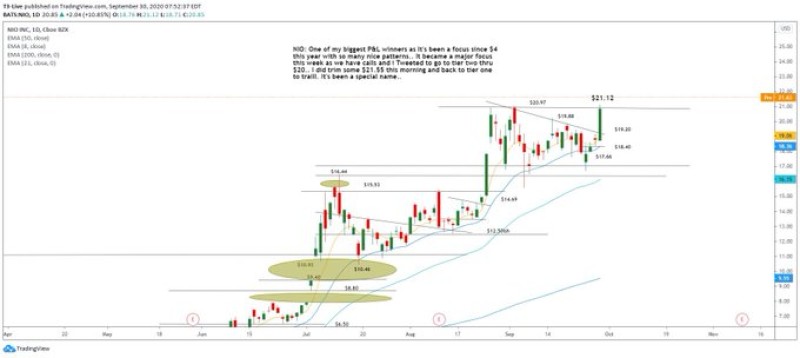 Image Source: Twitter @RedDogT3
Mr. Redler's predictions are consistent with those of other experts. Yesterday's gains came amid: Deutsche Bank's analysts that Nio has a significant potential to become the 'next iconic auto brand'.
They set a target price of $24 for the next 12 months. However, it is worth to point out that the share price has almost reached the set target in two days of continued explosive growth.
Current Nio's Growth Drivers 
At the moment, the company's shares have several growth drivers, which, most likely, are driving the current rapid rise.
Delivery of the EC 6, Nio's five-seater premium electric coupe SUV, began last Friday. Experts predict sustainable growth for this model due to the relatively low price and the presence of innovative features, such as Battery-as-a-Service (BaaS).
Besides, Nio announced a new power-up plan of 30,000 charging piles, which creates synergy with BaaS as batteries can be replaced at each charging station. Also, the company announced an update to its advanced driver assistance system. This technology will allow an electric vehicle to assist its driver to drive on and off a ramp, merge lanes, and cruise a planned route.