Also known as William Li Bin, the Chinese entrepreneur is getting more and more successful in redefining the entire automobile industry. His NIO company sets the new standards for electric cars and starts expanding across the borders of the Mainland. What is the secret of William Li's success, and how did he manage to establish his ever-growing auto empire?
William Li's Bio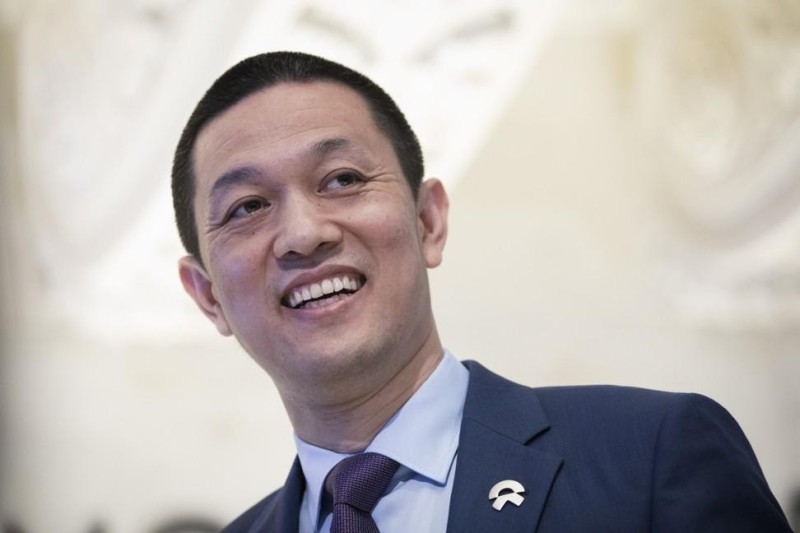 William Li Bin, a Chinese entrepreneur and a founder of NIO
Li Bin was born in 1974 in the Chinese province of Anhui. His family was relatively poor – his parents started saving for his college education when he was seven. In his school years, he worked part-time to earn a living for his family. He graduated from the Department of Sociology at Peking University, and also studied law and computer science – this knowledge laid the foundation for his future success. 
From the perspective of Li Bin's growth trajectory, he is a very "social" person. When he was young, he lived with his grandfather and grandmother in Wuling Village. His daily task was to count money and keep accounts for his grandpa who sold cows.
He learned what business is like quite early. His motto was:
"Either make short-term money or make future money. A good business is to make money today and make money tomorrow. Tomorrow will make more money than today, and you can use the least money to make the most money."
How to achieve this? Young Li Bin hadn't thought about it hard at the time, but he knew that he would definitely not spend his entire life in a small village herding cattle and keeping accounts, but first move away and explore at the outside world.
So, he was admitted to the Sociology department at Peking University and became the deputy monitor as soon as he enrolled. To be an official, he tried his best to take everyone to climb the Great Wall, watch the flag-raising, and do collective labor. He abruptly suffered from illness. As a result, he spent more than a month in the hospital and only found out about it when he was discharged. 
This incident enlightened Li Bin that in order to maintain his position, he must have some additional education except for the Master's degree. Although he lost his official position at the time, he couldn't be idle, so he started learning law and computer science, and after taking 17 exams in a week, he finally became the only system analyst among liberal arts students at Peking University.
Career Path
He started his first business at the age of 21 in 1996 – it was an Internet-based startup, and the intense development of this industry allowed him to become a thriving entrepreneur. 
In 2000, together with his partners, he founded the BitAuto Internet company – it was his second project, which turned into something big and successful over time. Since 2005, he has served as a chairman of the Board of Directors and a CEO at BitAuto. In 2010, the company became public and started trading in the American Stock Exchange reaching the $1 bln in value.  In 2013, he resigned from being the CEO of BitAuto – the company was sold. He is also a co-founder of Mobike and one of its first investors, but resigned from the Board of Directors in 2018. 
As an entrepreneur, he founded the "Science Document Industry" (the predecessor of Dangdang.com) with Li Guoqing. When he founded Weilai Automobile, Tencent Ma Huateng, JD Liu Qiangdong, Xiaomi Lei Jun, Hillhouse Capital Zhang Lei, Che Hejia Li Xiang, New Oriental Yu Minhong and other large Chinese entrepreneurs invested in Dida Carpool, Mobike and Uxin used cars.
In November 2014, Li Bin founded the NIO electric vehicle company and has served as a Chairman of the Board of Directors and the CEO ever since.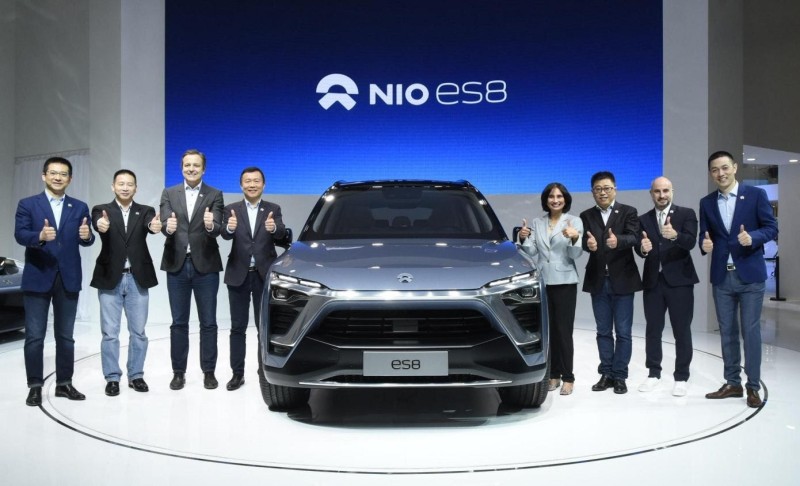 William Li (first on the right) and the NIO team
He was recognized by CADA in 2008 as one of the top 10 most influential and distinguished people in China's automobile dealer industry in the past 20 years. In 2017, Li Bin was named the Entrepreneur of the Year by GQ Magazine, and in the same year, he received the Netease Future Technology Workers award as the Business Innovation Leader. In 2018, Sina Finance, together with People's Daily and Wu Xiaobo, awarded Li Bin with Top Ten Economic Figures award in 2017.
Interesting Facts
William Li is often called "The Godfather of Chinese electric car industry" and the "Elon Musk of China";
He invested in 32+ companies in the vehicle & transportation sector;
To set up and streamline the production, NIO company has 56 investors, mostly large companies, such as Lenovo, TPG, China Merchants Bank, and China Industrial Bank;
In 2018, NIO staff counted 5,500 people from 40 different countries – they used the simultaneous interpretation system like the one in the UN;
Li's convincing power cannot be overestimated. He has a large circle of friends among investors. Once, he persuaded Liu Qiangdong to invest tens of millions of dollars in Weilai Automobile after a 15-minute talk;
When NIO stocks started being traded on NYSE, William Li rang the golden bell.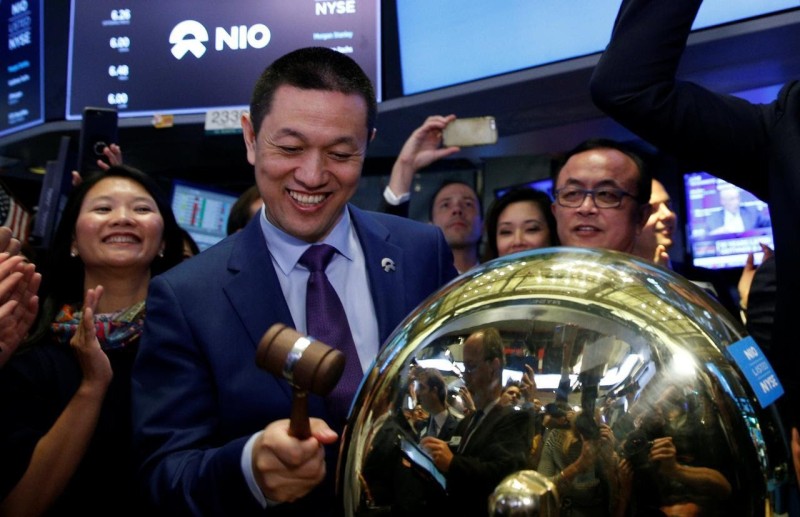 William Li rings a ceremonial bell as NIO's stock begins trading on the New York Stock Exchange (NYSE) 
The Story of NIO 
After being a chairman in Bitauto and NextEV, William Li was inspired and determined to create his own project to propel the development of the electric vehicle industry. NIO, a luxury electric car manufacturer startup, was founded in November 2014. It should be noted that Li has a great talent of convincing people: he changed the mind of Xiaomi owners and persuaded them to invest money in another startup instead of making their own electric car manufacturing brand.
Since the launch, several companies have invested in NIO, including Tencent, Temasek, Baidu, Sequoia, Lenovo, and TPG. At the beginning, Li implemented some of the business models and strategies practiced by Xiaomi. The first model, the NIO EP9 sports car, debuted on the same day the brand was created.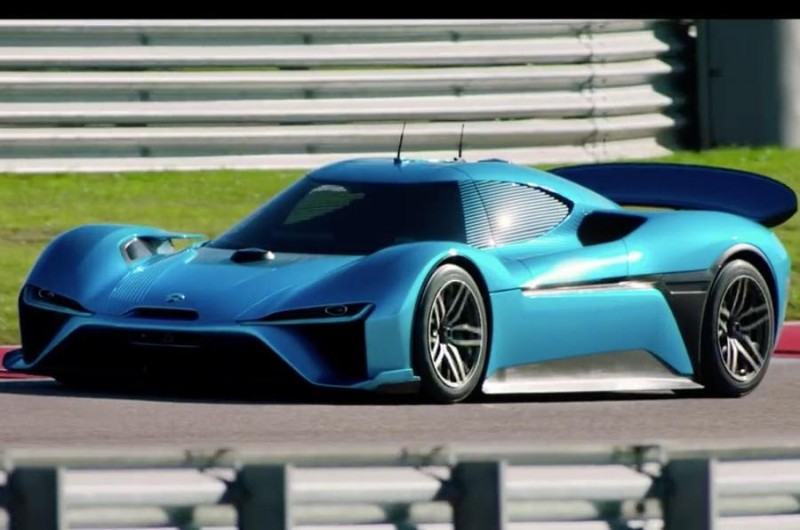 NIO EP9 sports car, the first company's model
In October 2016, NIO announced that it had been granted an "Autonomous Vehicle Testing Permit" by the California DMV and would begin testing the cars on public roads in accordance with the "Autonomous Vehicle Tester Program" guidelines as part of its autonomous vehicle program. The company raised over $1 bln from investors. According to the company, it plans to launch vehicles with the 3rd and 4th levels of autonomy.
In May 2018, NIO opened its first battery station swap in the Nanshan District of Shenzhen, Guangdong Province, China, dubbed "Power Station Swap". Only batteries for ES8 vehicles will be available from this station.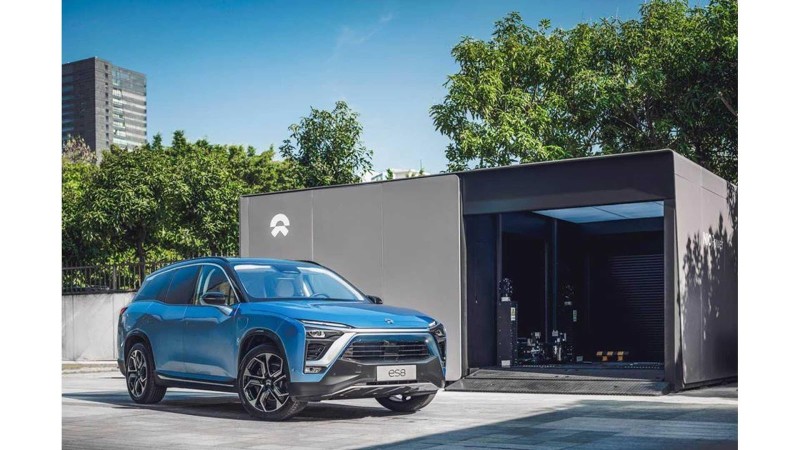 NIO's first power station swap
In September 2018, the company filed for a US $ 1.8 billion initial public offering on the New York Stock Exchange.
At the end of 2019, Li Bin put forward the concept of "battery as a service". He told reporters that by taking advantage of the battery swapping features of the NIO model and the nationwide swap stations, all the electric parts can be opened up and turned into a battery pool.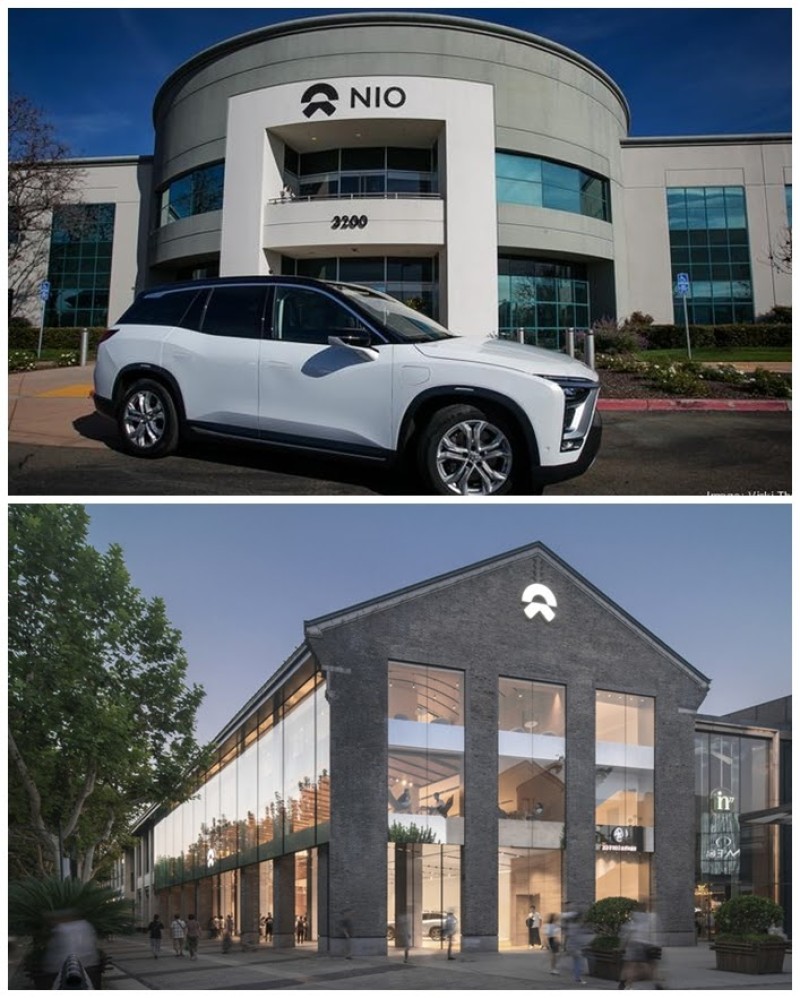 First NIO office and new, contemporary NIO House
In 2020, NIO has exhibited steady growth even despite the quarantine and the coronavirus. The increase in deliveries in April 2020 amounted to 105.8% compared to March and 180.7% compared to April 2019. A total of 2907 five-seat ES6s and 248 seven- and six-seat ES8s were delivered. The growth in sales of premium ES8s is a positive signal, with 180 more units sold in April than a year earlier. Total EV shipments throughout NIO's history reached 38,906, with 6,993 delivered in 2020.
NIO vs. Tesla: Who Will Conquer the Market?
It's not a secret that the Chinese automotive market, which was initially dominated by local companies, became more competitive, forcing investors to be wary of local new startups. Almost 500 electric vehicle manufacturers were registered in China last year.
William Lee foresaw this setback a couple of years ago. At an internal meeting in May of 2018, Li predicted that Tesla, which managed to get manufacturing facilities in China within three years, would kill many local competitors. This opinion was shared by many experts in the sphere, as well. 
18 months later, the first Tesla's electric car rolled off the assembly line of the American company in Shanghai. Tesla's monthly production figures in China now exceed 10,000 units, which resulted in the company being able to surpass estimates for global shipments in the last quarter.
However, the battle between Tesla and NIO is not over yet.
Will Tesla be able to become widely adopted in China and Asia? This ambition breaks against one simple argument: NIO models are almost twice cheaper, hence, more affordable for an average user. 
"Tesla is the supermodel while NIO is the girl next door" - says Li.
Even though Tesla is heavily advertised and boasts a pretty appealing shell, NIO has very competitive characteristics and is hard to be called technically inferior. But it's not the only reason why the conflict escalates.
NIO has been listed on US exchanges for two years and is considered to be the main competitor of Tesla. Shares in the Chinese startup have plunged more than 80% from last year's highs because of growing financial problems. Following the public offering on the New York Stock Exchange, several executives, including one of the founders and executives of NIO in the UK and the US, have resigned. Also, the company was forced to lay off staff.
Then, amid the coronavirus outbreak, NIO announced funding negotiations with the government of Hefei City in southeast China. As a result, the company received 7 billion yuan ($ 1 billion) from investors, including those supported by the state. Meanwhile, according to NIO, vehicle shipments reached a record of 3,740 units in June and 10,000 in the second quarter overall. The company's shares are up by over 240% this year.
"We hope that in the second half of next year we will be able to make preliminary attempts in some countries that welcome the development of the EV sector," - William Li told reporters. 
According to him, the company plans to start in Europe, though he doesn't name any particular countries. NIO's plans include entering the major global markets by 2023 and 2024 – the company is on its way. Yet, NIO still has a long way to go to put its global ambitions into practice if it wants to match the scale of Elon Musk's Tesla.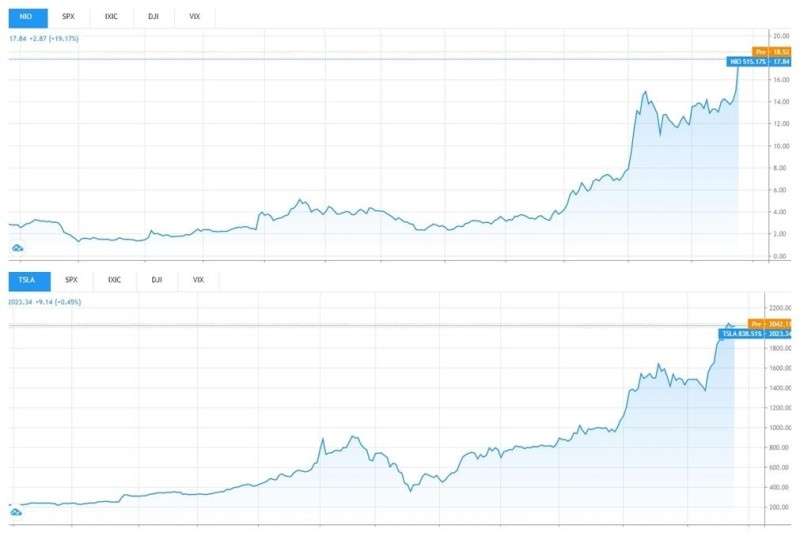 NIO vs TSLA 1-year stock price charts. Source: TradingView
The Bottom Line
Li Bin is a man who does great things. Whether he is a former competitor or a current one, he has the ability to "turn enemies into friends." A rare person can persuade others to invest in rivals' projects – but Li Bin has this unique ability. He can unite many people with capital and resources by his side and form strong alliances.
Latest updates 2023
William Li is the founder, chairman, and CEO of NIO, a Chinese electric vehicle manufacturer. Here are some of the latest updates on NIO and William Li:
NIO's stock price has been performing well recently, with shares up over 10% in the past month. This is likely due to the company's strong financial performance and positive outlook for the future.
In January 2023, NIO unveiled its latest electric vehicle, the ET7 sedan. This car is notable for its advanced self-driving capabilities and long-range battery, which can travel up to 620 miles on a single charge.
NIO has also been expanding its network of charging stations across China, with plans to have 4,000 stations in operation by the end of 2023. This will make it easier for NIO customers to travel long distances and charge their vehicles on the go.
William Li has been recognized for his leadership and innovation in the electric vehicle industry. In 2022, he was named to Time magazine's list of the 100 most influential people in the world.
In addition to his work at NIO, William Li is also involved in a number of philanthropic initiatives. He has donated millions of dollars to support education and environmental conservation in China.