Nio Deliveries Growth in October
Today, the Chinese electric vehicle company Nio released information on the number of electric vehicle shipments in October. According to Globenewswire, October 2020 shipments totaled 5,055 vehicles, up 100% from last year.
Thus, in 10 months of 2020, the company delivered 31,430 EVs, which is 111% higher than the same period in 2019. More detailed statistics of deliveries of the three leading models of the Chinese manufacturer is as follows:
| | |
| --- | --- |
| Model | Delivery |
| ES6 |  2,695  |
| ES8 | 1,477 |
| EC6 | 883 |
Nio Stocks Reaction
The company's shares reacted positively to the news, surging almost 12% in premarket Monday. During the past week, the company's shares also showed growth, despite the widespread market decline.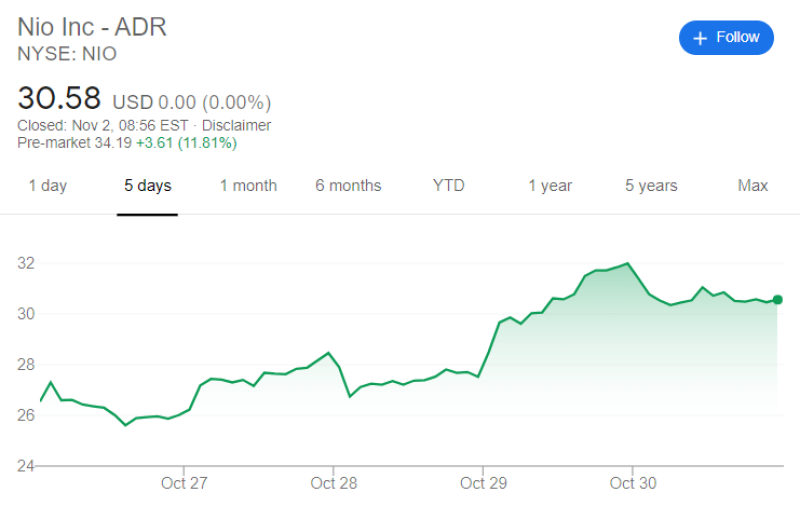 Image Source: Google Finance NIO
Earlier in September, the company already reported a record increase in deliveries. It should be noted that in September the increase relative to the previous year in percentage terms was higher than now and amounted to 133%. However, in absolute terms, October deliveries hit an all-time high, surpassing the threshold of 5,000 EVs per month for the first time.
Investors Believe in Nio Stocks
Investors also keep faith in the company. Not so long ago, it turned out that the world-famous Ray Dalio acquired over $6 million in Nio. Also, institutional investors generally love the Chineese producer. Thus, more than 45% of the company's shares belong to large funds. For comparison, Tesla's indicator is 16%. Besides, one of the largest investors in Nio is the Scottish investment fund Baillie Gifford, which is also known as one of the largest beneficiaries of the rapid growth of Tesla shares during this decade.
Nio's management plans also imply the rapid development of the company. In October, William Li, the founder and CEO of the Chinese company, announced his intention to double the production capacity of the Nio plant by the end of 2021. The opening of the second line will make it possible to produce up to 300 thousand electric vehicles annually.