45% of Nio Stocks Are Held by Institutional Investors
Of the 1,081,649,787 stocks of Chinese electric vehicle company Nio, institutional investors hold 490,043,298, according to Fintel.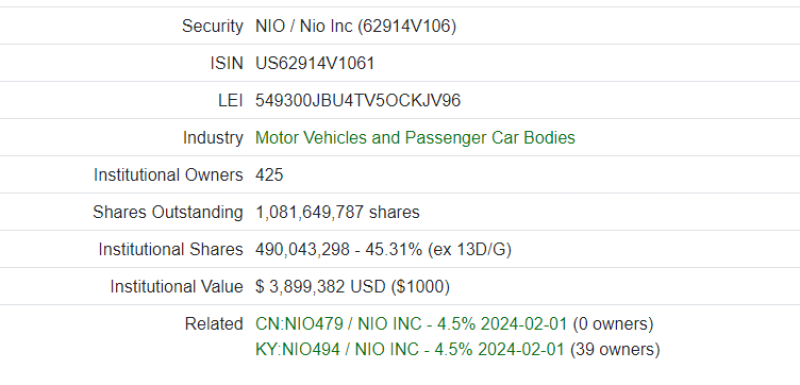 Image Source: fintel.io
It should be noted that the share of institutional investors in Nio is extremely high, it is 45%, which is many times higher than the same indicator for Tesla (16%), Nikola (15.7%), or, for example, Apple (23.8%). At the same time, the number of institutional investors is quite small: 425 versus more than 2000 for Tesla.
Baillie Gifford Seeks Another Tesla?
Besides, one of Nio's largest stockholders is the Scottish investment fund Baillie Gifford.

Image Source: fintel.io
Among other things, the fund is known as one of the biggest beneficiaries of Tesla's skyrocketing stock. According to the Wall Street Journal, the fund has held Tesla shares since 2013, having managed to earn about $10 billion from its growth.
Probably, the fund sees the prospects for the development of a young Chinese company and is going to use the same strategy as with Tesla 7 years ago.
At the end of August Baillie Gifford, according to analysts, was one of the reasons for the correction that began in Tesla shares. Information that the fund has sold part of its stake in the company has strengthened investor confidence in the approaching fall. However, representatives of the fund then explained that the sale was subject to the rules of the fund itself, according to which one asset cannot occupy more than a certain share in the Baillie Gifford portfolio.
Nio's Perspectives and Investors' Interest
Besides, the company's CEO, William Li, is aiming to double the production capacity of the plant in China by the end of 2021 to meet the growing demand for the company's electric vehicles.