A Famous Trader Predicts Nio to Grow Soon
A trader and a technical analyst @traderstewie tweeted his forecast on the stock of Nio, Chinese electric vehicles producer.
According to the trader, the company's shares look promising, now the price is consolidating at $18. After the bulls accumulate strength, a rapid upward spurt of the price is very likely.
Still love this $NIO setup... Coiling nicely here and looks very close to making a big move higher @traderstewie via Twitter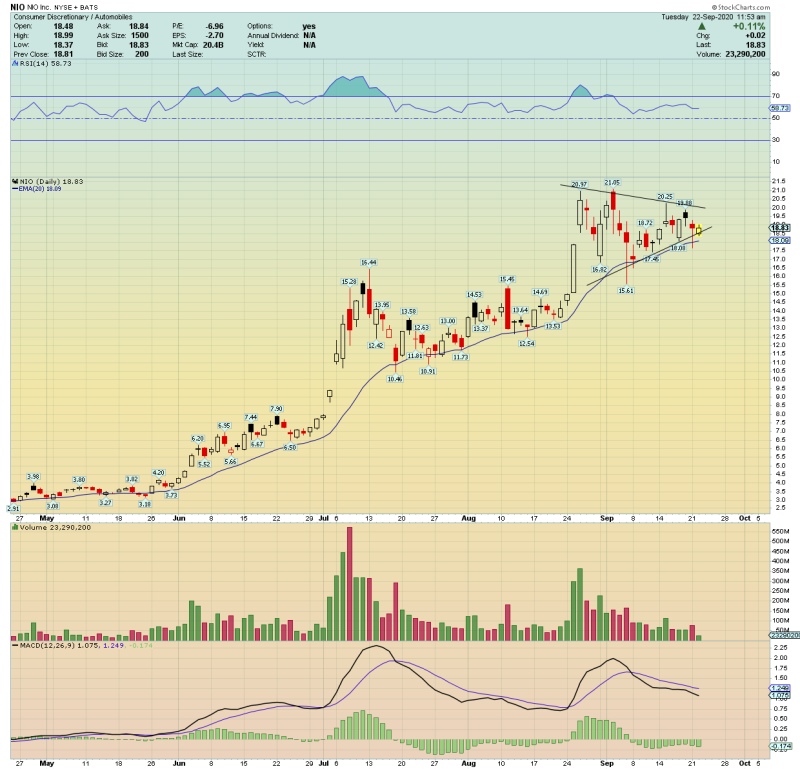 Image Source: Twitter @traderstewie
Earlier, the trader also clarified that the most likely price after such a breakthrough would be $20, with the next serious resistance going to be at $25.
Nio Is Attracting More and More of Investor's Attention 
Investors continue to believe in Nio's business development. So, a week ago it became known that the shares of the company were acquired by Ray Dalio's fund, the purchase amount was equal to $6.6 million.
In addition, Nio is set to announce a new fast-charging service during the Auto China 2020 exhibition. This is one of the technologies that will be used in Battery-as-a-Service, Nio's innovative approach to quick-change batteries at any charging station. This approach will make EVs cheaper, and therefore more accessible to a wider range of consumers.