Nio Stock's Unusual Dark Pool Activity
The shares of the Chinese electric vehicle producer, Nio, have been skyrocketing over the past few weeks. Last Friday, the stock hit an all-time high of $28.48 per share, a 30% increase since the start of October. On Monday, the price slightly declined.
Nevertheless, the shares are most likely waiting for another round of growth. According to the reports from @MelStone31, an analyst who specializes in unusual options flow, dark pool activity was identified in Nio stock.
$NIO - Today's #darkpool activity - seeing over 1.40 imllion shares at $27.96  Check out that chart -- that orange volume profile is showing you historical #darkpool activity - they were busy down there at the lows!   @MelStone31 via Twitter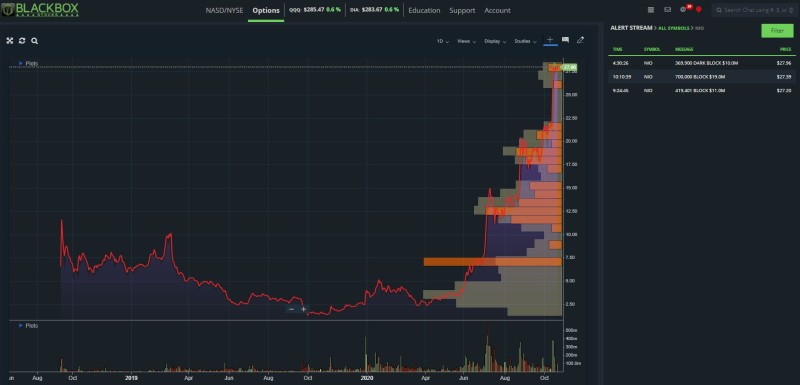 Image Source: Twitter @MelStone31
Usually, the dark pools are used by large institutional investors. It helps not to disclose the volume of the order until the moment of the transaction. This allows funds to make big deals without revealing their intentions.
It is worth to mention that in the past, according to @MelStone31's observations, dark pool buys preceded significant changes in Nio's share price. Rapid growth to be more precise: each growth spurt this year was preceded by a purchase of shares in a Chinese company by large institutional investors using the dark pool.
Nio's Growing Popularity Among Investors and Analysts
Nio is generally popular with institutional investors. Last month, it was reported that renowned Bridgewater Associates, owned by Ray Dalio, acquired over $ 6.6 million worth of Nio stock.
Besides, William Lee, the CEO of the company, is very determined. In a recent interview with the Chinese media, he announced the intention to double the production capacity of Nio's plant by opening a second assembly line. Thus, the capacity will increase to 300 thousand cars per year.