Stocks of the Chinese electric car manufacturer, Nio ,rose by more than 10% during the trading day after falling due to the additional stock issue process.
Fall Due to New Stock Offering
At the beginning of last week, Nio issued a press release announcing the additional share issue. According to it, 75 million ADS (American Depositary Shares) must be sold on the American market. The main goal of the new emission is to gain a larger stake in the parent holding company in China, as well as continue to expand the business.
However, today it became known that Nio has adjusted its plans. Taking into account the high interest shown by investors in the company's shares, it was decided to increase the issue of shares to 101 million. 88 million are sold directly to investors, with an additional 13 million available to issue underwriters in the form of options. In addition, the offering share price has been reduced from $20 to $17.
Buy-the-Dip Strategy Works Again
Following this announcement, the company's shares fell to $17.4 at the start of the trading day. However, this did not become an obstacle for investors and they decided to implement the buy the dip strategy. Scott Redler, a chief strategist at T3 Trading Group, notes that it was implemented successfully.
"$nio buy the dip strategy worked this morning" Scott Redler via Twitter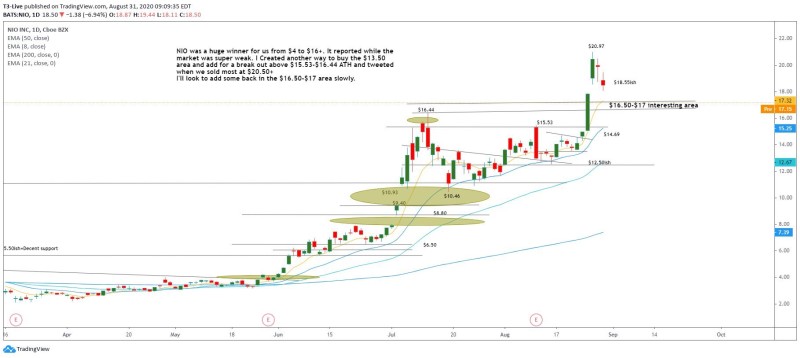 Image Source: Twitter @RedDogT3
During the day, the company's shares managed to recover completely from the fall that occurred in the morning, and even rise a little it. By the end of the day, Nio's shares rose  by more than 10% against the opening price.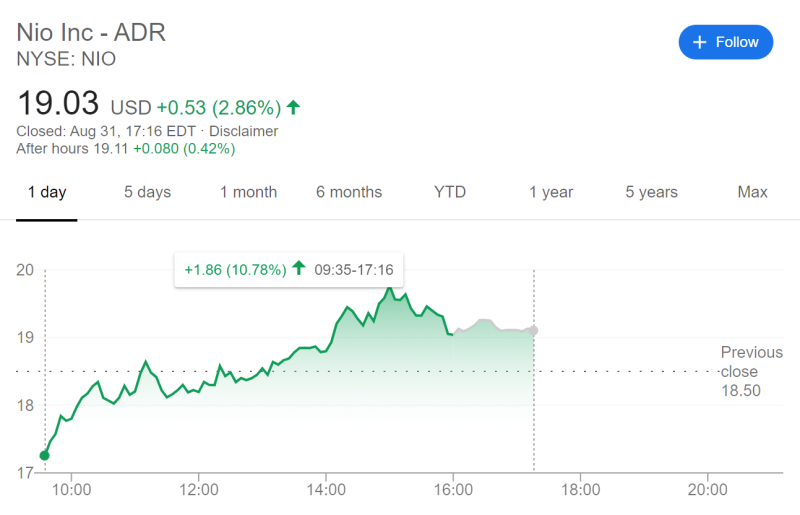 Image Source: Google Finance NIO
The company's stocks has long been popular among the investors. The bullish rally continued over the past week, pushing the stock to over $20 for the first time in history. Due to the additional issue of shares fell in price, however, most likely, the market still believes that the bullish trend should continue.