Stocks of Nio company, a pioneer in China's premium smart electric vehicle market, have shown rapid growth, having gained more than 40% since last Friday. In trading on Wednesday, the price topped $20 per share, setting an all-time high.
NIO Stocks Fell by 10% on Secondary Offering News
However, stocks were in trouble on Thursday with an almost 10% drop during the main session and aftermarket.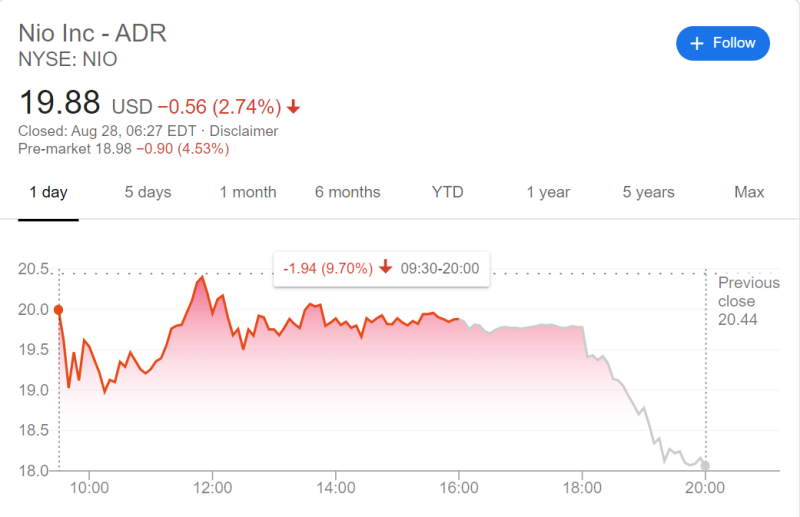 Image Source: Google Finance NIO
The drop happened as Nio announced a secondary issue of American Depositary Shares (ADS). The company intends to offer 75 million ADS's on the U.S. market. According to a press release published on the company's website, the funds received during the placement of additional ADS will be used to grow the business:
The Company plans to use the net proceeds from the ADS Offering mainly to increase the share capital of and the Company's ownership in NIO China, to repurchase equity interests held by certain minority shareholders of NIO China, and for research and development in autonomous driving technologies, global market development, and general corporate purposes.
At the same time, investors and analysts don't reach an agreement when making a conclusion on the issue of the secondary placement of shares. Scott Redler, a chief strategist at T3 Trading Group, believes that previous prices will recover quickly, as they did after the previous ADS issue in June.

Image Source: Twitter @RedDogT3
Meanwhile, Tsachy Mishal, a portfolio manager at TAM Capital Management Inc., thinks the company is pushing the boundaries by arranging additional ADS releases for the second time in a fewmonths.

Image Source: Twitter @CapitalObserver
Besides, he also refers to the information in the press release as 'a giant insider sale', which is being funded by US stockholders.
Despite a significant drop, the company's shares are still trading at a significantly higher price than a week ago, when it was about $14.