The stock of the airline giant, Boeing, started trading with strong growth on Monday. During the trading session, the shares rose by more than 9% compared to the close on Friday.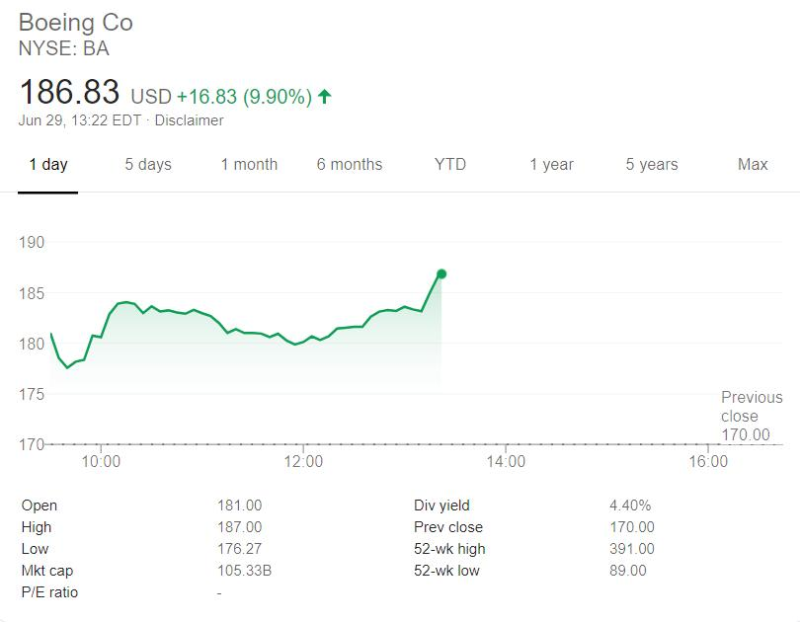 Image source: Google Finance
This growth is due to the Federal Aviation Administration beginning certification flights of the 737 MAX after two major disasters last year. Two fatal crashes forced the recertification process. 
Since March 2019, following several aircraft crashes the Boeing 737 MAX has come to a halt. The result was 346 deaths, prompting multiple investigations despite receiving the assurance that the aircraft was safe.
How will the certification process take place?
The Senators submitted a proposal to appoint the FAA's certifying committee rather than the Boeing's one. The first flight took off at 10 a.m. pacific time in Seattle,  the other flights are scheduled for next three days.
The tests are being conducted by test pilots and engineers from the FAA and Boeing The Federal Aviation Administration
The review of the planes will last for several weeks, and Boeing expects to return to work by the end of fall.  FAA stated at the weekend that in addition to the recertification flights there will be an external review of minimum pilot training criteria.
Some Twitter users were not thrilled about the news. They began to joke about the unfulfilled need for the "regular" tests while recalling that the air transport market has fallen due to the pandemic and declining demand for passenger air transport.

Image source: Twitter @craigadler