On Wednesday, the head of the Federal Aviation Administration, Steve Dickson, admitted the mistakes that were made by Boeing Co. and the American aviation safety Agency when designing the 737 MAX.
Operation of the Boeing 737 MAX has been stopped since March 2019 after several planes crashed. The result was 346 deaths, which prompted numerous investigations despite the plane being certified as safe.
Boeing is now working to get FAA approval to return the MAX to service this fall. However, members of the Senate Commerce Committee questioned how well the previous errors were corrected. They want guarantees that the updated model will be completely safe.
The senators proposed a bill that would appoint the certifying Commission to the FAA, rather than the Boeing. Dickson expressed dissatisfaction with this proposal. That change is "not something I believe would add to the safety of the process," Dickson said.
This is not the first loss
The CEO of Qatar Airways told Boeing that it will not accept an order for 30 Boeing 737 MAX aircraft. He said that the company had withdrawn its investment in this aircraft and the company no longer needed it.
It was one of the most important aircraft orders placed by Qatar Airways in October 2016. The airline ordered 787s and 777s, but also 60 models of 737 MAX planes.
The carrier hasn't crashed. Rather, by the decision of the board of directors, it began a voluntary liquidation process. Since Qatar Airways itself does not use the 737 MAX, future deliveries could be cancelled by the carrier. Boeing and Airbus were recently threatened by Qatar with extensive delays.
Boeing's share price fell -2.64% in trading on Wednesday, closing at $192.54. The negative dynamics continues in the premarket on Thursday. The price per share fell another -1.71%. It is currently at $189.25.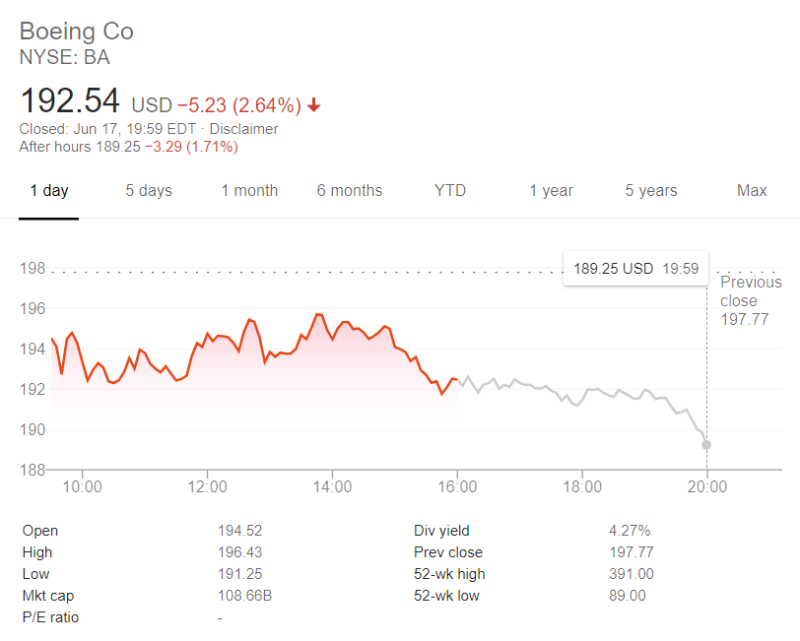 Image source: Google Finance