VIX Is Finally Down
According to The Market Ear's analysis, the VIX index is declining after a prolonged and sharp rise over the last few weeks in August. The growth of the VIX to a record 38 points in recent months was the precursor of the fastest market correction. Now, apparently, the markets are calming down, the index has already dropped to 28%.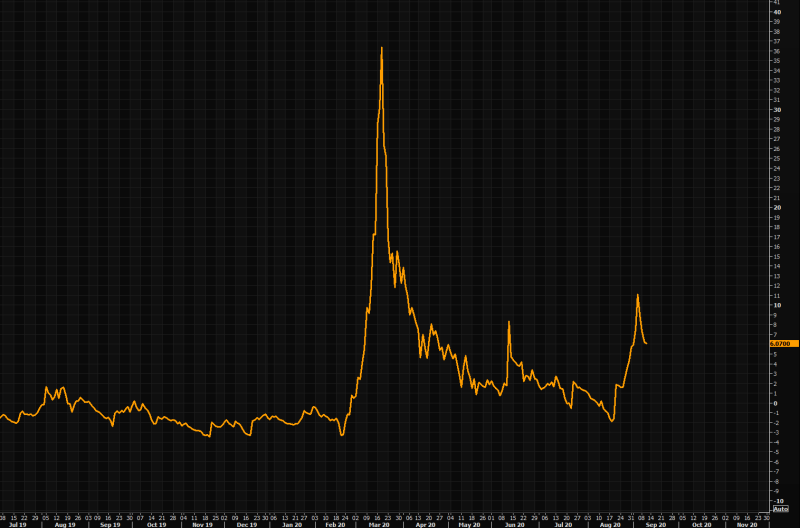 Image Source: themarketear.com
Besides, index futures are also getting cheaper: according to analysts' observations, the spread between two-week and eight-week futures is decreasing, in other words, investors are no longer that afraid of market movements.
VIX is down since the panic levels we saw recently, but VIX futs spread is down even more. The 2/8 mths spread remains at elevated levels but has come down quickly as people realise they loaded up on expensive protection.Pay close attention to this spread as it is very "sensitive" to market direction, both ways. themarketear.com
The VIX Index, or a market volatility index, also called the Fear Index. It measures investors' uncertainty about the future of the market by tracking the prices of S&P 500 Index options. When the VIX Index falls, it means that investors' concerns about the future growth of the market decrease.
No Time to Relax
However, Andrew Thrasher, a portfolio manager at The Financial Enhancement Group, notes that the VIX is still quite high despite the decline. Volatility above 28% justifies the multidirectional movements in the market today.

Image Source: Twitter @AndrewThrasher
Mr. Thrasher believes we should keep in mind that the VIX has no direction, so it should not be considered a sign of decreasing fears in the market.