On Thursday the US market was in the red zone, with major indices declining, the S&P 500 fell by 3.5% and the Nasdaq 100 was down nearly by 5%. The main blow fell on the shares of the largest technology companies, which have shown rapid growth in recent weeks.
Volatility Index Rises Sharply during the Sell-Off
Jeroen Blokland, the Head of Multi Asset fund, Robeco, notes a sharp rise in the VIX index, which amounted to more than 20% and rose above 32 pt.:
"The #VIX Index is up more than 20% and back above 30 as #equities plunge." Jeroen Blokland via Twitter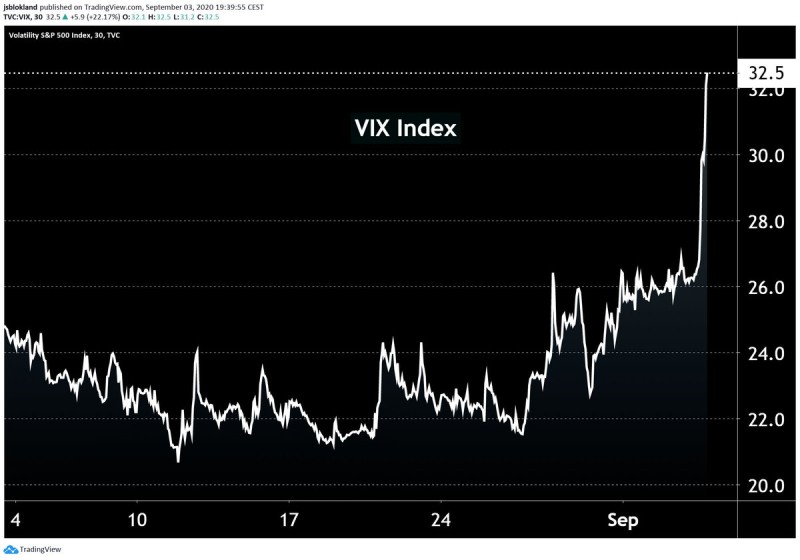 Image Source: Twitter @jsblokland 
What Is VIX?
The VIX Index is a market volatility index, also called the Fear Index. It measures investors' uncertainty about the future of the market by tracking the prices of S&P 500 Index options.
When the VIX Index rises, it means that investors' concerns about the future development of the market increase. Such a sharp increase in volatility as yesterday's one indicates that investors are not confident at all that the shares of large companies will continue to pull the market up.
In recent weeks, shares of the largest companies have been growing at a rapid pace. The S&P 500 has set a record as August marked its fifth continuous month of growth. Analysts noted that, according to historical data, this likely means new gains over the next 12 months.