An American electric car manufacturer in China is also building large factories to meet market demand. However, competitors also do not give up their positions and increase sales. At the same time, Tesla should be wary of operating on the Chinese market.
According to GLJ Research, the market share of electric cars of the Tesla brand in August decreased by 5%, giving a way to GM and BYD. At the same time, Tesla dropped to 3rd place, although a month earlier it held 1st place.
$TSLA $TSLAQ #TSLA #TSLAQ TSLA's China market share falls from 15.5% in July 2020 to 10.8% in August 2020; GM and BYD sold more cars than TSLA in August, moving TSLA's rank in China to 3rd place in August from 1st place July. GLJ Research, LLC @GLJ_Research via Twitter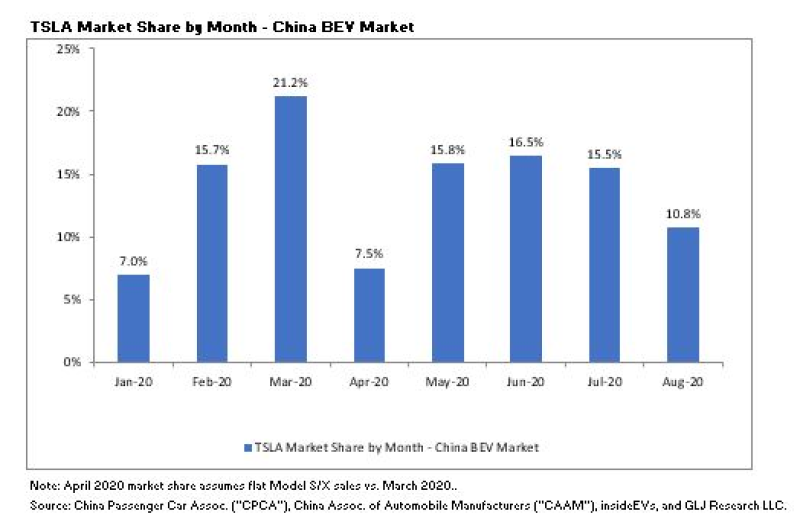 Image source: Twitter @GLJ_Research
In the last few months, China's sales have doubled to nearly 50,000 cars, with gross shipments of about half to about 235,000 in the world's largest demand for electric cars.
Since joining the market at the end of 2013, Tesla has been working to develop its brand in China. The first batch from Tesla sold in the country was given out by the CEO, Elon Musk, himself, and the fans included Xiaomi's founder, Lei Jun.
Tesla sees China as the main market. "China is really pro-EV and the world's largest EV market," Musk said in a January podcast. In April-June, the nation generated around one-third of Tesla's total California-based revenue.
However, the stock was in a sideways range last week. It may have been a correction from a big drop, which, according to the latest data, may continue. The new trading week will show where the market assets will go.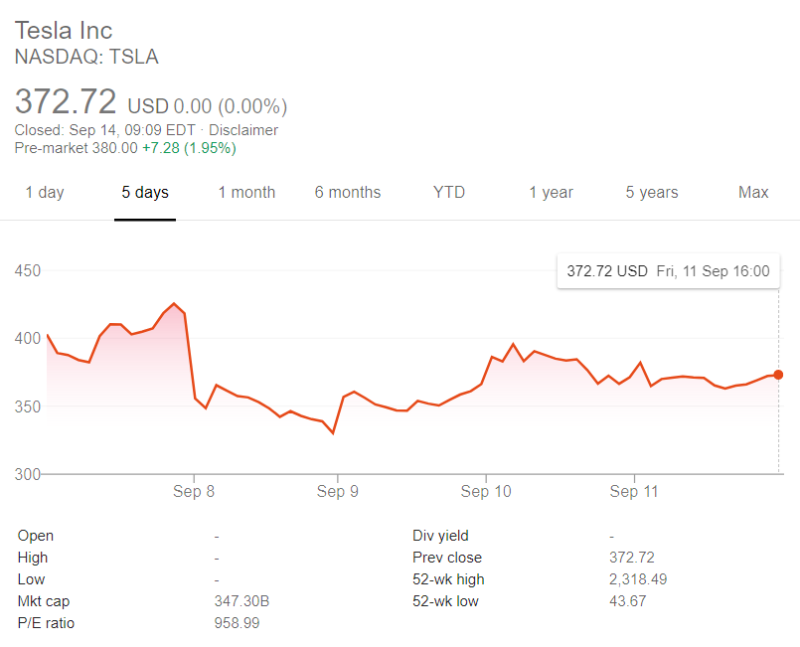 Image source: Google Finance TSLA