Apple and Tesla stocks have become the leaders in terms of purchases among the users of the Freetrade app. In addition, institutional investors also showed interest in the shares, large volumes of options were purchased through the Dark pool operations.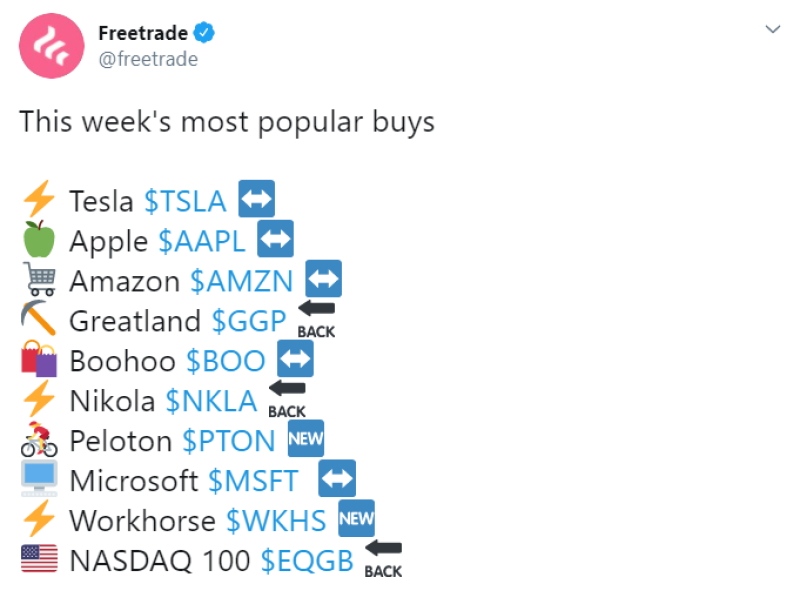 Image Source: @freetrade
Tesla's Stock Become the Most Popular Among Freetrade Users
Tesla's stock was hit hard early in the week, opening Tuesday 18% lower than they had set on Friday and then continuing their decline. Nevertheless, by the end of the week, the decline had noticeably slowed down, from Wednesday to Friday the shares even showed some growth.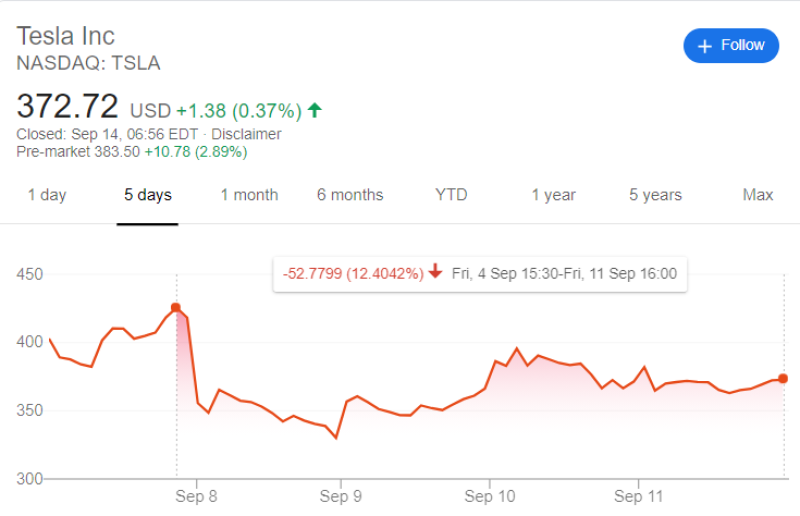 Image Source: Google Finance TSLA
Apparently, the bears are running out of their potential, and the absence of negative news contributes to the stabilization of the electric vehicles manufacturer's stocks. The company's shares have become the most popular among Freetrade users this week.
Apple Was in a Free Fall during the Week
Tech giant Apple came in second in terms of purchases. Even though the company lost its $2 trillion capitalization (now it again equal to $1.94 trillion), the investor, apparently, still has confidence in it. As with Tesla, they want to use a buy-the-dip strategy, but the company has a long way to go up, as its shares fell by more than 8% this week.
Image Source: Google Finance AAPL
The shares of Amazon became the third by volume of purchases. During the week they had both ups and downs, but in 5 days the company's shares still fell by more than 5% compared to the Friday before Labor Day.
Amazon's Stock Is Popular despite Recent Correction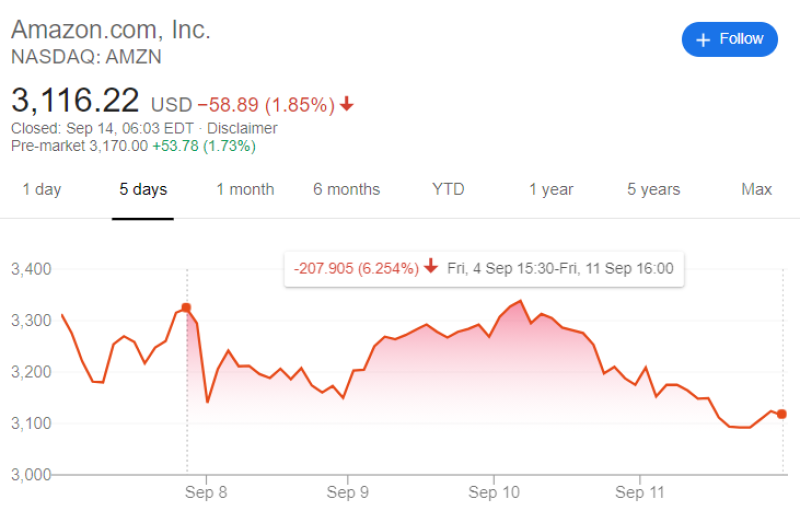 Image Source: Google Finance AMZN
Dark Pool Buyers Choose Tesla and Apple as well
Besides, it was Apple and Tesla's shares that became the leaders in Dark Pool purchases. Dark Pool allows big institutional investors to buy and sell without being exposed right until after the operation has been completed. This helps them place large orders without revealing their intentions.
According to Cheddar Flow, there have been 213 Apple orders totaling over $ 28 million. Tesla came second with 57 orders for $ 8.2 million.
Some top bullish flow we caught yesterday $AAPL $TSLA $BYND $BA $AMD #stocks #optionsflow #options @CheddarFlow via Twitter

Image Source: Twitter @CheddarFlow
Apparently, institutional investors finished taking profits on tech stocks in August and are now reopening positions.