The stock of Nvidia, a multinational technology company that designs graphics processing units for the gaming and professional markets, have been rising for two days.
Nvidia Buys Arm
In addition to the general revival of the bullish trend on the market, the main reason for it is related to the news that Nvidia is close to buying the Arm company, according to a press release on the company's website. Arm is a semiconductor and software design company, which is currently owned by the Japanese conglomerate SoftBank.
"This combination has tremendous benefits for both companies, our customers, and the industry. For Arm's ecosystem, the combination will turbocharge Arm's R&D capacity and expand its IP portfolio with NVIDIA's world-leading GPU and AI technology." Nvidia's Press Release
In the summer, Nvidia announced that it is interested in buying a chipmaker company.
On Monday, Nvidia's shares reacted extremely positively to the news and rose by almost 7%. Shares climbed another 3% during the Tuesday premarket trading.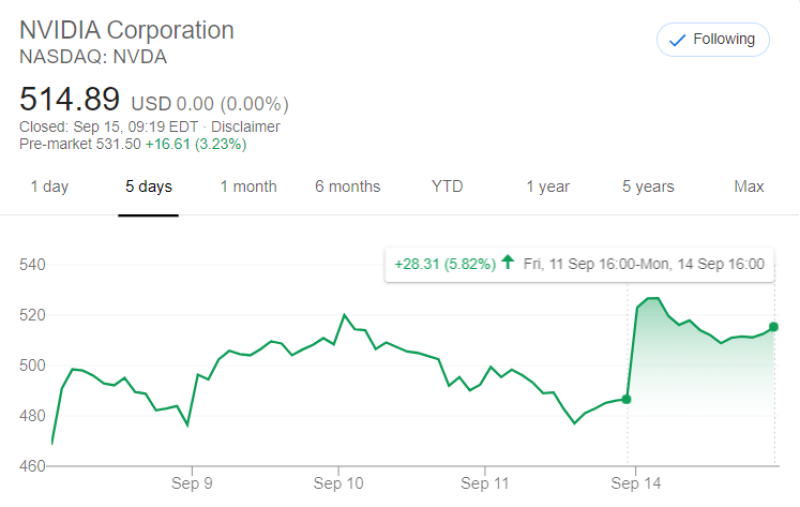 Image Source: Google Finance NVDA
Potential Obstacles from Regulators
However, a few obstacles may arise in the way of this deal, which could take Nvidia to the next level. Bloomberg argued over the summer that any company interested in buying ARM would trigger regulatory scrutiny.
Other companies using this technology may oppose the purchase and demand antitrust proceedings. Other companies using ARM technologies include tech giants such as Apple, AMD and Intel.
Apparently, Nvidia will need to guarantee equal access to the technologies developed by Arm, to the rest of the market for the deal to be approved by regulators.
The press release has already indicated that Nvidia, "... will continue Arm's open-licensing model and customer neutrality and expand Arm's IP licensing portfolio with NVIDIA technology."