Nio's +40% Growth During This Week
The stocks of the Chinese electric vehicle manufacturer Nio continue their incredible gains. During the trading session on Thursday, shares rose by more than 12%, after which they added about 1% on the aftermarket. This week turned out to be extremely positive for Nio, in total the company's shares managed to rise by almost 40% since last Friday's session.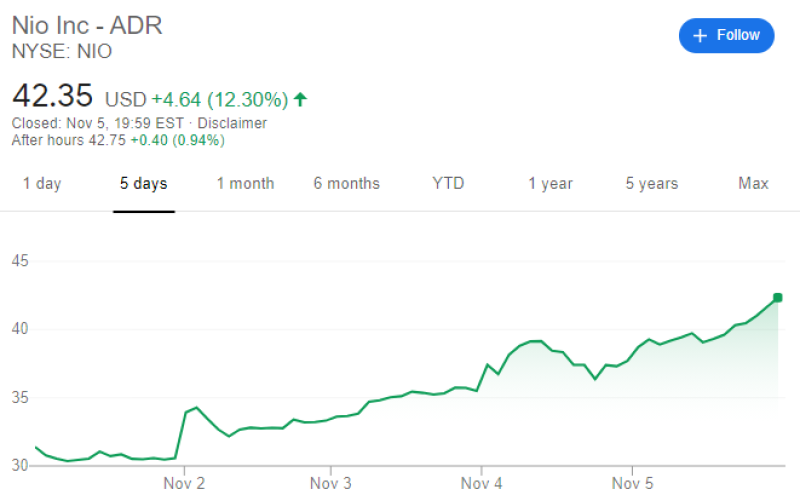 Image Source: Google Finance NIO
Traders and analysts remain bullish on the company's stocks and believe that growth will continue. EliteOptionsTrader believes that the company's stock has every chance of jumping to $50.
Good evening! $SPX gapped up 4 days in a row. SPX is now at 3510 I would consider calls above 3525 Target: 3553I would consider puts under 3491 Target: 3458 $NIO what a move this week.. if this breaks above 44 it can run to 50-52 next. 45C can work tomorrow Have a GN! Grinning face Chart with upwards trend @EliteOptions2 via Twitter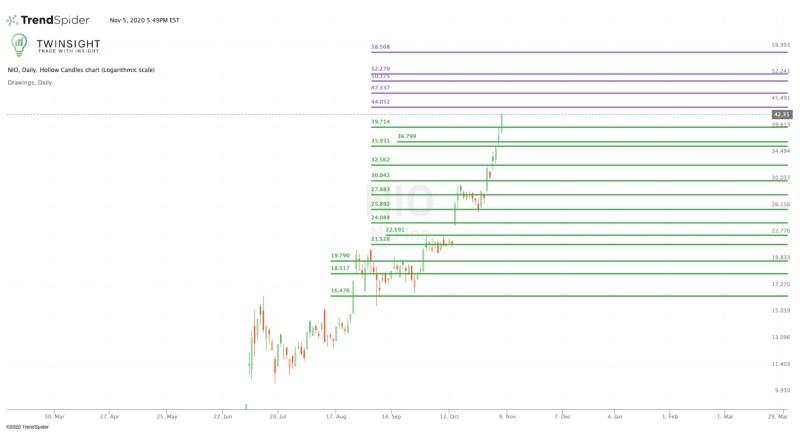 Image Source: Twitter @EliteOptions2
The Reason of Growth
The skyrocketing growth began on Monday, just after Nio's record deliveries in October became known. The increase compared to October last year was 100%, which is an absolute success for the company. Besides, a record was also set in absolute terms: for the first time, the milestone of 5,000 deliveries of electric vehicles per month was exceeded.
CEO and founder of the company, William Li, in an interview with the Chinese media made it clear that he is preparing for the further growth of the company. He plans to increase the production capacity of Nio's plant in China. By 2021, it is planned to increase the capacity to 300 thousand electric vehicles per year, thereby doubling it relative to the current values.