Apple (AAPL) remains in the top 3 list of the most popular stocks among the Robinhood traders today. However, the other 2 companies, NIO and IBIO are relatively new.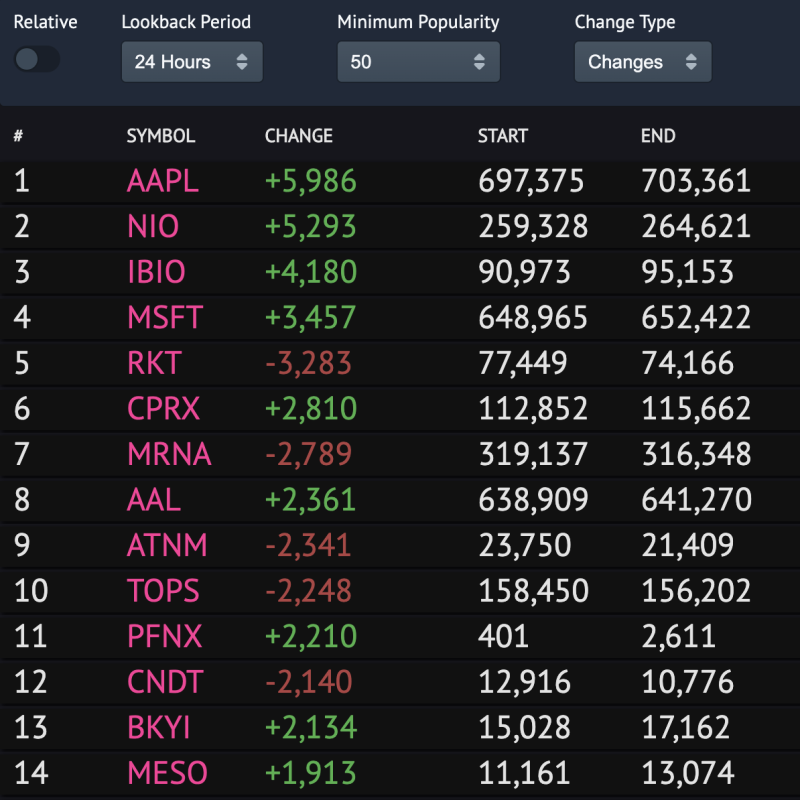 Image source: Robintrack
Apple (AAPL) Keeps Rising Against the Introduction of the New Hardware
Even though the richest company could not fix above the $450 mark, the long-term bullish scenario remains relevant.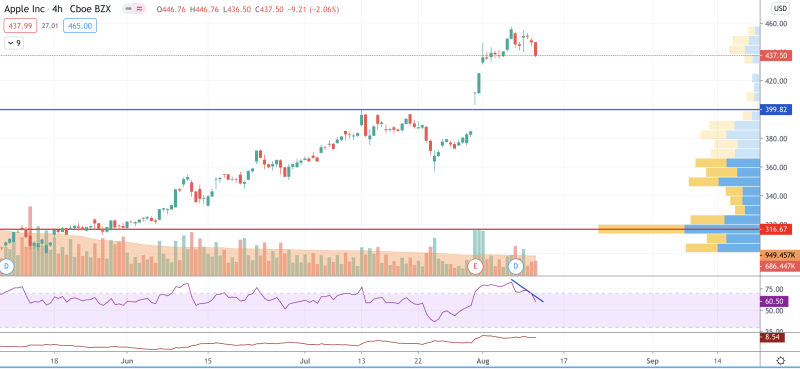 Image source: TradingView AAPL
On the 4H time frame, the correction might have already started as the trading volume keeps going down. In addition, no buyers are willing to purchase the stock now as liquidity is at its lowest level. Thus, the bearish divergence has been formed on the RSI indicator which considers a possible price drop. If a return to $450 does not occur, AAPL may drop to the area of $400 to close the GAP.
NIO is on the Rise After Positive Sales Reports
Nio Inc Class A ADR (NYSE: NIO) shares surged 9.3% after the Chinese automaker cut its losses in the second quarter by 64% in contrast to those of a year ago, despite concerns over the pandemic.

Image source: Robintrack
Revenue rose by 146.5% to ¥ 3.72 billion, beating the FactSet consensus of ¥ 3.51 billion. Deliveries reached a quarterly record of 10.3 thousand vehicles, an increase of 190.8%, and the company expects a further increase of 11-11.5 thousand vehicles in the third quarter.
Shipping of ES8 and ES6 models to the market in July were up 322% from a year before as buyers in China returned to the company's showrooms.
How Long is the Growth of IBIO Going to Last?
IBIO is the last company in our list. The company is commercializing its proprietary platform technologies, iBioLaunch for vaccines and therapeutic proteins and iBioModulator for vaccine advancements, and development of individual candidate products.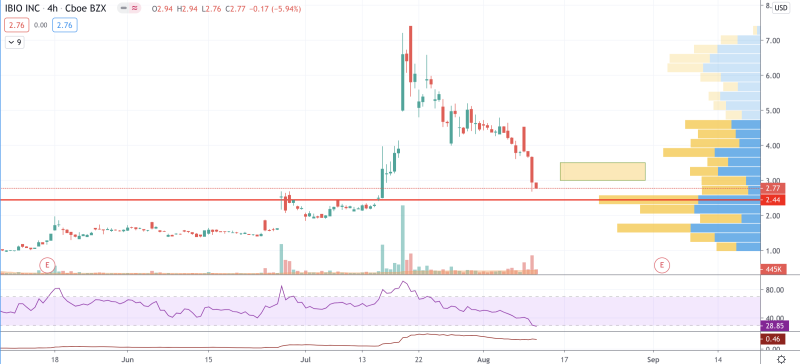 Image source: TradingView IBIO
From the technical point of view, the stock has already reached the local support zone and a bounce back is likely to happen soon. What is more, the RSI indicator has almost got to the oversold area. The last but not least applies to the high liquidity level, where currently IBIO is located. In this case, bulls may return the rate of the share to the yellow zone between $3 and $3.50 until the end of August.