The last trading day of the week has started positively for the stocks market, the growth was observed only for some companies, while the majority of them were in the red zone.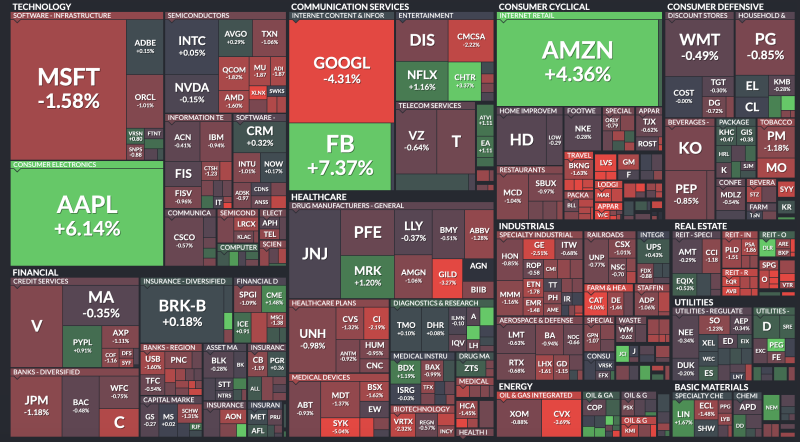 Image source: Finviz
Meanwhile, Apple (AAPL) and Facebook (FB) has even set new peaks. One of the possible reasons for the continued growth were the positive reports published by the businesses yesterday. 
Apple (AAPL)
Apple released a strong Q2 report, beating analysts' estimates for earnings and revenues. Sales grew in every category and across all identified geographic locations. The revenue of the Cupertino-based company from iPhone sales was $26.42 billion, exceeding analysts' expectations, which were only $22.37 billion.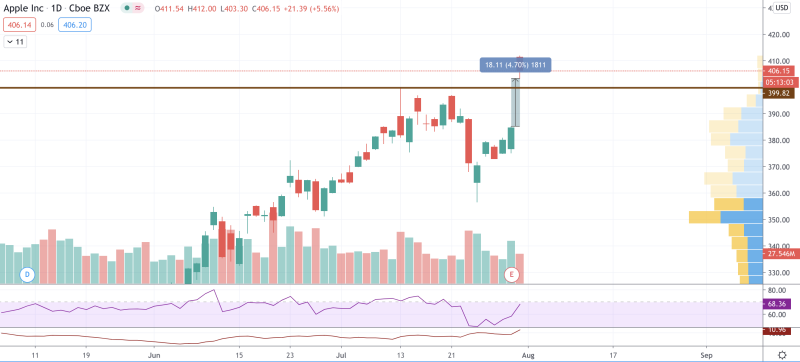 Image source: TradingView AAPL
On the daily chart, Apple (AAPL) share has opened with the almost 5% GAP. At the moment, the stock is trading at its historical heights, which means that no resistance levels left. However, AAPL is about to get to the overbought zone soon according to the RSI indicator. In this regard, there is a high probability to see a retest of the $400 before the upward trend continues.
Apple is trading at $409.62 at press time.
Facebook (FB)
The world's largest social network reported revenue growth of 11%. Revenue reached $18.7 billion against a forecast of $17.3 billion. The company predicts similar growth in the future, as businesses seek to use digital advertising tools, despite an unprecedented boycott and economic turmoil caused by the pandemic. Quarterly ad revenue grew by 10%, and ended up amounting to $18.3 billion.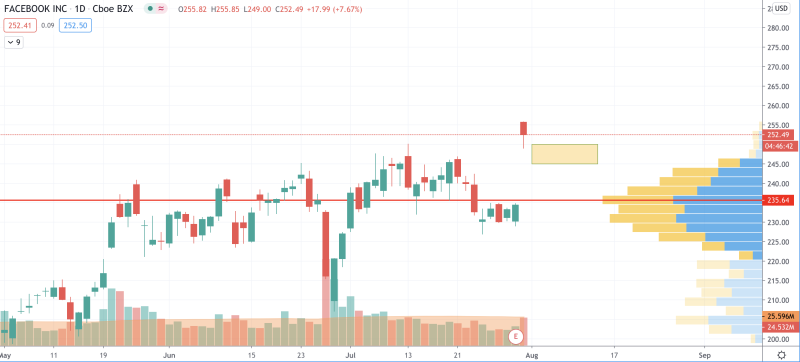 Image source: TradingView FB
From the technical point of view, Facebook (FB) is trading similarly to Apple (AAPL). The stock has opened with a huge GAP, having set a new all-time high at $255. However, the bearish influence exists based on the high level of selling trading volume. Although the bullish price forecast remains relevant, a slight correction to the yellow range of $245-$250 may occur in the nearest future.
Facebook is trading at $252.49 at press time.