Big Tech companies had a great quarter as their earnings estimates were beaten. Facebook (FB), Amazon (AMZN), Apple (AAPL) and Alphabet (GOOG) help the tech leadership to reach its highest levels since the dot-com bubble in 2000, Holger Zschaepitz (@Schuldensuehner) says.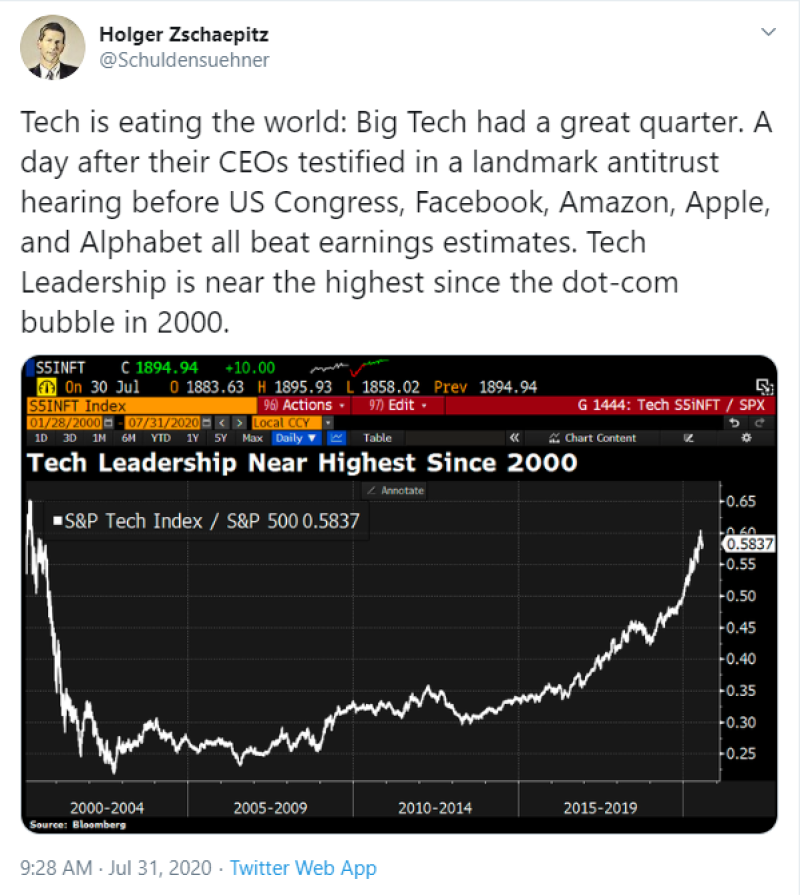 Image Source: Twitter @Schuldensuehner
Facebook (FB) beats estimates by 29.56%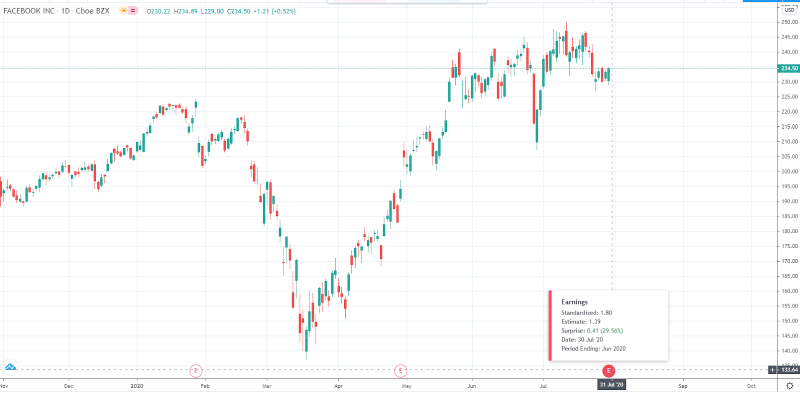 Image Source: TradingView FB
The latest Facebook (FB) earnings report has outperformed the estimates as standardized earnings hit 1.80, which is 29.56% higher than what experts estimated (1.39). The price of the stock is currently $234.50.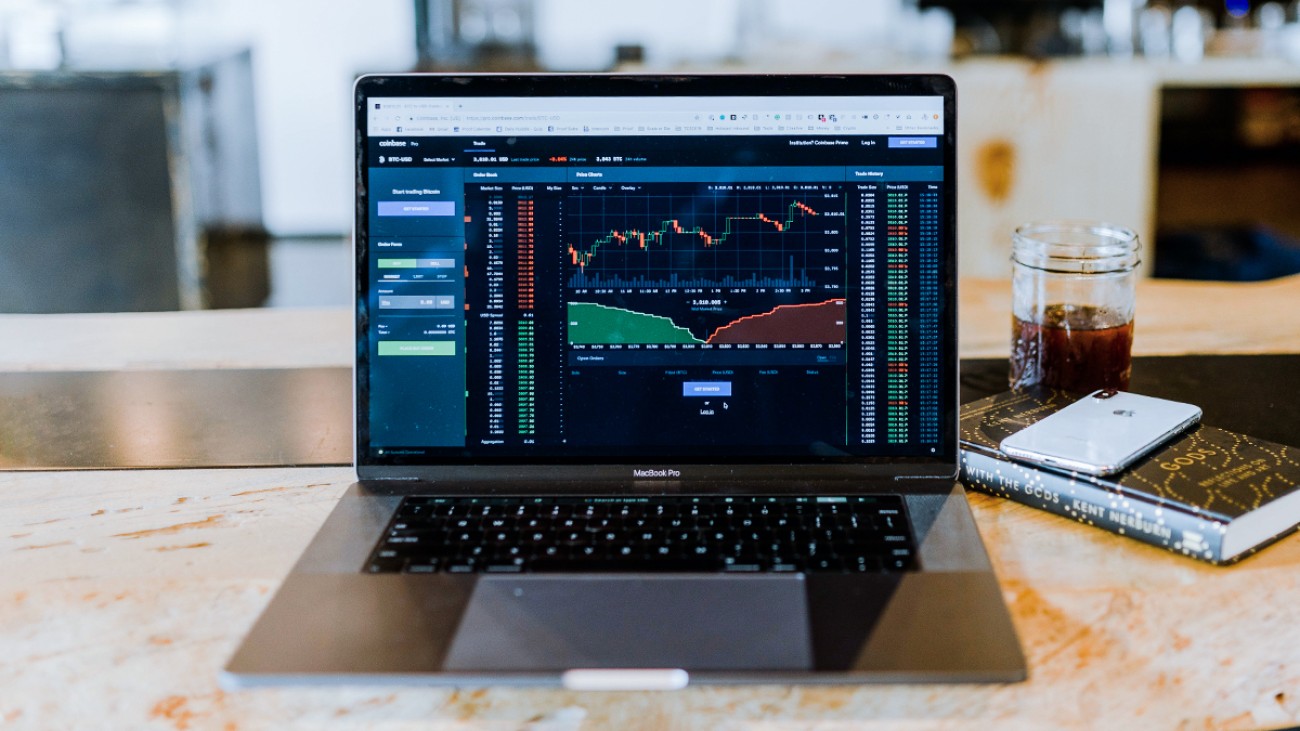 The price of FB plunged at the end of March, but recovered later and reached $250.00, which is its ultimate all-time high.
Amazon (AMZN) Skyrockets with 598.11% Above Predictions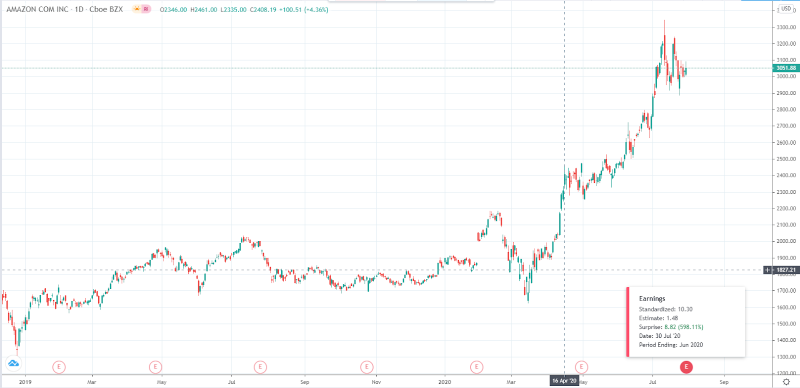 Image Source: TradingView AMZN
The standardized earnings of the Amazon company are 598.11% above the estimates. The final result is 10.30 against 1.48, forecasted by the analysts. The stock price is $3,051.88, which is close to the all-time high. AMZN has suffered less from the quarantine measures in March 2020 and recovered faster when compared to Facebook.
Apple (AAPL) Earns 26.06% More Than Anticipated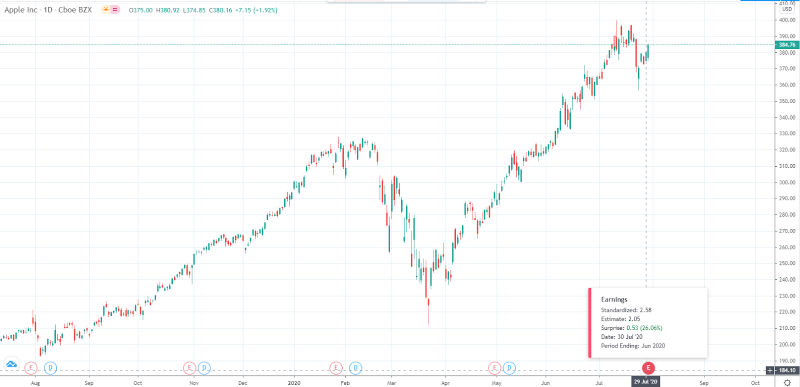 Image Source: TradingView AAPL
Apple has beaten the estimates by 26.06%. The standardized earnings level is 2.5, while the predicted was 2.05. Apple stock price plunged in March 2020 because of the investors' fears about the spread of the infection and the global crisis. However, AAPL managed to recover and reached its ATH in July of 2020.
Alphabet (GOOG) is Close to Its ATH
Image Source: TradingView GOOG
Alphabet earnings' report has shown that the current earnings data has outperformed the estimates by 27.38%. Standardized earnings' level is 10.13, while analysts expected this indicator to be 7.95. GOOG plunged in March of 2020 along with mostly every other stock, but managed to recover later and is currently trading close to its AHT.