Electric vehicle stocks are under pressure on Wall Street today. Shares of Nio, Tesla and Nikola fell sharply when trading on Wednesday.
Tesla's shares experienced the most dramatic decline out of them all. The price dropped by 6% when compared to the opening price. At the moment, the drop was about 14%, but this gap was bought back.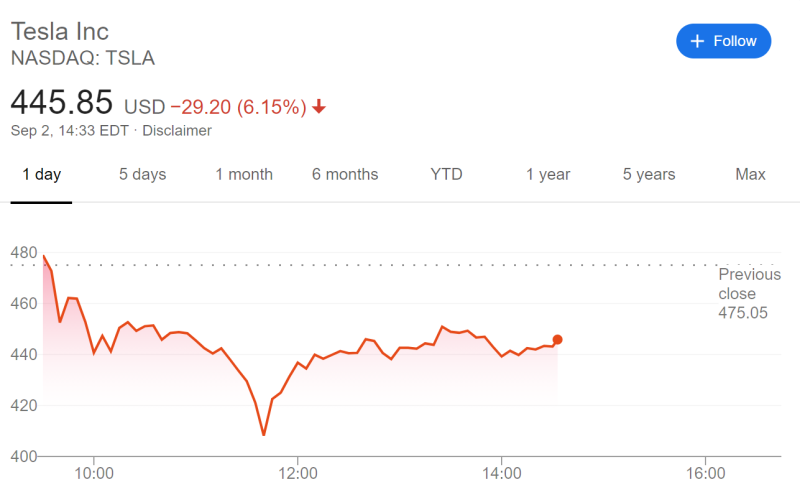 Image Source: Google Finance TSLA
The main reason for the decline was the announcement that one of the company's largest investors, the Baillie Gifford & Co. fund, sold 39.6 million shares of the company. This moved the fund from the second position to the fourth in the list of the largest stockholders.
Although the fund reduced the share based on the requirements of the internal guideline, which determine the maximum portfolio share that the fund can invest in one share, investors were alarmed. A day earlier, they were already alarmed by Tesla's decision to sell $5 million worth of shares.
Previously, the company's shares were growing rapidly for several weeks, the main catalyst for which was a share split, in less than a month the shares rose by 70%.
Nikola Dropped After a Big Sale Was Disclosed
Nikola's stock also declined in line with the trend set by Tesla. They started the day with a rise, but then it gave a way to a fall. One of the reasons for the drop was the information that Worthington Industries sold 6.5 million stocks of NKLA during August, almost halving its share. Thereafter, the stock fell by 5.4% against the intraday highest price.'
Image Source: Google Finance NKLA
Nio Stock Is Following the Bearish Trend
The shares of the Chinese company Nio were also in the selling zone. At the start of trading, the stock beat its intraday all-time high, reaching $21.05, but was then picked up by a bearish wave and pulled down to $19.6. At the moment, the share price fell below $18.5.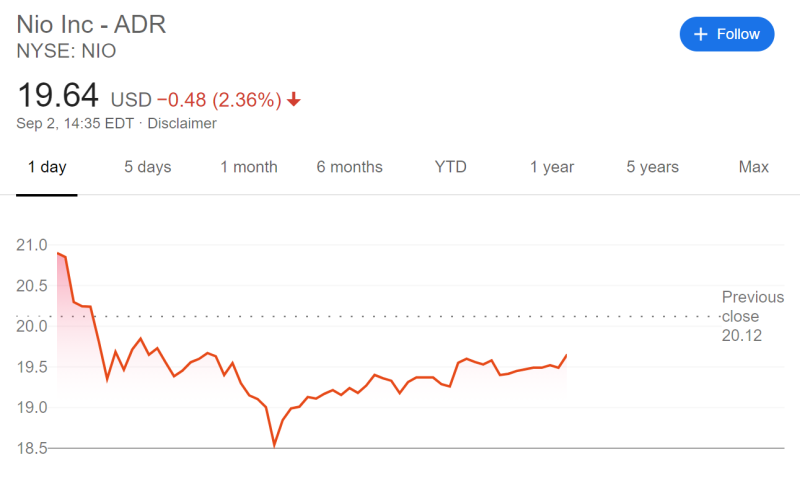 Image Source: Google Finance NIO
Previously, the stocks showed rapid growth after the produced secondary public offering of 101 million shares, but at the moment they do not withstand the pressure of the general EV stocks trend.