Call/Put Ratio Is at ATH
Sarah Ponczek, Bloomberg reporter and analyst, notes a sharp rise in the call/put ratio of stock options for companies included in the S&P 100 index.
Call/put volume ratio for S&P 100 (so all the largest stocks) at a record h/t BofA Sarah Ponczek via Twitter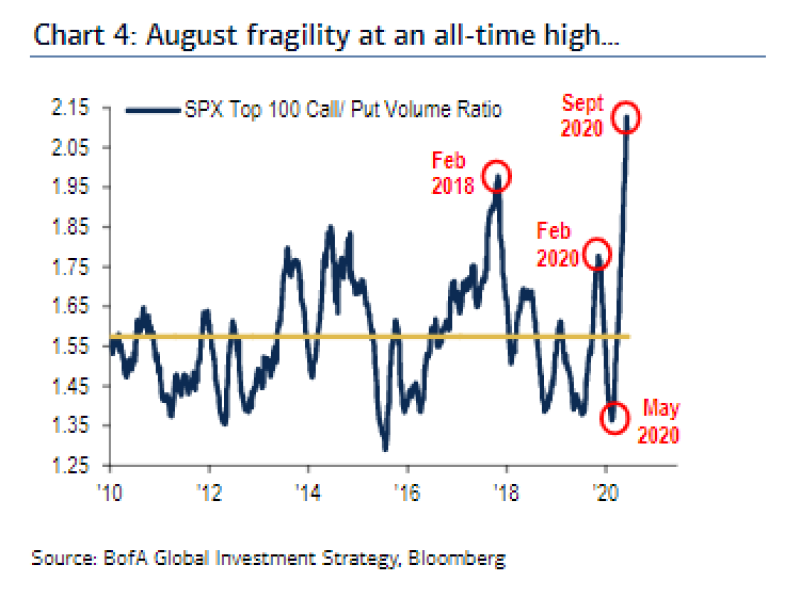 Image Source: Twitter @SarahPonczek
This index includes the top of the broader S&P 500 and includes the 100 largest-cap companies in the US market.
Sarah Ponczek notes that the call/put ratio set a new all-time high, reaching 2.15. For the market and investors, this indicator may mean that the increased interest shown in the shares of the largest companies has not yet dried up and, apparently, is gaining new strength, since the growth in demand for call options, as a rule, is one of the indicators of an imminent rise in prices of the stocks itself.
Hedge Funds Deside to Buy the Dip
Earlier Bloomberg reported that the largest hedge funds decided to use the buy-the-dip strategy, as during several days of this week there was an active growth in demand for shares of the largest companies in the market. Most of the attention was paid by managers of the largest funds to technology companies, taking advantage of how the Nasdaq fell 11% in just a week.
However, the S&P 100 has been unambiguously affected by these purchases, as it also includes shares in major technology companies such as Google, Amazon, Apple, Microsoft and Netflix.