In its blog, the cryptocurrency exchange Binance announced that the platform has become a member of Crypto-Assets Exchange Committee in Internet and Mobile Association of India.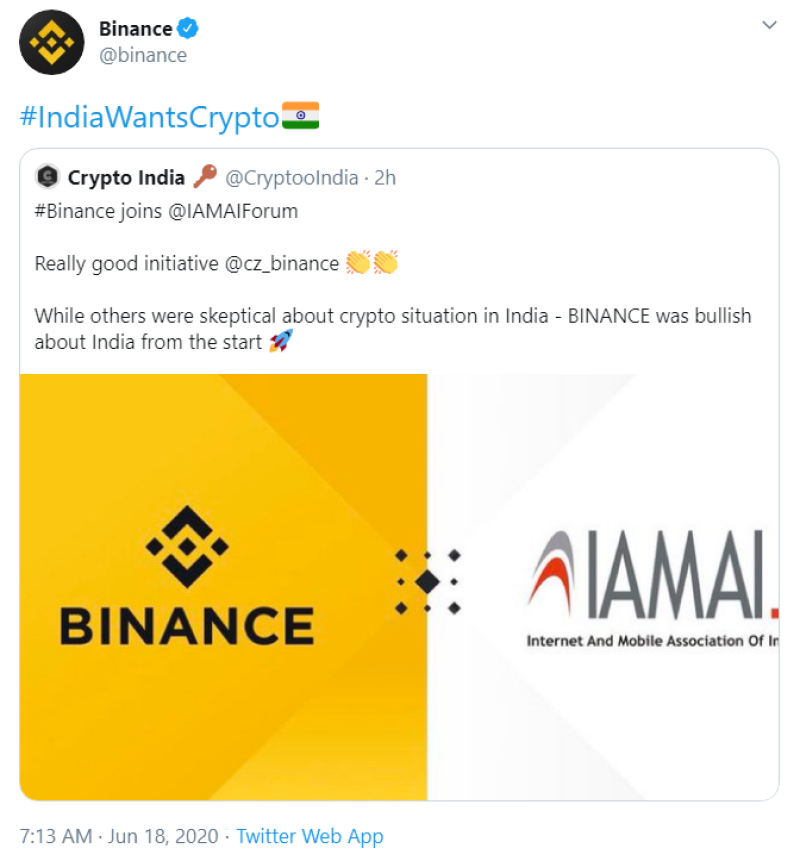 Image source: Twitter @Binance
This partnership will help to implement the international practices, which will assist in the development of cryptocurrency exchanges and businesses in India.
Given their (Binance) hands-on experience of regulatory compliance in various countries, we are excited to work with Binance and other industry players in developing a constructive policy framework for crypto assets in India Gaurav Chopra, Vice President of IAMAI
IAMAI intends to collaborate with regulators and policymakers using a sustainable policy framework for crypto assets in India. These measures will support innovation and ensure adequate risk management and security measures.
The head of the cryptocurrency exchange, Changpeng Zhao (CZ), said that Binance will continue to support the development of cryptocurrency startups in India through its "Blockchain for India Fund"
But it's not all that easy and the Association still has a lot to do. Let us recall that the Indian Government recently decided to introduce legislation ban on cryptocurrencies.