The new week has started with the continued growth on the stocks market. However, not all shares keep rising. The rise mainly accounts for the technological sector. However, there are also exceptions, such as Tesla (TSLA) that has set a new all-time high.
This technological giant has hit a new maximum at $1,576 per share. However, the asset could not hold the position and lost around 4% over the last 24 hours.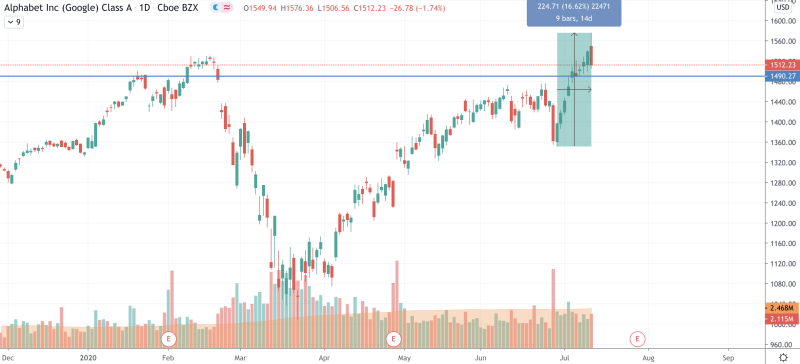 Image source: TradingView GOOGL
On the daily chart, the GOOGL share rolled back to the so-called mirror level at around $1,500. From the technical point of view, the bullish scenario has not been broken yet and potential growth is still possible. If the asset keeps trading in the range of $1,400-$1,500, it might keep rising to the levels above $1,600.
GOOGL is trading at $1,512 at press time.
Tesla (TSLA) is the top performer from our list. The price of the stock has rocketed by 30% since yesterday, having peaked at almost $1,800 per share.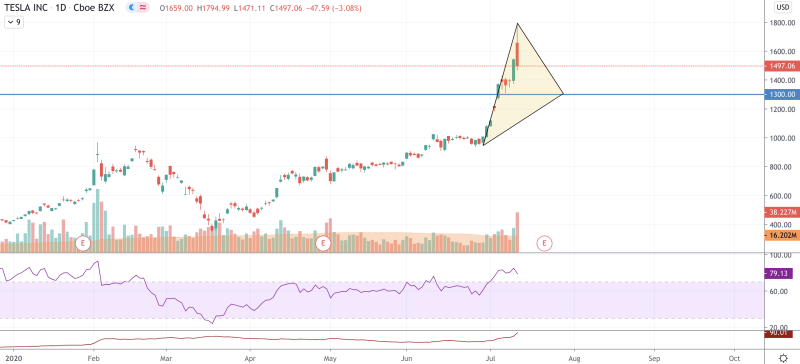 Image source: TradingView TSLA
Tesla (TSLA) is overbought on the daily time frame and the ongoing decline has confirmed that. The decline in price might continue as the stock has shown an outstanding rise over the last time. The nearest stop where the correction may finish is the $1,300 mark. 
TSLA is trading at $1,497 at press time.
The technical picture of Apple (APPL) is similar to that of Tesla (TSLA), however, the growth has not been so sharp. The richest company in the world has set a new all-time high at $399 per share.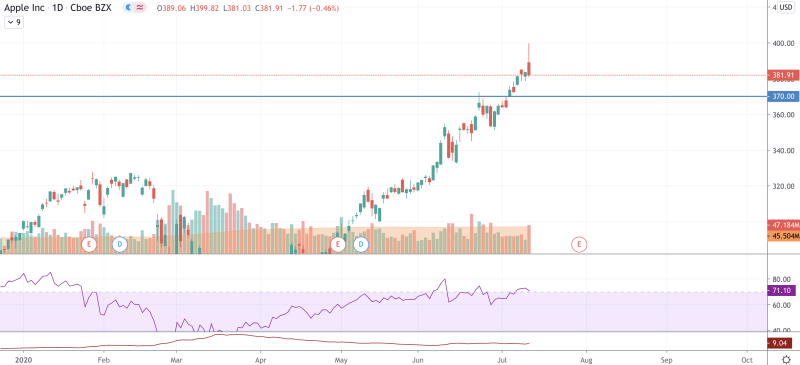 Image source: TradingView APPL
Apple (APPL) is also facing an ongoing decline after the parabolic growth. The asset has not left the overbought zone yet, which means that the decline may continue. Moreover, there is a high level of the trading volume and the decline may not have stopped yet. The more likely scenario that traders might expect in the next days is APPL at $370.
APPL is trading at $381.91 at press time.