After announcing its 5-to-1 stock split last week, Tesla had a good week on the stock market. After rising 2% in premarket trading, the stock is rising this week and is not stopping.
Tesla's shares continue to grow on the back of analysts' expectations of further growth to $2,000 and higher. A lot of optimism in China and Europe is pushing the company's shares up.
At the moment, the company's shares have fallen slightly below $1,900 in anticipation of the main trading session, stopped at $1,894.85, which is 3.23% higher than Monday's close.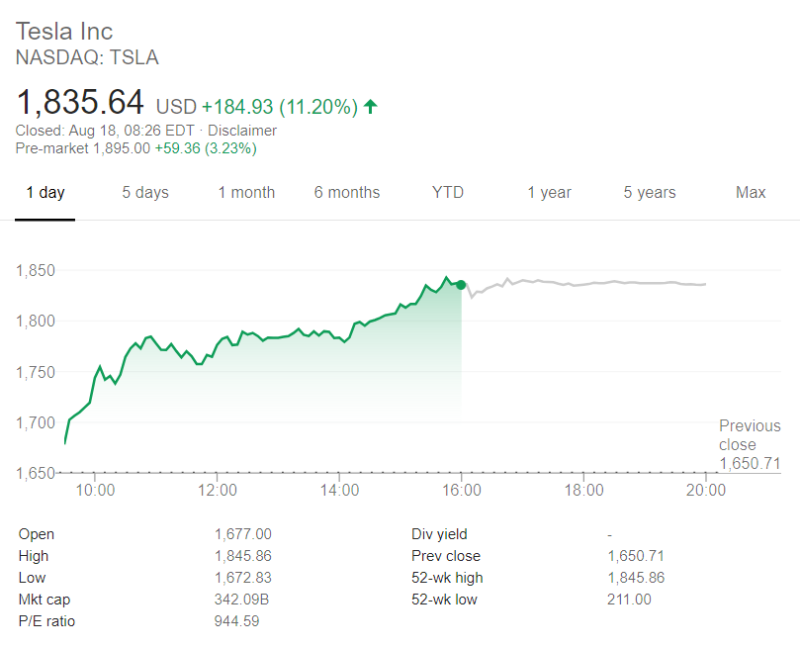 Image source: Google Finance TSLA
According to Tesla, 150,000 vehicles are to be delivered to its gigafactory in Shanghai in 2020, thus helping the company to deliver 500,000 products worldwide. In the first half of the year, despite the COVID-19 pandemic shutting down its main plant in Freemont, California, the powertrain manufacturer delivered over 179,000 vehicles in nearly two months.
Investors expect Tesla to reveal "highly modern," 1 million miles long battery technology that can be a "huge move forward in innovation over mainstream gas-powered gas rivals." At the upcoming Battery Day, on 22 September.