Tesla officially announced a stock split on Tuesday. The division of the company's shares is planned to be carried out in a five-to-one ratio.
Tesla Stock's Split Date is Announced
This split of shares will make it more accessible to many investors. After the split, Tesla stocks will become more accessible to retail investors, which in turn could probably attract more individual investors.
Split assumptions have been around for a long time, but only now the date has been officially set to August 21. Those who were Tesla's shareholders on that day will receive four additional shares after the trading closes on August 28. However, the stock will be trading on a split adjustment starting August 31.
TSLA is the Second Most Popular Stock Among Robinhood Users
Tesla has been second only to Apple in popularity in the Robinhood shopping app in the past 30 days, according to Robintrack, a website that tracks Robinhood assets. At the same time, the Robinhooders did not take the information about the split too well; last week the TSLA hit the record for the number of investors who sold it off.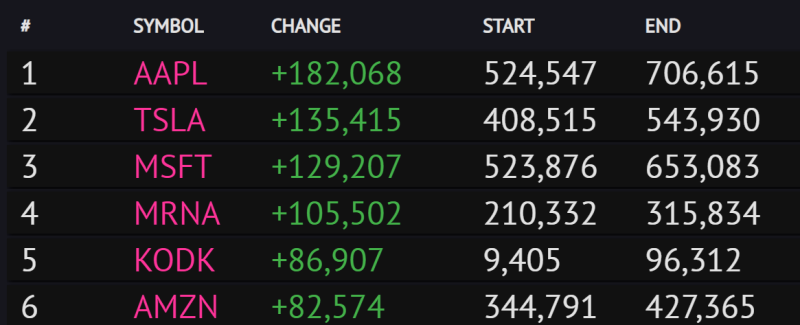 Image Source: Robintrack 
The split of Tesla's shares should not affect the potential decision of S&P Dow Jones Indices to add the company to the S&P 500 Index, which is weighted by the total value of companies in the stock market.
Tesla Stock's Price is Growing by 6%
Tesla shares have shown tremendous growth this year. Their price has increased by more than 200%. Today the company's stocks are among the most expensive ones on Wall Street.
After Tesla announced its stock split, the company's shares jumped by another 5% during the aftermarket hours. At the premarket on Wednesday, stocks continued to rise and are now trading at a price 6% higher than yesterday's close.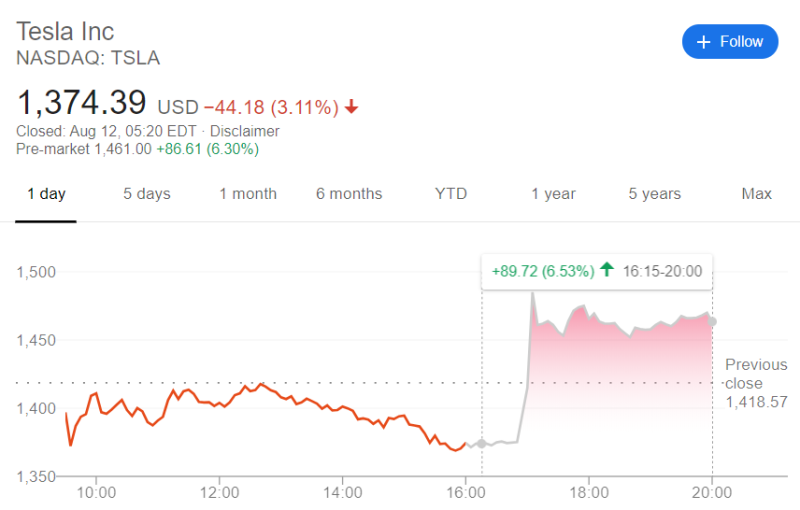 Image Source: Google Finance TSLA