The stock market is trying to keep the May's growth, however, bears are already making their presence felt. If technological giants, such as Microsoft (MSFT) or Apple (AAPL) are unlikely to drop soon, companies in other sectors, for example airlines, may have big problems as the demand for their services remains quite low.
After the TSLA share reached its all-time-high at $1,030, its rate has slightly rolled back. At the moment, the trading is taking place in the range between $950 and $1,000.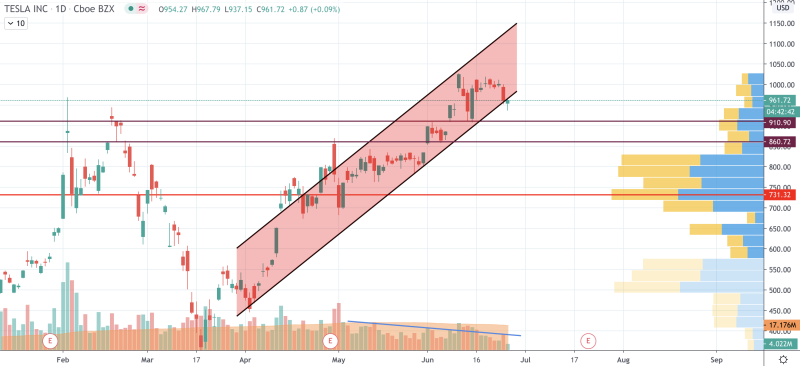 Image Source: TradingView TSLA
On the daily chart, the rising channel from the beginning of April has been broken, which means that traders are unlikely to expect the same fast growth as in the month before. Besides, there was almost no trading above $1,000, the share declined once the peak was reached. The first support is the level of $910.90. If bulls hold it, one might consider a bounce off. In another case, the decline might even reach the value of $860 or below, where most of the liquidity is focused.
TSLA is trading at $961.72 at the press time.
Facebook (FB) is looking much better than Tesla (TSLA). After reaching the new peaks, the share has entered the sideways trend, trading between $225 and $240.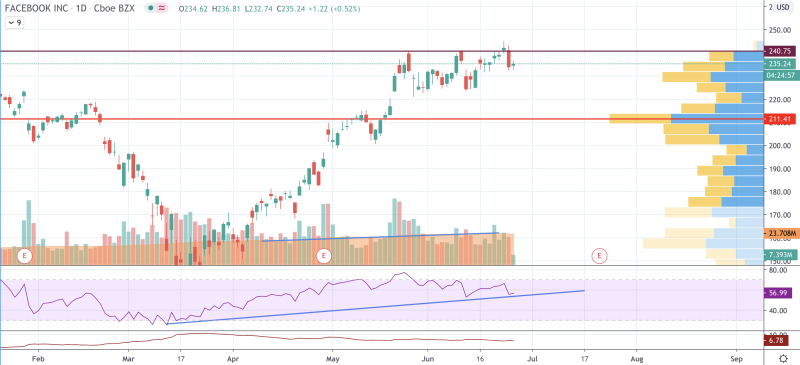 Image Source: TradingView FB
Neither bulls nor bears are controlling the situation at the moment, which is confirmed by the sideways trading. The trading volume remains high, meaning that buyers are not going to seize the initiative. In a more likely scenario, the growth continues to the top level of the channel at around $240. Such statement was also confirmed by the bullish divergence on the RSI indicator and high liquidity.
FB is trading at $235.24 at the press time.
The biggest company in the world is showing much better price dynamics than Facebook (FB) and Tesla (TSLA). The share has gained 0.53% over the last day.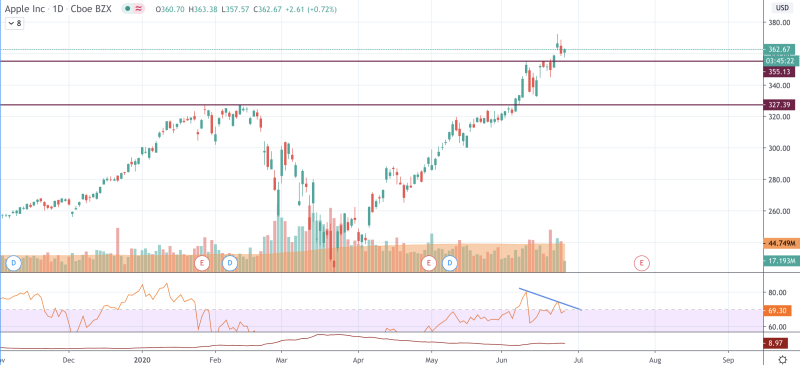 Image Source: TradingView AAPL
On the daily time frame, AAPL is trying to hold at the peaks. However, the asset is already oversold as there is a bearish divergence on the Relative Strength Index Indicator. What is more, the trading volume is slightly declining which is a prerequisite for a drop to the closest support at $355 within the next few days.
AAPL is trading at $362.67 at the press time.