Stocks of electric vehicle maker, Nikola, plummeted more than 11% after a devastating report about the company's activities published by Hindenburg Research, a  financial investigation firm.
Accusations of Fraud and Lying
In the report, the analysts accused the company and particularly its CEO, Trevor Milton, of lying and fraud, based on which the corporation is built. So, for example, according to the report, Mr. Milton has repeatedly claimed that his company produces hydrogen, having managed to reduce costs by 71%, but Nikola does not produce hydrogen either at a low price or at a high.
Moreover, Mr. Milton's claims of 3.5 megawatts of solar panels on the roof of the company's headquarters are also inaccurate. The CEO is also accused of having appointed his brother to be a director of Hydrogen Production / Infrastructure, although before that he was mainly engaged in subcontractor work on home renovations in Hawaii.
"Trevor has managed to parlay these false statements made over the course of a decade into a ~$20 billion public company. He has inked partnerships with some of the top auto companies in the world, all desperate to catch up to Tesla and to harness the EV wave." An article about Nikola made by Hindenburg Research
Trevor Milton's Response
Trevor Milton reacted to the allegations in a tweet. Mr. Milton said that he had been working on a "low-emotional answer" for 14 hours, which will be published before the markets open on Friday.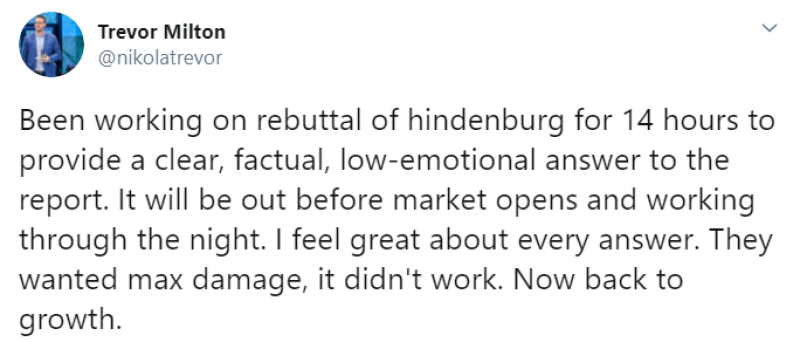 Image Source: Twitter @nikolatrevor
In his opinion, the report was aimed at inflicting as strong of a blow as possible on the image of his company and the quotes of its shares. He argues that analysts at Hindenburg Research have failed, and now the company is returning to growing.
Earlier, Mr. Milton claimed to know the secret initiators of this research and their main goal was to drown the company's shares, since "tens of millions of shares" were shorted this week.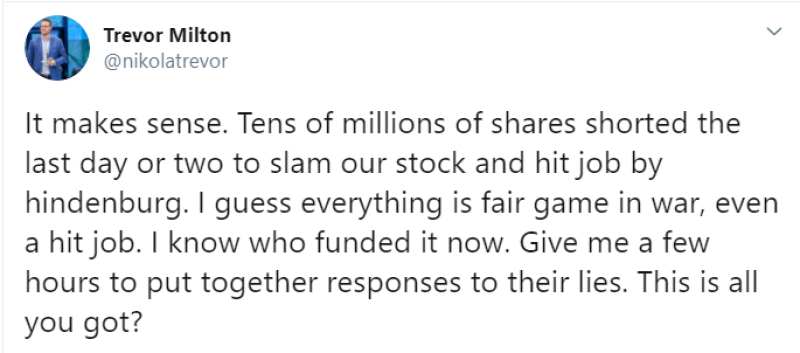 Image Source: Twitter @nikolatrevor
Nikola Stocks Fell by 11%
Nevertheless, Nikola shares have a long way to go to repair the damage caused by the devastating report. It caused the share price to fall by 11%, and on the premarket, it shows a 1.4% increase.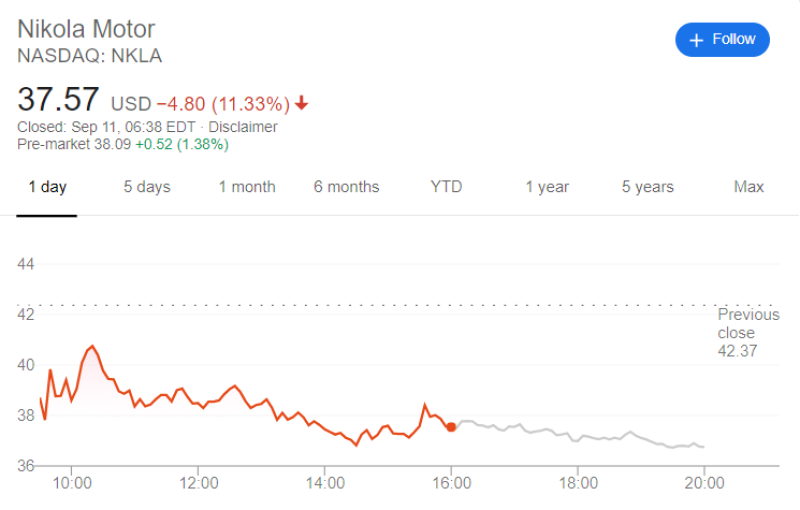 Image Source: Google Finance NKLA
This fall almost completely covered the growth caused by the announcement of the cooperation with General Motors last week.