After yesterday's cool-off, equities continue rallying further. The recent optimistic data on the jobs suggests that the economy might be starting to recover. Still, as some analysts claim, it's preliminary to be too positive about the economy.
SPX, DJI, and Nasdaq are growing as the market opens by over 1 percent. The major reason for traders' bullishness is the report on the U.S. unemployment that revealed an unexpected growth in the number of jobs. Contrary to the popular expectation, the economy added jobs amid the recession. Hence, the unemployment rate ended up substantially below the analysts' consensus.
S&P 500. Courtesy - Google
Let the phoenix rise
The staggering unemployment numbers in the U.S. during the past few months were frequently compared with The Great Depression. The government's restrictions hit businesses hard, so they had to cut costs and lay off hundreds of employees. A few weeks ago the reports showed that every 4th person in the country was jobless.
As today's report reveals, the economy added 2.5 million jobs in May, according to the U.S. Bureau of Labor Statistics. This significantly contrasts with the expectation of over 7 million jobs being lost.
A word of caution
The data was so unexpected that Paul Krugman, a prominent American economist, wondered about its accuracy. His biggest concern was the accuracy of the models used by the Bureau, which may have gone 'haywire' due to the unusual economic setup.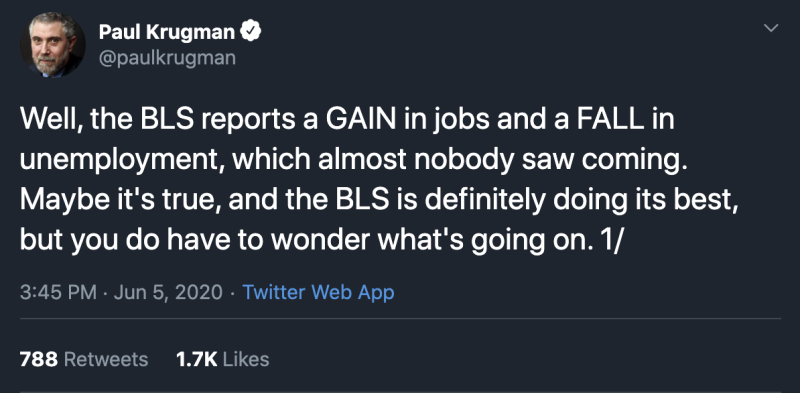 Paul Krugman On The U.S. Unemployment
Eventually, Paul concluded that the data is likely to be accurate. However, he highlighted that such optimistic results may convince the government that the aid to the economy is no longer necessary. As a consequence, when the current measures are expired, the situation will deteriorate.
Joe Weisenthal of Bloomberg TV has a similar point of view. He pointed out that the recovery should be 'robust enough' to stop the ongoing downfall of the economy.