The stock of Tesla, the company that designs and manufactures electric vehicles, is growing rapidly today.
TSLA Stock Is Rapidly Growing after the Split
Today is the first day that the stocks are trading after a 5 to 1 split. Thanks to the decline in the price per one share, they have become more accessible and, apparently, attractive to ordinary investors. In just a few hours, the company's shares jumped by more than 8%.
At the moment, the price increase was more than 10%, however, the shares could not stay at this level and slightly decreased. Thus, in just a few hours from the start of trading after the long-awaited split, the company's shares rose in price by more than 9%. Now the price has crossed this mark again and is trading at 10.3% above the opening price. The company's stock is now valued at about $487, or about $ 2,435 pre-split.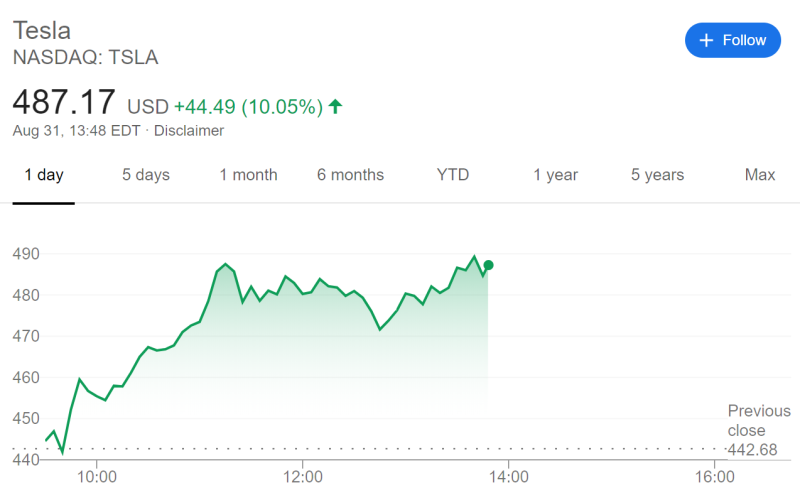 Image Source: Google Finance TSLA
$800 Option Sweeps Are on the Market
$TSLA is up more than 70% since announcing its stock split Sarah Ponczek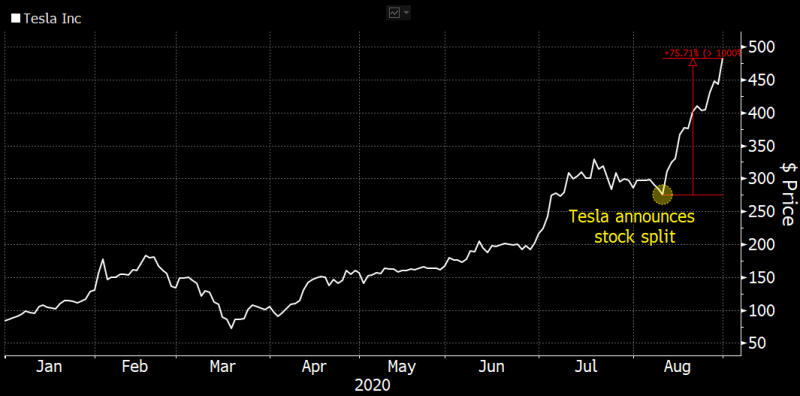 Image Source: Twitter @SarahPonczek
Besides, there is another unusual trend. According to @psk2329, there are bids for Tesla's $800 options to sweep on the market.

Image Source: Twitter @psk2329
$TSLA they are sweeping the 800 calls now @psk2329 via Twitter
 Option sweep is a large option purchase by a big institutional investor, such as a hedge-fund. Often, large funds have more complete information about what is happening on the market, so information about option sweeping allows us to make assumptions about how the stock value will behave in the future. Apparently, institutional investors are confident in the further growth of Tesla's shares.