The most popular promotions among users of the Robinhood app this week were Apple, Tesla and Moderna.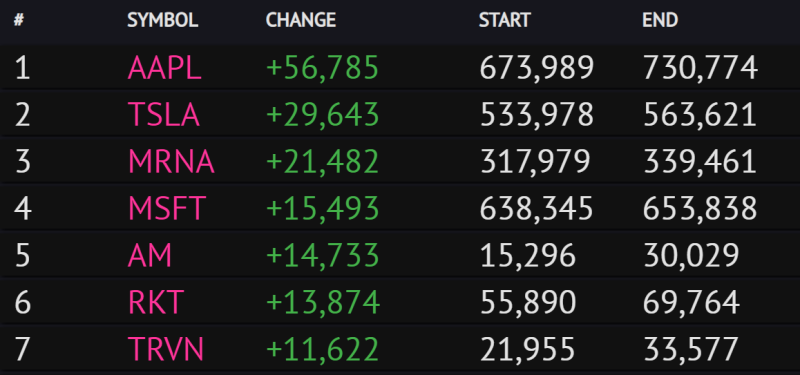 Image Source: Robintrack
Apple Stocks Lead by a Huge Margin
Apple's stock was the absolute favorite this week.  Several factors contributed to that. First, Deutsche Bank and Wedbush have increased their target prices. Dan Ives, an analyst at Wedbush Securities, increased his target price for Apple to $ 515 per share, which is the highest figure on Wall Street. The analysts believe in further growth of the company and are paying great attention to the launch of the iPhone 12, which will be the first Apple smartphone to support 5G technology.
Second, the company launched the Apple One subscription service. It will allow users to have a reduced subscription fee for many digital offerings. Finally, the COVIDWISE app was released, which tracks the virus using the infrastructure created by Apple and Google.

Image Source: Robintrack AAPL
Amount of shareholders rose by 56,785, almost double the growth of the next most popular company, Tesla.
Tesla Shows Growth
Tesla's shares also experienced a significant rise in the number of stockholders. Stocks are up by more than 14% this week. This is due to the official announcement of a 5-to-1 stock split. Such information often causes the price to increase. In addition, the analysts at Bank of America and Morgan Stanley have raised their target prices, and Tesla itself is patenting an improved Smart Summon feature.

Image Source: Robintrack TSLA
Thanks to all these factors, the number of shareholders increased by 29,643.
Moderna Stocks Rose on the U.S. Government Order
Moderna is an American biotechnology company, which focuses on drug discovery, drug development, and vaccine technologies. Its popularity among investors this week is precisely due to the company's core business. On Tuesday, U.S. Government announced that it has ordered 100 million doses of its vaccine candidate. Moderna is one of the leaders in the race to create a vaccine, and the US has already invested about $2.5 billion in it.

Image Source: Robintrack MRNA
Despite this, the company's shares were falling for almost the entire week. It is clearly seen that the main influx of buyers occurred right after the announcement on Tuesday when the shares rose sharply in price. The number of shareholders among the Robinhooders increased by 21,482.