Bloomberg announced on Monday that state prosecutors from New York and California, along with the Federal Trade Commission had collaborated together to press charges against Amazon's online store.
Despite total market gains, Amazon stock price dropped by -1.67% to $3,111.89 on Monday. Amazon shares closed at $232.40 below the 52-week high ($3,344.29) that was set on July 13.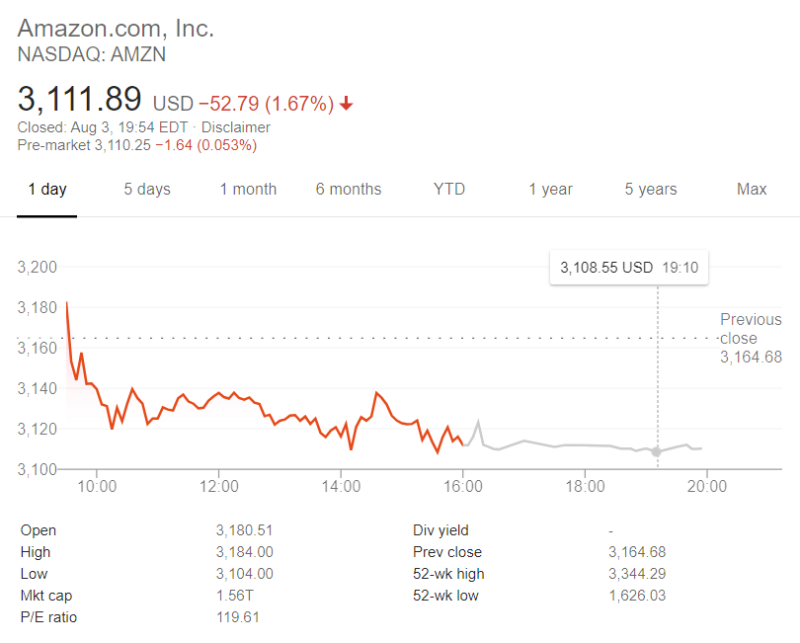 Image source: Google Finance AMZN
Amazon has recently been questioned about the usage of vast collection of third-party sellers' data. The prosecutors alleged that Amazon has used these data to promote or support rival goods against its own practices and that the collected information has been exploited by rivals and regulators.
The corporation originally refuted these allegations openly and in compliance with sworn testimony from Congress. However, the stories from Wall Street Journal in April doubted the veracity of that testimony, which prompted Amazon to launch an internal investigation into the matter.
Lots of corporations and analysts have said last month that Amazon used its acquisitions to obtain and manufacture competitive goods against its internal records.
Since then, Amazon has been prosecuted many times in connection with its allegedly monopolistic conduct and the handling of workers.