The Justification from CEO
In this open statement in the U.S., Amazon's CEO, Jeff Bezos, would highlight the worldwide shopping industry "strikingly broad and highly competitive." On Wednesday, the House antitrust subcommittee argued that the software firm he founded more than two decades ago as a small online bookseller is a big competitor in the broader business landscape.
Every day, Amazon competes against large, established players like Target, Costco, Kroger, and, of course, Walmart—a company more than twice Amazon's size. Jeff Bezos, the CEO of Amazon
Whether Amazon is able to make policymakers recognize their business concept, despite being one of the world's most valuable companies, which is managed by the world's richest male, is to be determined. However, the opening paragraph explicitly notes that Amazon has achieved adequate market strength to warrant an antitrust crackdown.
What is Wrong with That Statement?
The crucial aspect of the inquiry is that the company would gain third-party retailers from online business. Bezos' opening statement significantly diverged from the company's profile, which caused some allegations. In particular, an inquiry from the Wall Street Journal claimed that the company used proprietary data to compete aggressively with sellers.
Bezos has previously shared his opinion regarding the ending of the statement, which dates back to the shareholders' meeting in 2018: "Let me close by saying that I believe Amazon should be scrutinized. We should scrutinize all large institutions, whether they're companies, government agencies, or non-profits. Our responsibility is to make sure we pass such scrutiny with flying colours."
How Did the Price React?
At the premarket on Wednesday, the company's share price is trading in the green zone. The increase was 1.29% raising the stock by $38.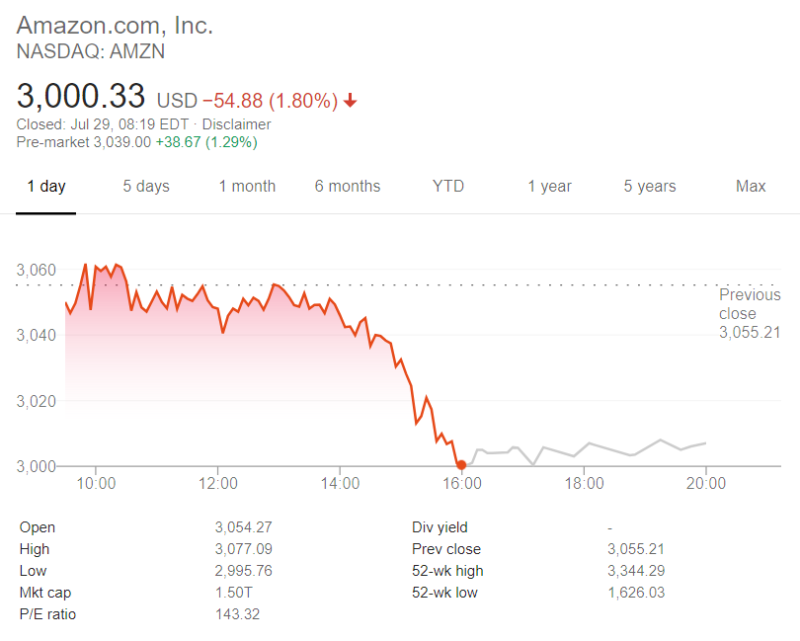 Image source: Google Finance
Let us recall that last week, the shares of an internet giant, Amazon, were at their peak in terms of trading volume, while the price was near its historical high.