The publication of the charges that the European Union will bring against the Internet giant Amazon is about to take place. The charges will relate to violations of EU competition rules.
These violations are due to the company restricting the work of external sellers on its online trading platform. It also was not the first time the company was suspected in misuse of personal sensitive data in violation of competition rules.
According to Margrethe Vestager, the head of competition and digital technology at the EU, the reason for investigation is it Amazon's double-natured role in the market and their use of data. Amazon, on the one hand, is a store, and on the other hand, is a platform for sellers.
What is wrong with Amazon?
The main question is whether Amazon is abusing its dominant position in online retail. If the company collects data from competitors and then use that same data to drive sales of its products.
According to the Commission, most products on Amazon are sold through Buy Box. This window contains extra products that are shown to users when they're buying an item. Many Amazon sellers strive to get into algorithmic output in this pop-up window.
The Commission also found evidence that the company uses user data to optimize its sales. 
Competition professionals have been awaiting a 'big data' probe for years. Amazon's insight into consumption patterns is commercially very valuable Bas Braeken, a competition lawyer at Dutch law firm bureau Brandeis
The Amazon case could serve as a precedent for some of these cases. This case is suitable for the Facebook market Commission's preliminary investigation. The Commission should check whether the platform is using its vast pool of data to give its business activity an (unfair)advantage.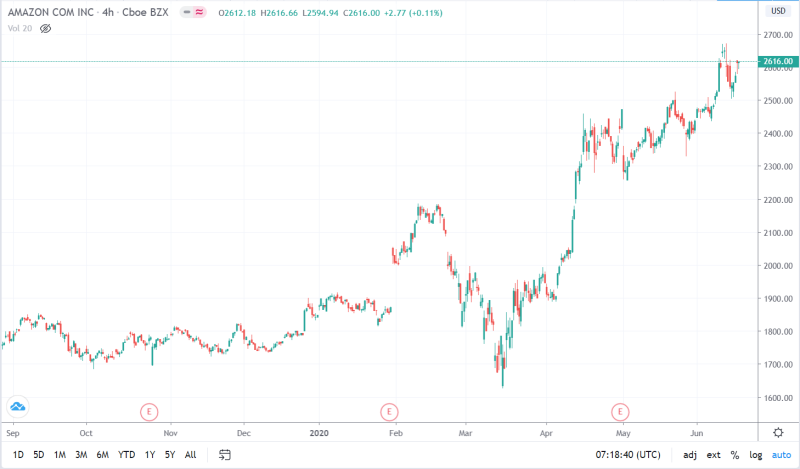 Image source: TradingView $AMZN
Amazon shares are trading near their historical price highs. On the premarket on Wednesday, the stock is trading +0.30% of the closing price on Tuesday.