Adam Mancini, a full-time trader and a technical analyst, believes that now is a defining moment that largely determines the future behavior of gold and the S&P 500.
S&P 500 Is Close to Breakthrough
Mr. Mancini reports that the S&P 500 has been in a corridor between 3,300 and 3,420 for a long time. After the bears pushed the market down, the index again held at this support level. Nevertheless, the trader believes that the support will not withstand another such attempt at pressure, so the bulls need to reach 3,380 points to continue moving up.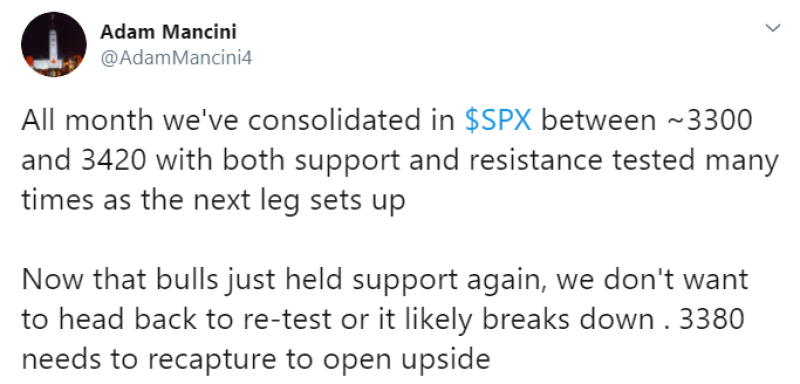 Image Source: Twitter @AdamMancini4
Gold Repeats This Pattern
Moreover, Adam Mancini sees a similar pattern in the behavior of gold. He points out that in August, the bears tried to break the support level at 1,950 dollars per ounce. They have not succeeded yet, but to ensure further growth, the bulls need to raise the price to $2,020. From there, an opportunity will open up for further growth.
At the same time, if the attempt to rise to the specified price fails, there is a high probability that the price will fall below the current support level that lasted the entire August.
"Just like $SPX, $GOLD is sitting at a key support zone and chances are both break the same way. Gold is back-testing resistance of its triangle from August at $1950 (the line connecting Aug 6 and Sept 1st highs). Needs to rally directly here to $2020 as failure would kick off a down leg" Adam Mancini via Twitter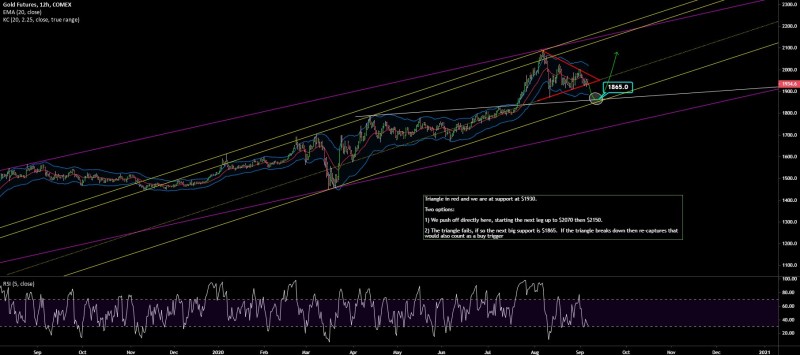 Image Source: Twitter @AdamMancini4