A growing number of companies, such as Microsoft, PepsiCo, Coca-Cola, Unilever, and Starbucks, refuse to advertise on Facebook due to the #StopHateForProfit campaign, initiated by the civil rights group, with the Anti-Defamation League and NAACP being its members.
FB price fell by 8% last week due to the news of more companies joining the boycott. 
Chris Peruna, a commercial real estate professional and an investor, makes a prediction about the upcoming rise of the FB stock based on the technical analysis. He claims that the drop is temporary and has its roots in the overreaction related to the impending aftermath of the boycott. In this case, a 200-day moving average serves as a support level for falling Facebook stocks, so they wouldn't go below it, which assures the growth in the future.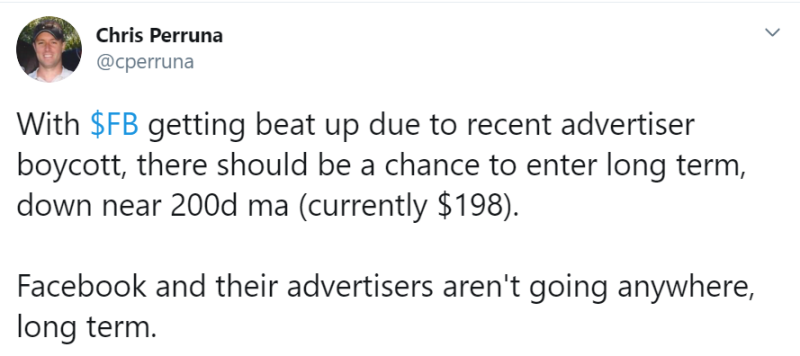 Image Source: Twitter @cperruna
What are the reasons to believe in the bright future for FB stock?
According to CNN, the ad giants brought Facebook $4.2 last year, or about 6% of
the platform's ad revenue. It means that 94%of FB's advertisement revenue depends on thousands and thousands of small- and medium-sized companies, which have not joined the #StopHateForProfit campaign.
Moreover, there are just too few alternatives in reaching the size of the audience that Facebook can offer and even less – which can provide such amount of data for advertisement targeting. Abandoning the opportunities provided by Facebook may be a real failure for boycotting companies, so the boycott may not last longer than a month.
Finally, Mark Zuckerberg, Facebook founder, and CEO has already commented about the situation last Friday. In his statement, he announced the upcoming changes in standards for hateful content ads, claiming that the company will take additional steps to fight voter suppression and hate speech. In addition, Facebook will continue working with outside experts and civil rights organizations. If FB will fulfill its obligations, it will help to reduce tension and allow companies to return their content to the platform.
During Monday trade session FB stock prices won back part of the fall and rose by 4,5%, despite the negative information circulating around.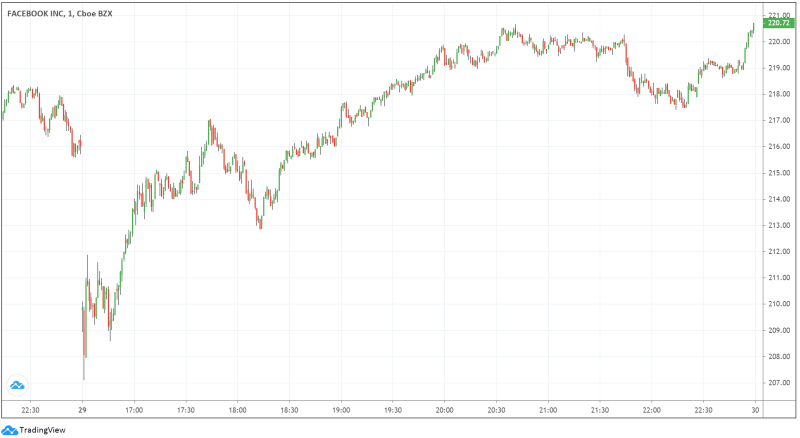 Image Source: TradingView FB