The majority of the S&P500 (SPX) stocks have higher dividends than the 10-year US Treasury yield. Jeroen Blokland (@jsblokland) sees no alternative other than to buy equities. The percentage has almost hit 80%, which is the record level. The chart posted by the expert shows that this percentage reached its peaks every time there was a crisis.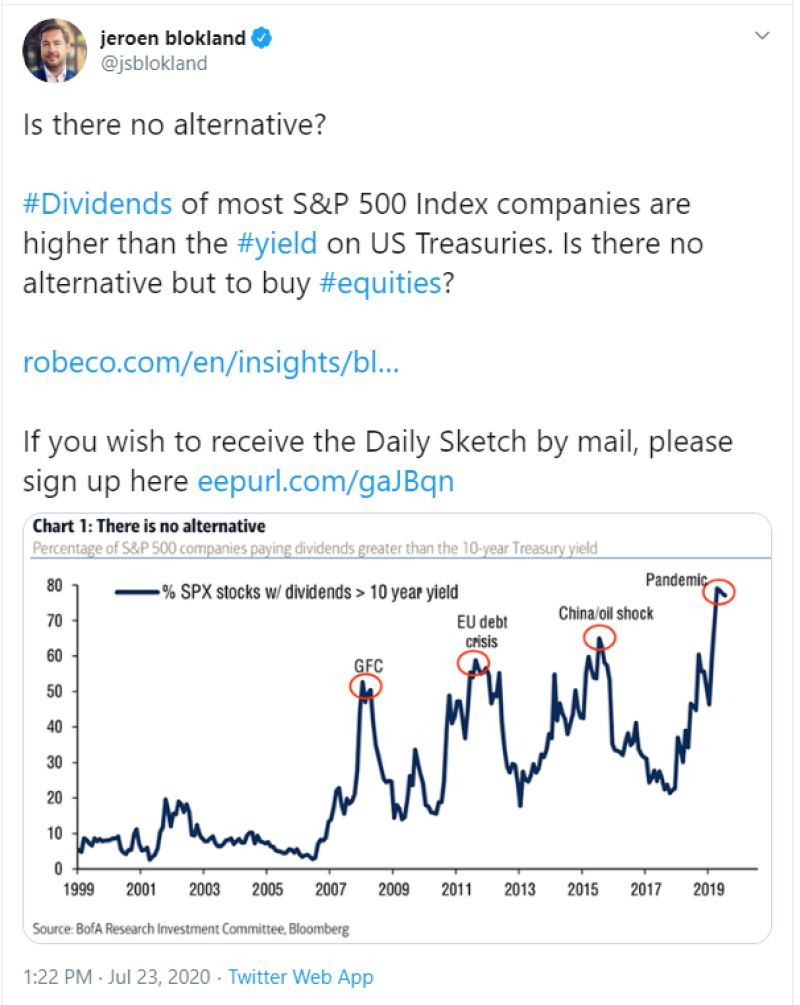 Image Source: Twitter @jsblokland
Top S&P500(SPX) Companies with Higher Dividends
Here is the list of the highest dividend-paying companies included in the S&P500 index:
Macy's. This is the hugest and oldest US retail network established in 1858. This network included more than 800 retail stores across the United States by 2010. The dividend yield is 25.4%, but the stock is currently is not the best choice because of a significant fall in this industry.
Occidental Pertoleum is an American oil company established in 1920. It is in the 491st position in Fortune Global 500. The dividend yield is 24.6%.
Apache is another oil and gas industry representative operating in the United States, Egypt, and the United Kingdom. The company offers a 16.9% dividend yield thanks to its shares price plunge in the first quarter of 2020.
Kohl's is a U.S retailer. Its chain includes over 1,000 stores across the United States. The company's dividend yield is 15.7%.
Oneok is a leading U.S natural gas midstream company operating in Kansas, Texas, and North Dakota. The company offers a 15.3% dividend yield mostly thanks to the current global economic recession.
Helmreich & Payne is another energy company offering a high 15% dividend yield to its stockholders. The company's main focus is on designing and operating high-performance drilling rigs.
Simon Property Group is the largest U.S retail network. The company has recently announced that they are going to close some of their stores to help fight the virus. The dividend yield is 13.4%.