As planned, the OKEx cryptocurrency exchange announced the addition of a new trading pair to trading options. This time, the exchange added the EOS / USD trading pair.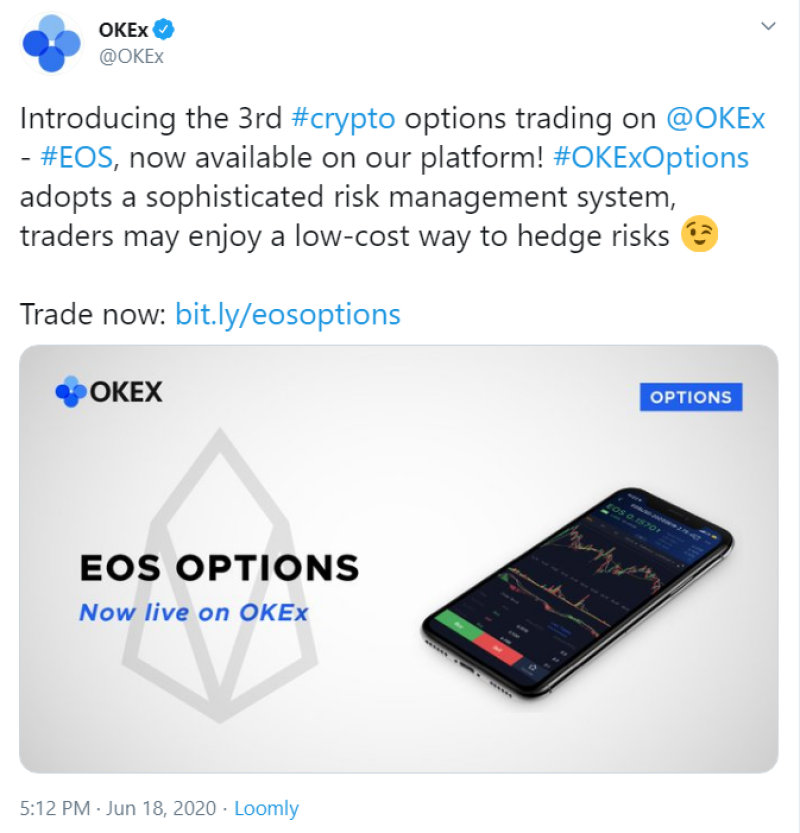 Image source: Twitter @OKEx
The OKEx cryptocurrency exchange keeps a leading position among other cryptocurrency exchanges. Earlier, the exchange announced the addition of cryptocurrency options to Bitcoin (BTC) and Ethereum (ETH). The exchange predicted the volume of transactions at the level of 10 million dollars per day.
OKEx EOSUSD options use a complex risk management system with a brand price rule, a daily calculation rule and a short qualifying rule. The risk management system OKEx will deliver portfolio margin goods in future to further boost consumer performance.
OKEx has issued 50,000 EOS to the EOSUSD options to insure fund and to mitigate the chance of clawback.
According to the Coinmarketcap website, the OKEx exchange is in the lead in cryptocurrency trading volume. At the moment, the exchange is taking the third place with such giants as Binance and Huobi leading the way.

Image source: Coinmarketcap