Big Players on the Cryptocurrency Market
On Thursday, Square, the payment firm run by Twitter's CEO Jack Dorsey, revealed it had purchased 4,709 bitcoins, a $50 million investment reflecting 1 percent of the total assets of the company.
Square believes the cryptocurrencies is a tool for economic empowerment and provides the world with a way of participating in a global monetary system that is consistent with the purpose of the company.
This statement did not go unnoticed by many other public figures. A co-founder of the American cryptocurrency exchange Gemini, Cameron Winklevoss, wrote in a tweet that many companies in the future will follow the example of Square and will keep the company's funds in Bitcoin.
#Bitcoin is on its way to becoming a corporate treasury asset. @michaelsaylor and @jack are leading the charge. Soon many other companies will follow, and eventually central banks. This is just the beginning... Cameron Winklevoss @cameron via Twitter
Also, a bitcoin enthusiast Max Keiser noted that this is just the beginning. According to him, the price of Bitcoin will update its historical peaks very soon, as the largest derivatives exchange BitMEX is under pressure from the US authorities.
#Bitcoin are quickly mopping up supply hangover from 2018 crashPlus, shoddy market-makers/exchanges like BitMex going offlineA break above $13,000 will result in a quick move to new ATH above $20,000 Max Keiser @maxkeiser via Twitter
How Did the Price React?
The price of Bitcoin reacted with a sharp increase up, breaking through the $10,800 mark. At the moment, this is the biggest movement in the last few days, as volatility has fallen to the lowest values. And this, in turn, is a harbinger of a big movement.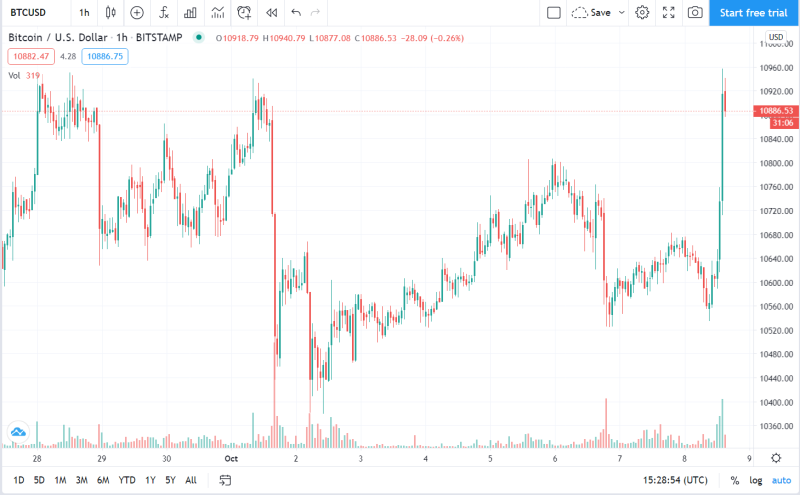 Image source: TradingView BTCUSD