During trading session on Tuesday, silver rose by 13%. Experts are talking about a new bull rally that is about to start. The price of this precious metal rose from at $19.9 at the opening to $21.3, at the closing of the trading day.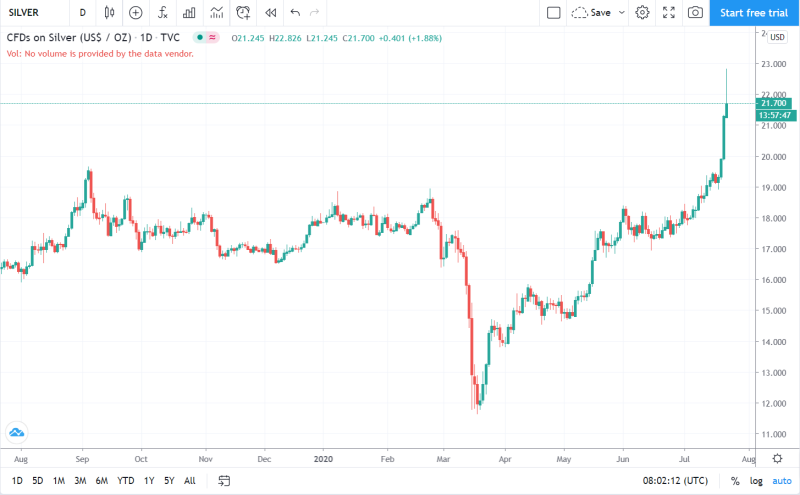 Image source: TradingView XAG
This situation was also commented by an ardent supporter of gold, Peter Schiff. He stated that silver is outperforming Bitcoin in terms of profitability. Bitcoin is considered to be digital gold and, therefore, it is often compared to different precious metals.
The main argument against bitcoin was that it does not have a 'direct use' and that even silver is much superior to this cryptocurrency.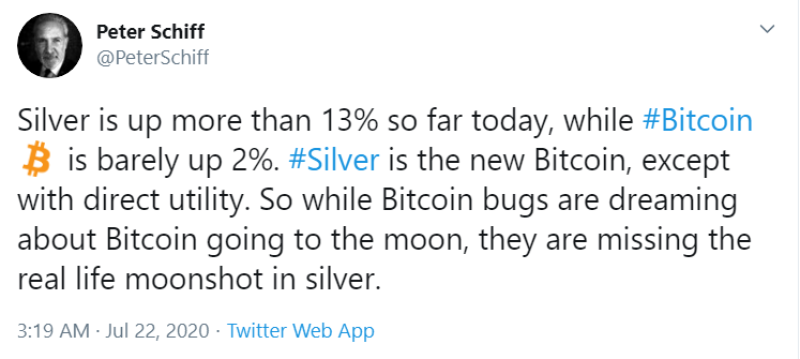 Image source: Twitter @PeterSchiff
However, Peter was told in the comments that it is impossible to compare assets on just one trading day. You need to look at a longer period of time to see the full picture.

Image source: Twitter @ColinTCrypto
Earlier, Peter called Bitcoin another 'pyramid' that should be avoided. Bitcoin is often compared against to gold, as both commodities are different and serve as a hedge to the stock market in turbulent times. Nevertheless, Bitcoin is a pyramid where only those who have been able to leverage the opportunity before others can begin to profit.
Let us recall that Bitcoin has started to come out of the sideways movement. On Tuesday, the price rose sharply above the mark of $9,300.