Silver (XAG) is entering the bullish wave since 2002, according to the Lyn Alden (@LynAldenContact), the founder of the investment strategy fund.
Image source: Twitter @LynAldenContact
Silver (XAG) broken the MA 50 in correlation to the Dow Jones Index, which is a signal for positive growth.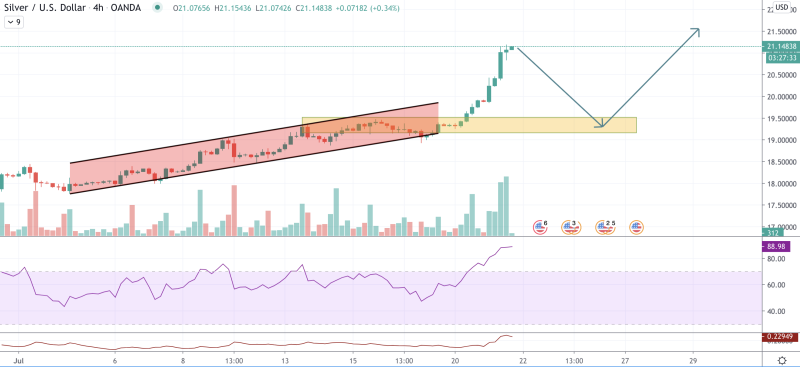 Image source: TradingView XAG
XAG/USD quotes continue to move within the growth and the ascending channel. At the moment, traders may consider an attempt to develop a correction in the value of the metal and a test of the support level near the $19.35 area. One can expect a rebound and some continued growth in the price of silver with a target above level $21.
An additional signal in favor of the rise in quotes and prices for XAG/USD will be a test of the support line on the relative strength index (RSI). The second signal in favor of growth will be a rebound from the lower border of the ascending channel. Cancellation of the option of rising prices will be a fall and a breakdown of $19.05. This will indicate a breakdown of the support area and a continued fall to the area below the level of $17.65.
XAG is trading at $21.15 at press time.