Crypto mining is a very popular source of getting cryptocurrency. Bitcoin is not the only cryptocurrency that you can mine (however, it is one of the most popular digital assets ever). The number of cryptocurrencies is growing constantly and you can choose from a variety of tokens that you can mine as they are based on the Proof-of-Work consensus mechanism.
Those who want to start mining Bitcoin and other top altcoins should understand that they are going to have great expenses including mining equipment, electricity, etc. And no one can guarantee that all those costs will be at least covered by earnings. You have two ways here: to start mining low liquidity tokens expecting them to grow one day (who knows, they may burst or stay unknown forever), or to join cloud mining communities. We are going to describe the most interesting cloud mining platforms as well as the pros and the cons of this way of earning cryptocurrency.
Top Cryptocurrency Cloud Mining Services
Here is the list of the best crypto cloud mining services:
IQ mining.
Cryptouniverse.
Genesis mining.
CCG mining.
Hashing24.
Review of IQ mining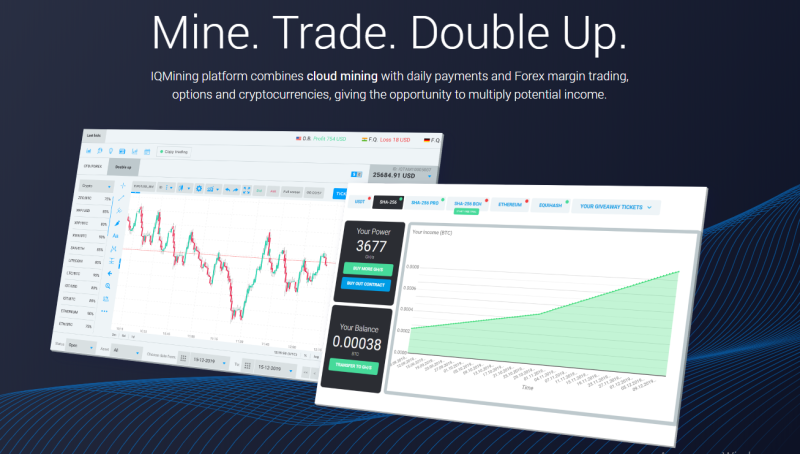 Image Source: IQ Mining
IQ mining was established in 2016. They offer crypto cloud mining and trading facilities including Forex margin trading. 
Crypto Cloud Mining Features
IQ Mining offers various contracts for cloud mining that you can find when visiting their official website. They are the following:
SHA-256. This mining contract allows you to earn ten major tokens. The minimum hash rate is 10 Gh/s. The maintenance fee is $0.001 for 10 Gh/s per 24 hours. Payouts are done on a daily basis depending on how much tokens you have mined.
SHA-256 PRO. This contract allows you to mine 100-150 altcoins. The minimum hash rate is 10 Gh/s. The maintenance fee is similar to SHA-256. 
SHA-256 BCH. This contract allows you to mine up to 150 altcoins. Its name tells us that the payouts are done in Bitcoin Cash. The minimum hash rate is 10 Gh/s. As for the maintenance fee, it is similar to the previous contracts.
Ethereum. This is an Ethereum specialized contract allowing you to mine the second popular cryptocurrency. The minimum hash rate is 0.1 Mh/s. The maintenance fee is $0.00013. Payout is done in ETH (this one is unavailable at the moment of publishing).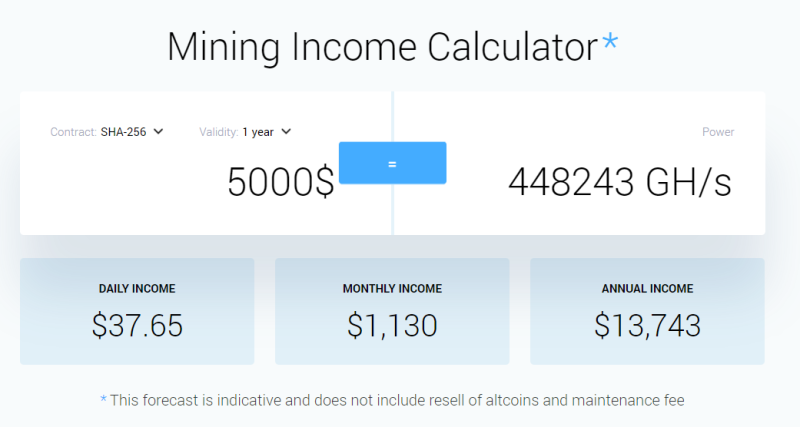 Image Source: IQ Mining
IQ mining allows you to calculate your approximate earnings if you buy a particular contract. To do this, you need to go down to a special calculator having the following options:
Contract type. You can choose between the offered contracts.
Validity. The contracts have various lifetime there.
The next window allows you to input the amount you want to invest or the volume of hash power you want to purchase. All calculations are done automatically. 
The calculator also shows some important estimates including Daily, Monthly, and Annual income.
IQ Mining Trading Features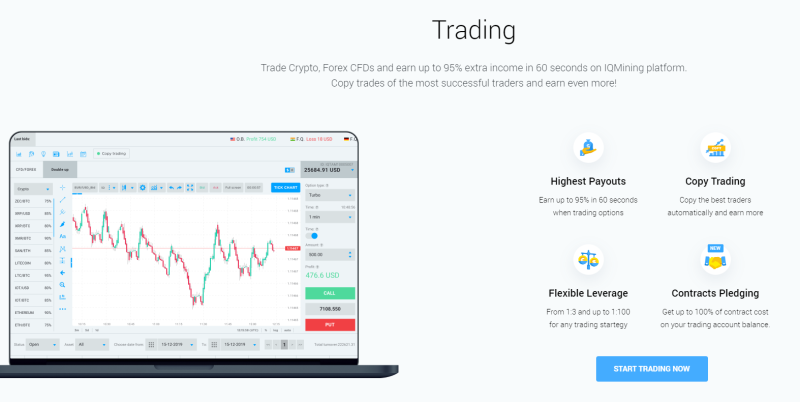 Image Source: IQ Mining
Apart from cloud mining, IQ mining offers trading opportunities to clients. It has an in-built platform with all the necessary features. You can choose various types of charts, use graphic tools and indicators. IQ mining offers both Forex trading and binary options betting (you need to guess the direction of the asset fluctuations).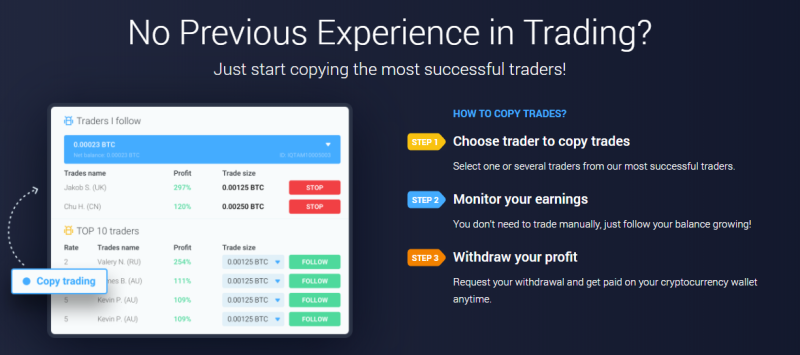 Image Source: IQ Mining
If you are not great at trading you can copy trades. There is a special platform that you can use in order to follow the most successful investors. It offers Top 10 traders, which is the easiest way to find the most profitable ones.
Referral Program
You can earn additional income by inviting your friends and other users via a special referral link. All you need to do is to create your affiliate account and to start attracting new clients to the company. You can get up to 10% of the extra income.
Pros and Cons
IQ mining offers the following advantages to the clients:
Wide range of contracts to choose;
Various lifetime;
Trading opportunities (Forex/CFD and binary options);
Copy-trading opportunities to those who have no previous trading experience;
Great knowledge base and fast support;
Generous affiliate program;
Various ways to fund your account including fiat and cryptocurrencies.
As for the disadvantages, they are the following:
Not all contracts are currently available.
No mobile platform.
Cryptouniverse

Image Source: Cryptouniverse
Cryptouniverse is a number two cloud mining service in your list. Here you can not only buy contracts, but also purchase hardware to conduct mining on your own. Let's see what they offer.
Renting hash power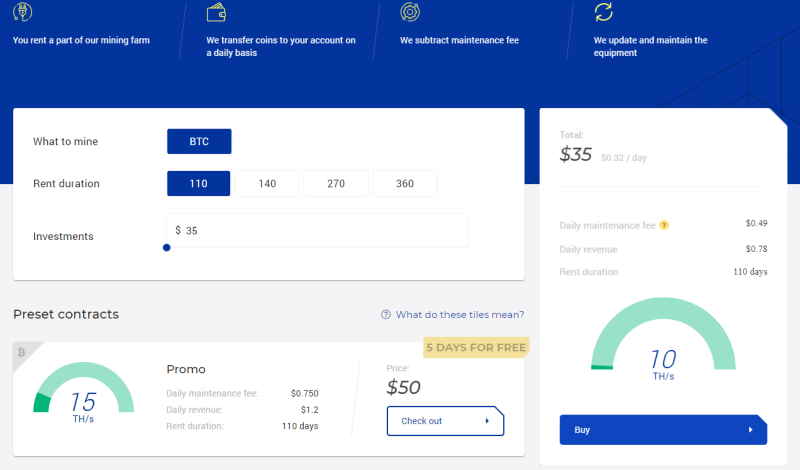 Image Source: Cryptouniverse
Here you can choose between preset contracts and your own ones. All you need is to indicate the cryptocurrency to mine, rent duration, and the amount of the investment. On the right side of the screen, you will see your contract that you can just set up. The contract information also includes maintenance fees, daily revenue data, and rent duration you have chosen. There are also preset contracts with special offers.
Buying Miner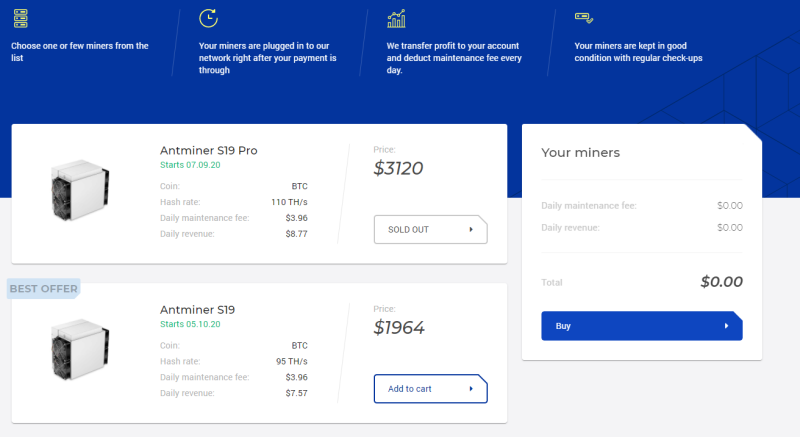 Image Source: Cryptouniverse
This is another opportunity that you can benefit from by choosing Cryptouniverse. They offer various types of miners that can be delivered to you once you purchase them. 
Pros and Cons
The advantages of Cryptouniverse are the following:
Wide range of contracts;
You can create your own investment plan indicating vital parameters;
Online miners shop to start mining on your own;
Rich database of FAQ to answer your questions;
Fast support service.
There are no trading opportunities;
There are only two cryptocurrencies to mine – Bitcoin and Litecoin.
Genesis Mining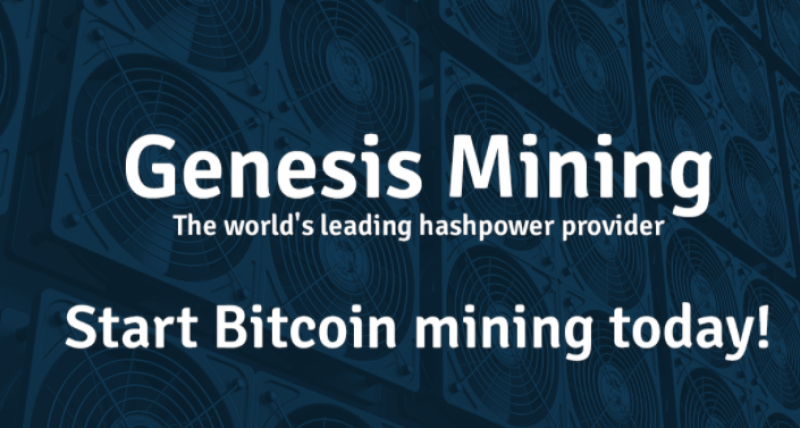 Image Source: Genesis Mining
Genesis mining is another cloud mining service that lets you earn cryptocurrencies by buying special contracts. As of right now, you can choose between three cryptocurrencies – Bitcoin, Dash, and Ethereum. Genesis Mining is planning to introduce three more altcoins such as Litecoin, Monero, and Zcash.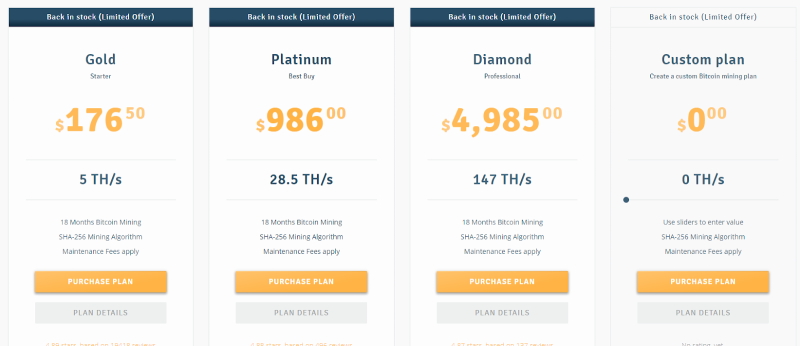 Image Source: Genesis Mining
There are various plans for each cryptocurrency. We have made a screenshot of those working with Bitcoin. The pricing is very flexible. There is also an opportunity to create your own contract by indicating the hash power you want to rent.
Pros and Cons
The advantages of Genesis mining are the following:
Wide range of contracts to choose from;
Flexible pricing with customizable contracts;
Various cryptocurrencies to mine (they are going to add three more offers in the nearest future);
No hidden commission.
The disadvantages of Genesis Mining are:
No exchange to sell hash power or cryptocurrencies.
CCG MIning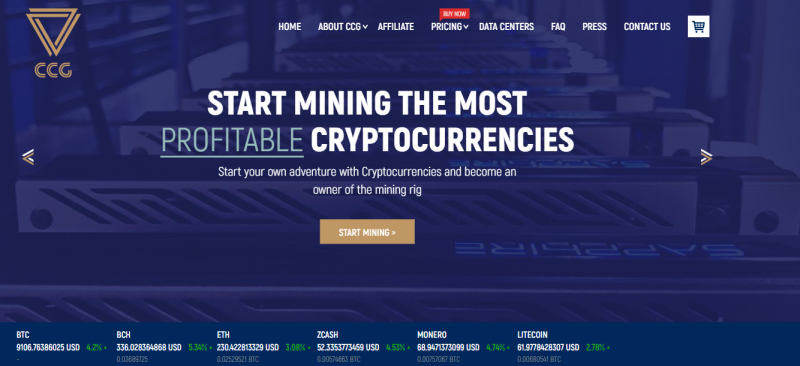 Image Source: CCG Mining
CCG Mining offers a wide range of services including cloud mining and generous affiliate program. There you can mine the most popular tokens including Bitcoin, Bitcoin Cash, Ethereum, Zcash, Monero, and Litecoin.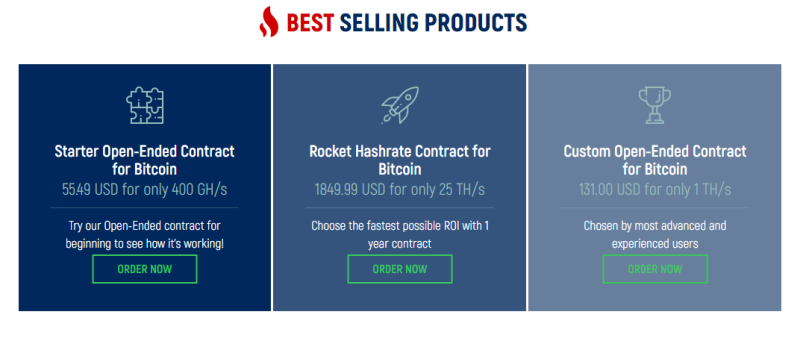 Image Source: CCG Mining
The company offers the most popular types of contracts. As you can see, the cost of mining starts from $55.49 for 400 Gh/s. There are both fixed and open-ended contracts.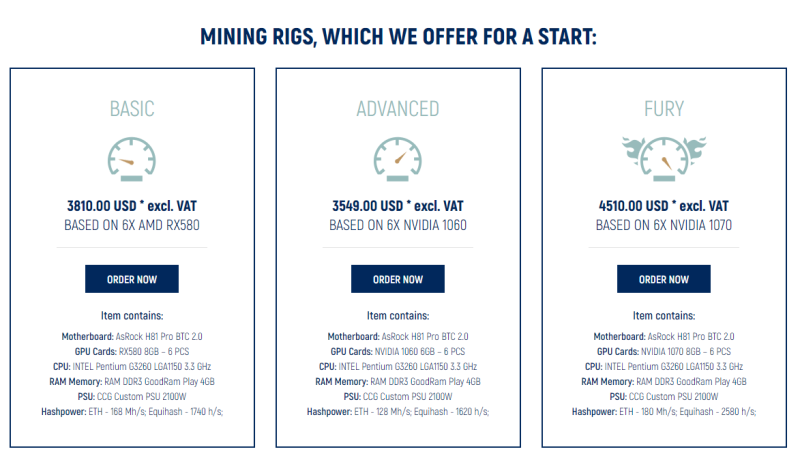 Image Source: CCG Mining
CCG Mining offers mining rigs as well. They help you to set it up and to start mining. On their page, you can read more about this service.
Pros and Cons
The advantages of CCG Mining are the following:
Flexible pricing;
Various cryptocurrencies to mine;
Ready rigs for sale;
Great support service;
Generous affiliate program.
As for the disadvantages, they are the following:
There is no exchange to sell your tokens on.
Closed Cloud Mining Services
One of the most famous mining services Hashflare closed in 2018. They have explained their decision by the financial situation and the price of Bitcoin, which was low at the time.
Currently, you can visit the Hashflare website, but all contracts are unavailable. It means that you can't buy any hash power there. Moreover, according to the testimonials from the real clients of the company, they have stopped withdrawals. This means you can't take your funds from the website if you have previously bought some hash power.

Image Source: Hashflare review
HashOcean is another crypto cloud mining scam that disappeared with the funds of their clients. It is worth to mention that there was even an FBI investigation of this case. However, there were still no results. 
How Does Cloud Mining Work?
In the standard mining procedure, you need to buy the hardware and install it somewhere. In the case of cloud mining, you don't need to buy anything, neither think where to locate your rig. All mining is done in the "cloud". You are hiring some computing power without the necessity to install it at your premises. 
If you don't have enough money to start mining on your own or you don't want to make everything on your own, the only way for you is to buy a cloud mining contract and to wait for the results.
All cloud mining companies follow the steps listed below:
They buy hardware and create data centers; 
Once the first step is done, those companies create websites to communicate with their future clients. They provide investors with all necessary information including the company's history and goals, available contracts, hash power, prices, and conditions;
The clients of those cloud mining companies choose contracts they want and pay for them. There is also a special dashboard where investors can track their earnings;
Once clients have enough money or cryptocurrency to withdraw they can select an exchange or withdraw earnings directly from the platforms.
What Are the Benefits of Cloud Mining
If you decide to start investing in cloud mining you will benefit from the following:
No need to invest a lot of money. Some companies offer contracts starting from $100 and even less. You can compare this amount with the price of ASIC, which is far above $1,000;
No hardware is required. You don't need to buy hardware to start mining;
No need to pay for electricity. As the hardware is located in the remote datacenters you don't need to cover electricity expenses on your own.
There are no expenses connected to the maintenance of hardware and the whole system. The company does it itself. This is why this type of income is called "passive";
Various types of cryptocurrencies to mine;
Generous referral programs.
Are There any Risks of Cloud Mining?
If you think that cloud mining is the easiest way to invest your money, you need to familiarize yourself with the information presented below. We are going to review the most common risks of this type of income. 
Risk 1. Cloud Mining Company May be a Scam
This is the widely spread case when you invest money in a scam company and get nothing in the end. It is worth to note that the majority of cloud mining companies that you can find online are scams. They use Ponzi scheme, which works the following way: they pay old investors by attracting new ones. At some point, this scheme breaks as the founders of those companies run out of money. They stop any withdrawals and close their websites. If you failed to take your money from there on time, you are unlikely to withdraw anything.
How to avoid those scam companies? There is no 100% guaranteed protection from scams in this industry, but here are some recommendations that will help you to minimize risks:
The website should contain a picture or a video of data center facilities. If there is no such confirmation of their activities, the company might be a scam;
It is better to find cloud mining companies that have been working for, at least, one year;
Choose a company that is trusted by the community. Those cloud mining services should offer reasonable pricing. You need to compare the plans of several companies before making the final decision;
The website of the cloud mining service should contain information about the company and the team behind it;
It is better to pay with fiat money. Otherwise, you can't withdraw or recover your funds if something goes south.
Risk 2. Mining Difficulty May Rise
If you have chosen the right company, it doesn't guarantee that you will have expected earnings. This time the problem is in the rising mining difficulty. You are hiring an exact amount of hash power. If the mining difficulty increases, you will get less. This is a very important aspect you need to consider before planning your investment output. 
How to protect yourself from that type of risk? The best way is to diversify your investments by buying various contracts. Another great method is to buy contracts for various cryptocurrencies.
Risk 3. High Volatility of Cryptocurrencies
When you plan investing in cloud mining you can calculate your earnings. However, you can't predict how much profit you are going to get as the cryptocurrencies are very volatile. The value of the coins you mine may decrease. How to minimize that risk? The best way is to diversify your investments. Buy contracts for various tokens.
Risk 4. Change of Protocols
This is a very rare risk as blockchains do not change their protocols every day. However, this may happen one day and you need to keep that in mind. For example, Ethereum is going to change its consensus mechanism in the future. It is not clear whether they are going to leave Proof-of-Work for some time or not. Once they change the protocol, the mining will be unavailable. If you have contracts at that moment, you will earn nothing.
Risk 5. Contract Terms
Before you place your funds, you need to understand the terms of the contract you want to buy. This is very important. For example, some contracts allow you to mine various cryptocurrencies while others are focused on a particular token. When thinking about investing in those contracts you should also pay attention to their lifetime. 
Conclusion
Cloud mining represents a great opportunity to get cryptocurrencies and rewards for buying special hash power contracts. There are plenty of cloud mining services to choose from. Do not forget that this industry has both reliable and scam companies.