The company can give you a typical trading view web terminal and, at the same time, offer a lightning-quick processing speed. It also offers you with an application for mobile trading to the table while keeping the trading fees low with most popular assets. It is what you have been searching for as a crypto trader. Read through the article to understand what Hoo offers you as its user.
What is Hoo?
Hoo.com is a world-leading blockchain assets service platform that offers dependable and safe blockchain and asset management services. It is among the leading platforms in blockchain and asset management services.  
Hoo's Services
The company offers a range of services. First, Hoo offers to trade and exchange tokens and other cryptocurrency services. Users have access to many digital currencies. You can trade Ethereum, Bitcoin, Ripple, Litecoin, Tether, Bitcoin Cash, and other renowned cryptocurrencies on the Hoo exchange.
It also trades the fiat currencies like the Chinese Yuan, South Korean won, United States Dollars, etc. In addition, it offers OTC exchanger and simplified trading services. Hoo exchange offers its users various withdrawal/ deposit methods and a free multicurrency wallet.
They also include other bank transfers, cryptocurrency wallets, and investing services for blockchain projects. Further, It has services for maintenance and sale of world-leading brand mining equipment.   
Why is Worth Choosing Hoo.com
There are many reasons why you need to choose Hoo anytime. With hoo.com, you will enjoy the following advantages:
At hoo.com, you will be able to find all popular tokens and cryptocurrencies on the Hoo exchange.
It has voting services. With voting service, the pools of coins are replenished constantl
It presents you with three fiat currencies, namely yuan, dollar, and wo
Hoo exchange is convenient and user-friendly.
You will enjoy lightning-fast speeds during your trading operations.
It has a mobile application with an intuitive interface.
You will enjoy low fees up to 0.2/0.2% or the maker/ taker.
You can be able to sale, purchase, and repair mining equipment.
It allows you to invest in blockchain projects.
Users enjoy a free-of-charge multicurrency wallet.
In short, choosing Hoo means that you will be able to have convenient services for active investing and trading. Besides, the company will bring you a typical trading View web with lightning processing speed and enjoy the application in mobile trading.
Besides, you will enjoy below-average fees for trading segments, and they will give you the crypto-fiat and crypto-crypto pairs most popular assets. It does it without artificial restrictions for users. There is no minimum deposit required while using this cryptocurrency exchange.
Account Registration & Login
Step 1:Account Registration 
Click the Sign-up Button to access the interface of "Sign-up and Login" on Hoo, you can choose mobile or mailbox registration
Fill in personal information and check the user agreement. And then, click on Next for further instruction.
Create a fund password that is different from a login password.
After Registration, the user will receive an email from Hoo. The user clicks on the confirmation link in the mail to finish sign-up.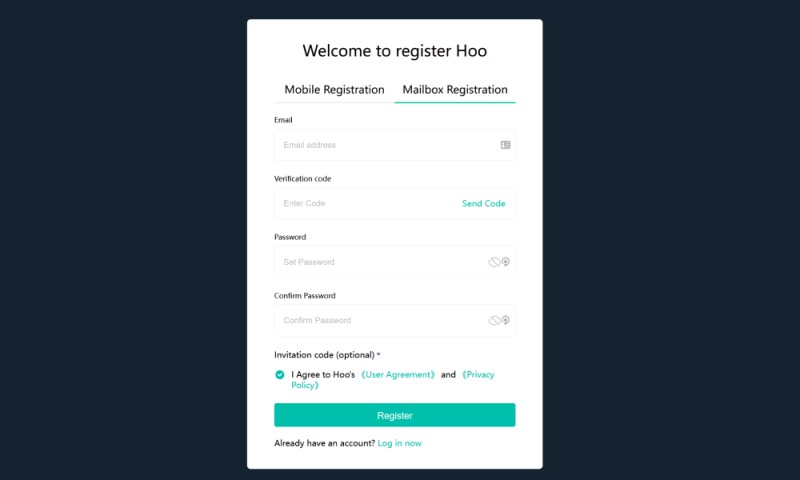 Step 2:Login & VerificationVerification is not required immediately for trading on Hoo. But users can enjoy faster and smoother Depositing and Withdrawal services with a verified account. The following information is required to complete Hoo verification:
Login Hoo
Fill in actual name and address
Submit valid IDs, such as passport or identity card
Selfie
Start Your Business on Hoo
The terminal is convenient. Comparing the system to other platforms in this segment,  it is among the few which offer the lowest fees. Trading with Hoo is Hassle-free as you will enjoy large trading volumes in different markets. It is a profitable and interesting system. Make the right call and start your business here at hoo.com