Future Perspectives
Peter Schiff, a CEO of Euro Pacific Capital advisor, recalls that the price of gold has reached $1,800. In his opinion, this is far from the limit, because $1,800 will become the long-run support line, which has now settled.

Image Source: Twitter @PeterSchiff
From this point the price of gold will begin to grow, and will probably reach the level of $2,000. If this price gets higher, the price growth will continue even further.
Significant Growth in the Next 3-5 Years.
Massimiliano Bondurri, a capital founder and a CEО ofSGMC, believes that by the end of the year the price of gold will stabilize at around $ 2,000 mark. Moreover, an ounce of gold will rise in price to $3,000 in the consecutive 3-5 years, although a price of $5,000 is also likely.
Mr. Bondurri believes that this will lead to the policies of central banks, which now print more and more money to support the damaged economy, and then will not be able to cope with the rise of inflation.
Mr. Schiff agrees that the policy of financial regulators causes certain concerns:
"The Fed is desperate. They know that everything is going to fall apart. So, they just got interest rates at zero and they don't care what happens. It's like they got their pedal to the metal, and they're going full-speed ahead, and they just closed their eyes. They don't even care what's on the road because it doesn't matter." Peter Schiff, a CEO of Euro Pacific Capital
Current Price
The price of gold has been steadily increasing in the past few months, driven by volatility in the stock market and the news about the coronavirus. The price has already exceeded 9-year highs, and a few weeks ago it became known that about 83 tons of Chinese gold were fake, which also affected the price.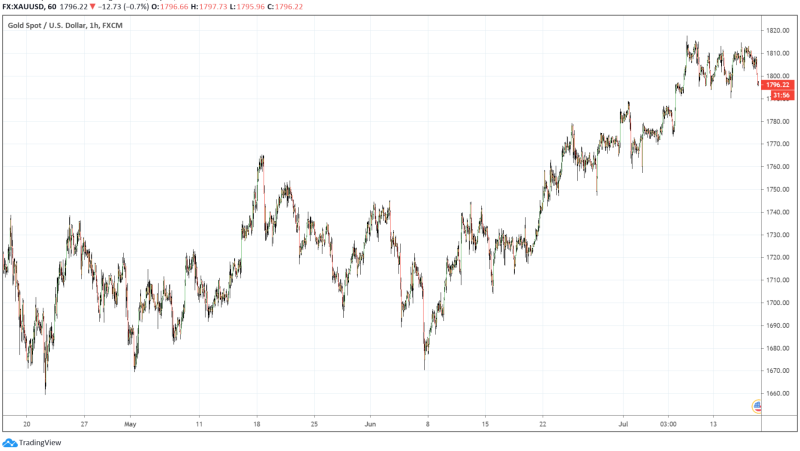 Image Source: TradingView XAUUSD