Volatility has encircled Gold's headline run, as investors have reassessed one of the heat-driven pandemic trades of 2020. The safe haven was well below $1,900 on Thursday after the crash on Monday, struggling to reverse the falls.
The rally came to a halt after gold broke the mark of $2,000 per ounce last week. At the same time, US bond yields rose, which undermined the attractiveness of the metal. Holger Zschaepitz also noticed this pattern on Twitter.
Gold fell below $1,900 per ounce extending the precious metal's slump into a second day, to head for its biggest two-day loss in more than seven years as investors step back from one of the hottest trades of 2020 as Treasury yields rise.    Holger Zschaepitz (@Schuldensuehner) via Twitter
This year Gold was one of the most profitable commodities, with the disdain favoured by the epidemic of coronavirus driving up the world economy to stimulate central banks and governments. This stumbling block is an issue for the supporters of aluminium, who have signalled a protracted demand rally.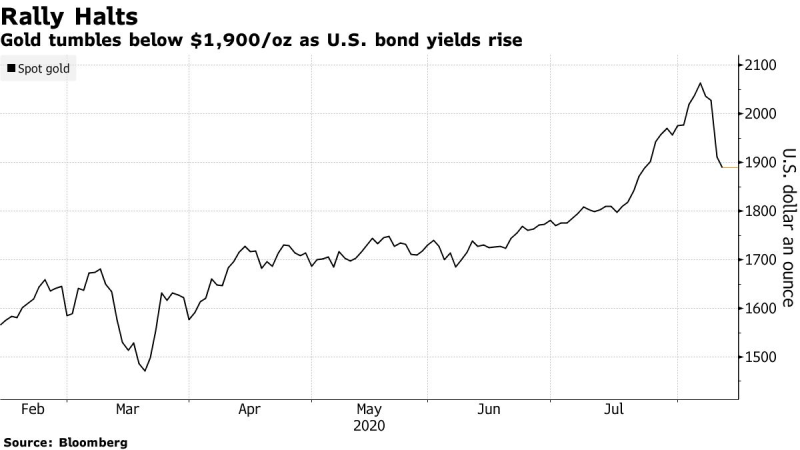 Image source: Twitter @Schuldensuehner
On Monday, 5.7%, Spot gold dropped by as much as 2.6% to $1,863.15 an ounce, the largest one-day loss in 7 years, and then finished higher at $1,916.51 at 8:11 a.m. in London. Gold has already undergone a dramatic increase, with potential declines by more than 9%, which reflects the bulk of this decline.
Gold still had many high-profile supporters. Many analysts expect that gold will continue its growth, even despite such a drop in Bank of America Corp. says prices will exceed $3,000, which also predicted a strong rise in gold.