Gold Price Is Retarded After Reaching All-Time Highs
Gold has been slowing down for two weeks after reaching its all-time highs' record decline. Adam Mancini, a full-time futures trader and an analyst, says this correction was long-awaited and needed for the long-term growth, which will be resumed soon:
"It's been two weeks since $GOLD set its high and we've consolidated since - exactly what bulls want after the July rally. The pathway in my below chart is tracking perfect and we are completing the pullback leg from $2020. If its going back to $2000, this area ~$1930 is the zone" Adam Mancini via Twitter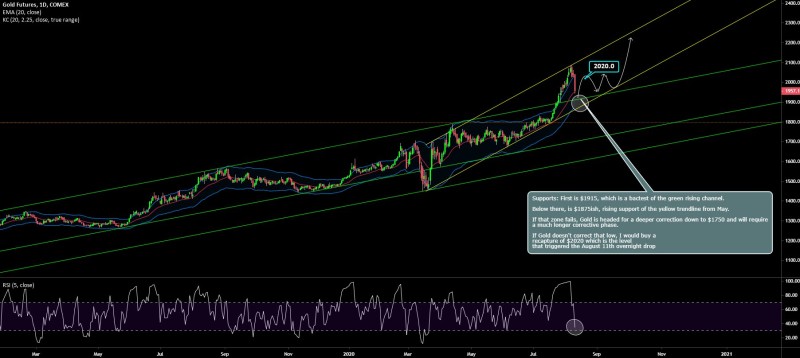 Image Source: @AdamMancini4
Investors Believe Gold Is Overvalued
According to the information posted on the analytical resource, TheMarketEar, the number of investors who consider gold to be overvalued has reached a maximum since 2011. For 10 years, their share did not exceed 20%, but now, according to a study by the Bank of America, there are already more than 30%.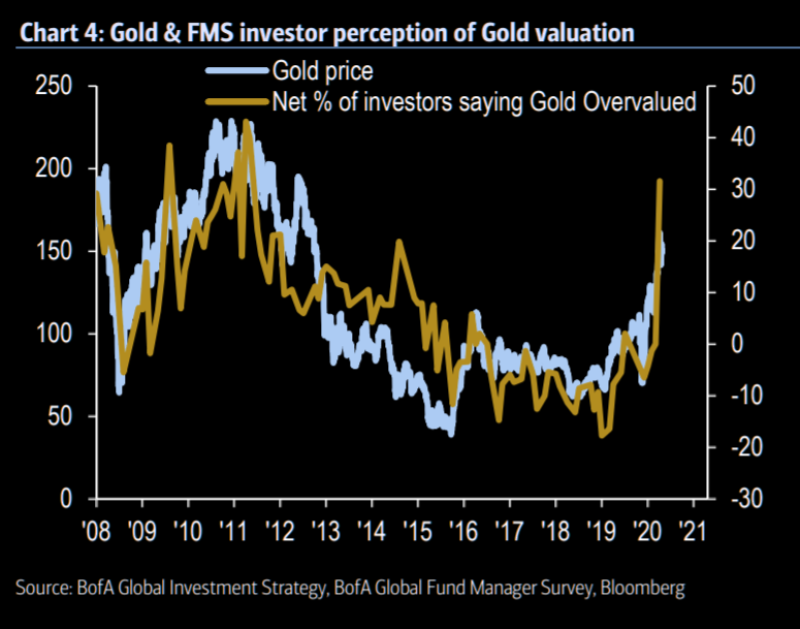 Image Source: themarketear.com
Future Incentives to Gold Price's Growth
However, this does not mean gold will soon enter the bearish stage. The market is still placing high bets on the growth of gold, besides, future events may become additional triggers for growth.
"The crowd sees it overvalued but they still deploy a lot of risk into it..." themarketear.com
@QTRResearch channel believes that if Joe Biden becomes the president of the United States, the economy will face the lockdown again. The price of gold will easily surpass $3,000 by the end of the year due to inflation that will arise from increased stimulus required to support the economy.

Image Source: @QTRResearch