Nio's Unusual Option Activity
Will Meade, the former PM of $ 1.4 billion hedge fund, reports unusual activity in the futures market with options for Chinese electric vehicles company, Nio.
He reports on a hedge fund that acquired 7,000 options for Nio's stock expiring in mid-October.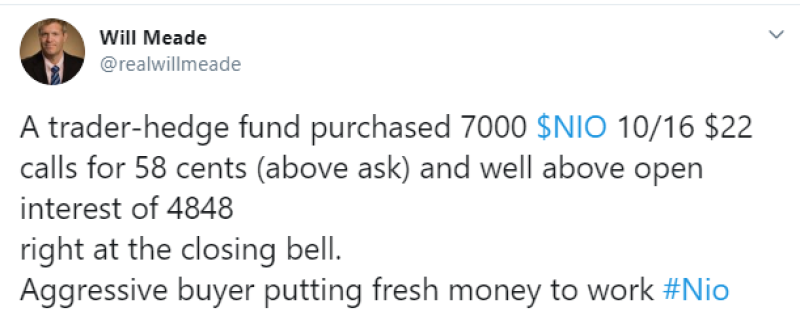 Image Source: Twitter @realwillmeade
There are several unusual things about this purchase.
First, the options were purchased at a price higher than the market price, which may indicate an increased interest of the hedge fund in buying. Secondly, the strike price is $ 22, which is more than 20% higher than the current price.
Apparently, the fund sees significant upside potential for the company's shares. Mr. Mead himself clarifies that such investments made by aggressive buyers are good for the growth of the stock.
This is not the first time that the company's stock has attracted the attention of large funds. Earlier last week it became known that the shares of the company were acquired by the Ray Dalio fund, the purchase amount was $ 6.6 million.
Current Nio Stock's Price
At the moment, the shares are trading at a price significantly lower than the one indicated in the purchased options. Nio shares are trading at $18 at the premarket on Friday, returning to their Monday start levels after a volatile week.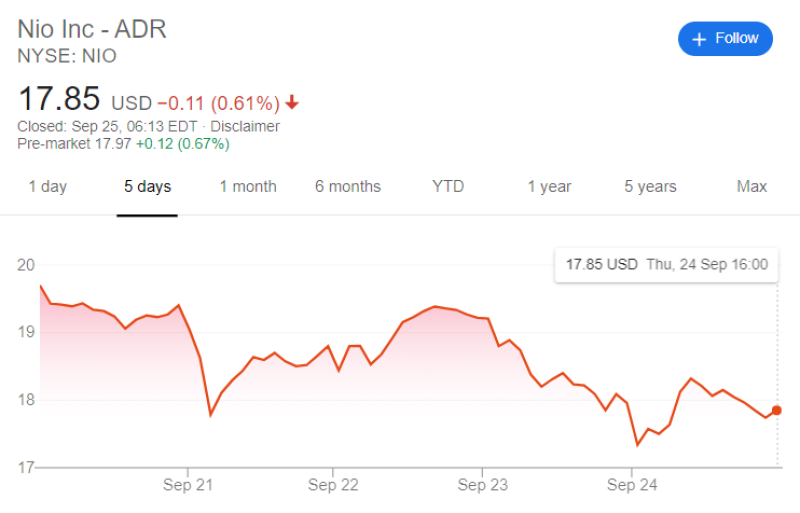 Image Source: Google Finance NIO
Despite this, the well-known trader believes that the stock has great upside potential, according to his technical analysis. He believes that the stock could rise to $20, with $25 as the closest to the resistance line.