According to the data from Robintrack, Kodak (KODK), Apple (AAPL), and Kandi Technologies (KNDI) were the most popular stocks of last week among Robinhood users.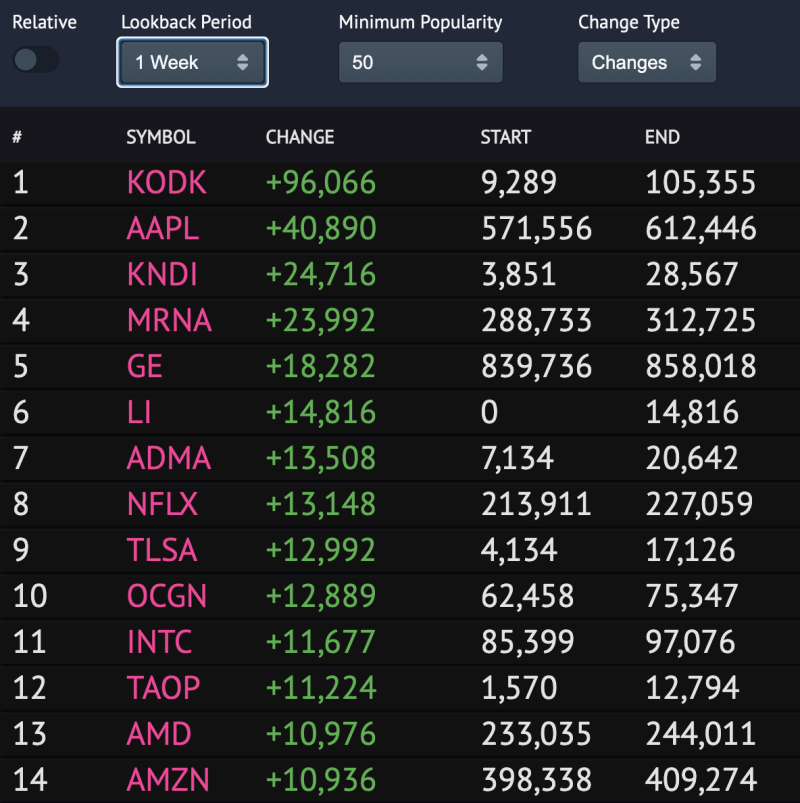 Image source: Robintrack
Let's analyze each asset in details to understand the reason for growth and try to predict the future price action based on the technical analysis.
Kodak (KODK)
Kodak shares jumped by 203% in regular trading hours and another 66% in post-trading, only on news that the company received a $765-million targeted loan from the US government to supply ingredients to the pharmaceutical industry.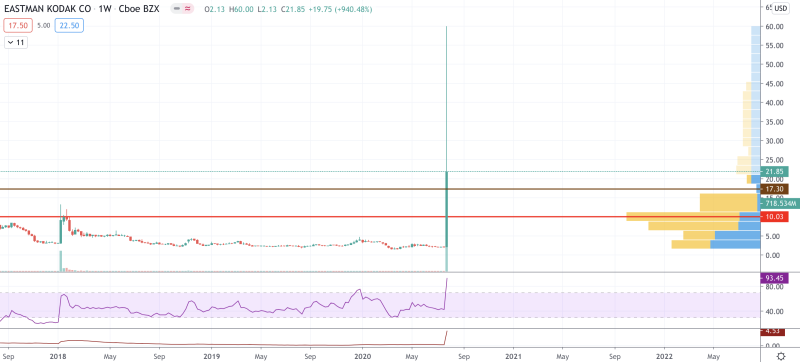 Image source: TradingView KODK
On the weekly chart, the stock has reached its all-time high at the mark of $60. Although the share is going down at the moment, the correction might not have finished yet. The Relative Strength Index is still overbought, hinting a further price drop. In terms of the possible price forecast, the decrease may end at the support level of around $17, where most of the liquidity is concentrated.
Apple (AAPL)
The continued rise of Apple (AAPL) may be connected to the positive quarterly report published a few days ago. During the reporting period, the revenue of $ 59.685 billion was generated. In annual terms, this indicator increased by 11%. The report clarifies that product sales brought in $46.529 billion, and services - the remaining $13.156 billion. International sales accounted for 60% of quarterly revenue.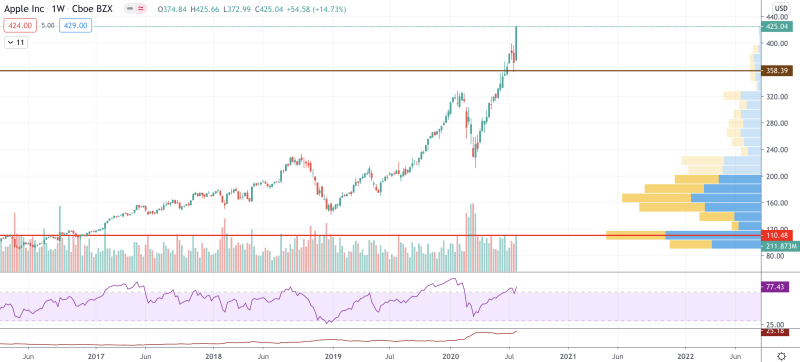 Image source: TradingView AAPL
The AAPL stock has broken all resistance levels on its way, having set a new all-time high at $425 per share. However, traders may expect a possible decline soon as a part of a correction phase. The stock is already overbought and the liquidity is low, which means that there are not enough buyers and traders to fix their profit. That is a decline to the zone of $360 is the more likely scenario.
Kandi Technologies (KNDI)
The Chinese automobile company announced the desire to enter the US market and, despite the COVID-19 pandemic, it intends to keep its promise. That might be the reason for the sharp rise of its shares.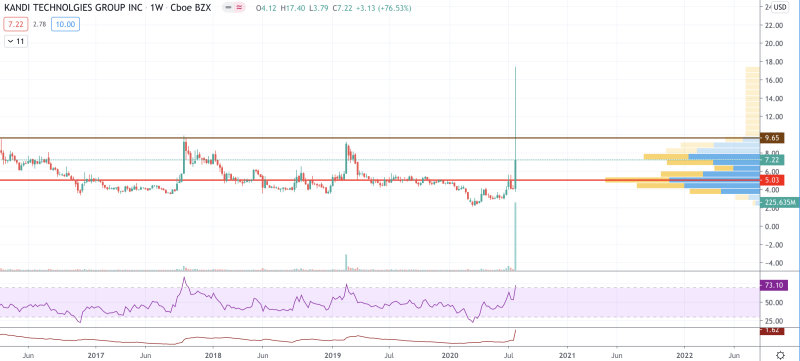 Image source: TradingView KNDI
Based on the chart, KNDI in trading similarly to KODK. The stock has blasted up to almost $20 per share. The decline is about to finish soon and the growth may continue if bears do not drop it below $5. At the moment, the bullish potential is relevant up to the mark of $9.65, where the nearest resistance is located.