Apple has released its earnings report for the third quarter of 2020 yesterday. The published report exceeded all expectations, Bloomberg analysts say.
Financial Results
Apple's revenue was $ 59.7 billion. Experts' predictions for this indicator were at $ 52.3 billion mark. Earnings per share amounted to $2.58, which again exceeded the experts' expectations of $2.07.
Apple's third-quarter results surpassed analysts' expectations thanks to growing iPhone and Mac revenues and improved performance of its accessories and services.
The company's share price rose by more than 7% against such positive results during Friday's premarket hours, according to Nasdaq.

Image Source: Nasdaq Pre-market quotes AAPL
As the company's share price approaches the figure $400 per share, Apple announced a 4:1 split of shares along with its income statement. This is a standard practice for the company, previously, the splits occurred in 2000, 2005, and 2014.
An Announcement of the first 5G iPhone
It is worth to note that Apple's Q3 report was not the primary focus of analysts' attention. Now the attention is shifted towards the imminent release of new iPhone 12. It is expected that this will be the first 5G phone created by Apple.
Experts believe that the release of such a smartphone will significantly increase growth of iPhone sales, even more than was usual. Investors are hoping that there will be a significant increase in sales even despite a 34.6% decrease in personal expenses in the second quarter due to the epidemics.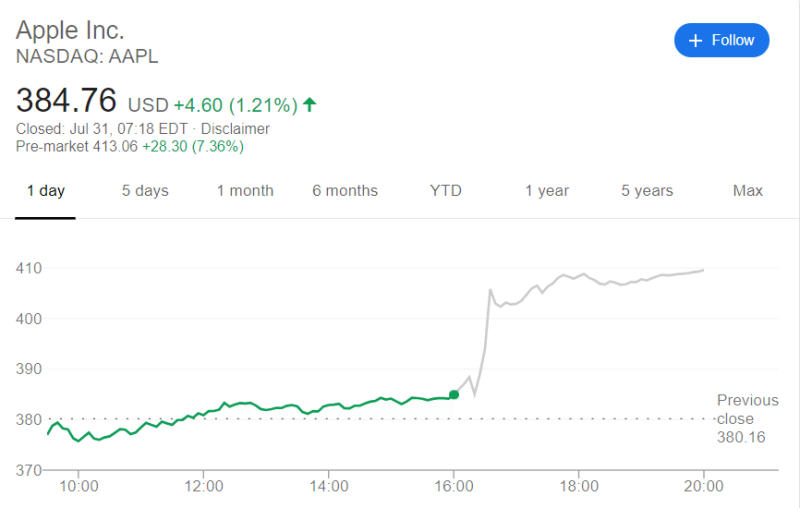 Image Source: Google Finance AAPL